Momofuku's David Chang Donates Restaurant Proceeds Amid Trump Fundraiser Scandal, 'Talk Is Cheap'
Restaurateur David Chang, the founder of the Momofuku restaurant chain, put his money where his mouth is after news broke that Trump fundraiser Stephen Ross was also a backer of Chang's restaurants. Chang announced he would donate the restaurant chains' profits, which include Noodle Bar, Ssäm Bar and Fuku, among many more, to various charities on Friday, saying, "talk is cheap."
A newsletter sent Monday from the Momofuku restaurant group said a portion of the proceeds throughout August will be "donated to City Harvest as well as these organizations that support causes we care about: Everytown, Planned Parenthood, RAICES Texas, Sierra Club and the Serge Ibaka Foundation."
It's not clear the donations are a direct response to the controversy surrounding Momofuku investor Stephen Ross, whose multi-million dollar fundraiser for President Trump in the Hamptons on Friday started a public backlash against the companies Ross is associated with, including Equinox, SoulCycle and Momofuku, among others. Chang did address the issue on his podcast The David Chang Show.
"I respect and admire you as a businessman," Chang said on the podcast, referring to Ross. "You have been a champion of all the values of Momofuku. You've done a great deal for us as a company and I truly appreciate it." But he went on to say the Trump fundraiser "contradicts what I hope to accomplish by taking your money in the first place," he said.
Chang also addressed his own feelings about Trump, saying he's a staunch opponent of the president, so much so that he "f—king hates Trump" and that "talk is cheap. We must show it in action."
"Anyone that normalizes gun violence, white supremacy, putting kids into cages, his general lack of decency and respect for anyone else," he said. "He is destroying our democratic norms."
He goes on to confess the business dynamics of the restaurant and its investors is complicated, but ultimately he wants to do the right thing.
"As a person in general, I just always want to be on the right side of the moral fence," he said.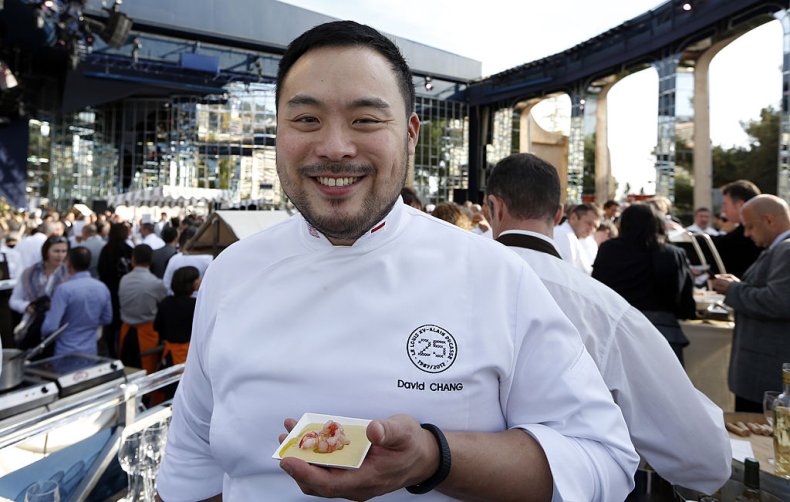 Chang started Momofuku in 2004 as a noodle bar. Since then it has grown into one of the most popular restaurant groups in the United States, with dozens of locations across the country. Chang says more than 3,000 people eat at a Momofuku restaurant every day.
Ross addressed the public backlash, crediting his long history of being involved in the Democratic process and his 40-year friendship with Trump as the reason why he held the fundraiser.
"I have always been an active participant in the democratic process," he said. "While some prefer to sit outside the process and criticize, I prefer to engage directly and support the things I deeply care about."
He went on to say his primary goal is to work with leaders to create jobs and strengthen the company. He closes by expressing his commitment to diversity.
"I have been, and will continue to be, an outspoken champion of racial equality, inclusion, diversity, public education and environmental sustainability, and I have and will continue to support leaders on both sides of the aisle to address these challenges."
Ross's Hamptons fundraiser for Trump raised a reported $12 million for the president's reelection campaign.
"Steve Ross got into a little bit of trouble this week, I said, 'Steve, welcome to the world of politics!" The New York Post reported Trump as saying at the fundraiser.
Momofuku's David Chang Donates Restaurant Proceeds Amid Trump Fundraiser Scandal, 'Talk Is Cheap' | U.S.