Moms Demand Action Goes Toe-to-Toe With the NRA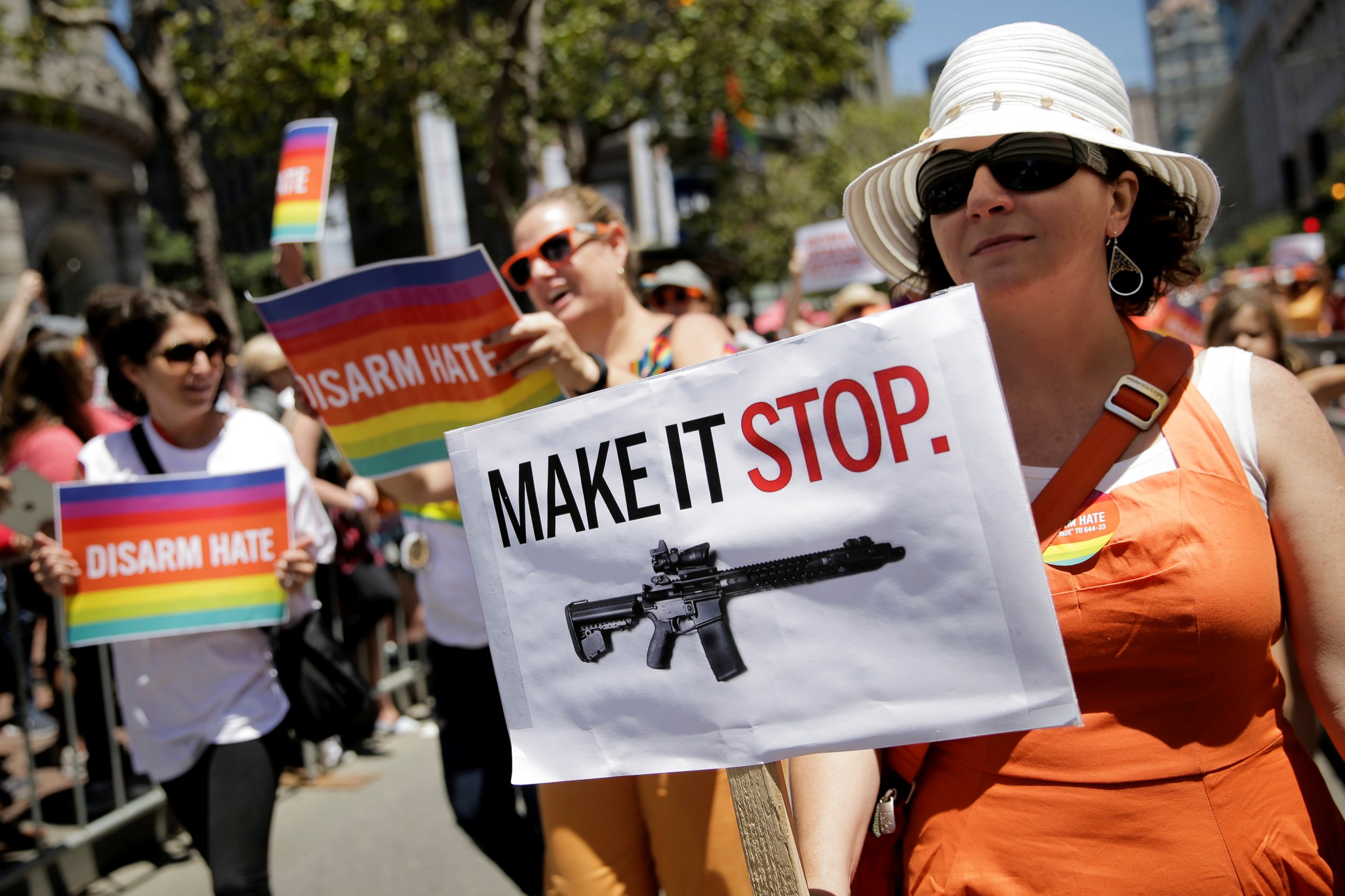 As Atlanta prepares for leaders from the National Rifle Association (NRA) to descend on the city for its annual meeting, volunteers for Moms Demand Action for Gun Sense in America are also arriving from across the country. For the fourth year in a row, moms, women, gun violence survivors, elected leaders and everyday Americans will show up and speak out as a counterweight to the nation's largest gun lobby.
Related: Here's what Ronald Reagan told the NRA in 1983
While NRA leaders deliver a desolate message of fear and paranoia to convention-goers, Moms Demand Action wants leaders in corporate boardrooms, in statehouses, in Congress and in the White House to know that we will never stop fighting for a safer America for our children and families.
President Donald Trump will speak at the NRA's annual meeting in Atlanta—the first president to do so since Ronald Reagan in 1983. Let's be clear: This is no longer your grandparents' NRA—an organization that used to represent sportsmen and hunters. The Reagan-era NRA had a conscience; it was an organization that supported criminal background checks on all gun sales and opposed guns in schools. Its agenda now consists of suppressing federal research on gun violence prevention; shunning any attempt at compromise on gun safety legislation; and publicly shaming gun dealers, policy makers and even everyday moms who dare to contradict its agenda.
Why the change of heart? It's simple: Today's NRA leadership has one goal—to sell as many guns to as many people as possible, no questions asked.
Under the guise of the Second Amendment, which provides citizens the freedom to keep and bear arms, NRA leaders are dedicated to lining the pockets of their largest donors: gun manufacturers. And it's clear they will stop at nothing to do so—even if it means dismantling laws that keep guns out of dangerous hands and protect Americans from gun violence.
If you don't believe me, just ask gun owners. A new poll released by Americans for Responsible Solutions found that 67 percent of gun owners agree the NRA has been "overtaken by lobbyists and the interests of gun manufacturers and [has] lost its original purpose and mission."
The consequences of allowing these lobbyists to dictate our nation's gun laws are deadly. Every day, more than 90 Americans are killed and hundreds more are injured by gun violence. Our nation's gun homicide rate is 25 times higher than the average in other developed nations. And America's most vulnerable citizens are targeted by gun violence, including children, women and communities of color.
Today, the stakes have never been higher. This past election, the NRA gave more than $30 million to Donald Trump's presidential campaign, making the organization Trump's largest outside donor.
The NRA leadership is hoping that the White House access they invested in will help them pass dangerous legislation that will boost gun manufacturers' profits, including dismantling our criminal background check system and making gun silencers more accessible. But the NRA's ultimate goal is to pass the Concealed Carry Reciprocity Act—legislation that would gut our country's gun laws by forcing states to recognize the concealed carry standards of every other state no matter how low (or nonexistent) those standards are. This chaotic and dangerous policy would not create a national standard for who can carry guns in public across our country. Instead, it would override state laws and make the weakest link the law of the land.
Imagine for a moment that the rules you established for your own family in your own home were suddenly superseded by a different set of rules set by one of your neighbors whose values disagree with yours. Maybe they're lax with junk food at dinner time or they let their children play more mature video games than you're comfortable with. What if someone forced your family and every other family to follow those neighbor's rules instead of setting your own?
Just as every family has the right to set its own rules, states have varying laws when it comes to who can carry concealed weapons in public. Passing "concealed carry reciprocity" is the NRA's dream, but it's a nightmare for public safety.
Gun lobby leaders exploit Americans' worst fears by pushing a cynical and fabricated vision of America in which our country's streets are crawling with dangerous criminals, the media and law enforcement cannot be trusted and the only way to protect your family is to stock up on guns. A vision that sells guns and lines the gun lobby's pockets, but does nothing to actually make us safer.
If more guns and fewer gun laws made us safer, America would be the safest country in the world. Yet more than 30,000 lives are taken and thousands more are injured by gun violence in our country every single year.
That's why Moms Demand Action volunteers and gun violence survivors will be in Atlanta this weekend, and will continue to make our presence known in Washington, D.C. and in every statehouse and board room in the country until this crisis has been addressed. We are the counterweight—and we won't stop showing up and speaking out until our nation's lawmakers put the safety of our families and communities above the profits of the gun lobby.
Shannon Watts is the founder of Moms Demand Action for Gun Sense in America, a grassroots movement to prevent gun violence, and a board member for Emerge America, an organization that trains progressive women to run for office.​