Moms for Liberty, Critical Race Theory Opponents, Wade Into COVID School Closures Fight
The conservative parental rights advocacy group known for fighting critical race theory in K-12 public schools is weighing in on the thousands of school closures announced amid the latest COVID surge and they're sending a clear message to education officials across the country: "Schools should always be open."
"There's no such thing as 'remote' school. That's not a thing," Moms for Liberty co-founder Tiffany Justice told Newsweek on Wednesday. "It's not something teachers can pivot to when they choose to."
At least 3,461 schools were not offering in-person instruction on Wednesday, according to Burbio's school opening tracker.
Rising concerns over the new Omicron variant, which has been shown to be four times more transmissible than the original strain, have led many school districts to move to remote learning in an effort to avoid outbreaks.
In Chicago, teachers voted to temporarily transition to online classes on Tuesday, citing the city's current spike in infections. The union vote, which was endorsed by 73 percent of its members, prompted the third largest school district in the U.S. to cancel classes on Wednesday.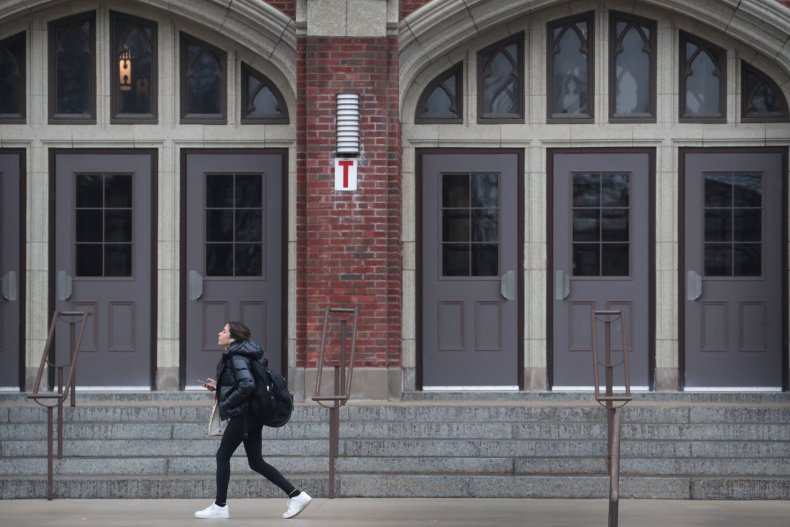 In a statement responding to the closures, Chicago Teachers Union blamed Mayor Lori Lightfoot for putting "the safety and vibrancy of our students and their educators in jeopardy."
"Let us be clear. The educators of this city want to be in their classrooms with their students. We believe that our city's classrooms are where our students should be," CTU said.
"To the parents and guardians of this city, we want you to know that when you put your children in our care we put their well-being and safety first," the union added. "We fight for your children like they are our own, because they are. As this pandemic continues, we will do everything in our power to ensure that our classrooms are the safest and healthiest places for your children to learn, thrive and grow."
Justice pushed back, arguing that the well-being of children should not be in the hands of schools or teachers but rather parents—a right her organization is committed to advancing.
"School districts need to respect the role of the parent in the child's life and they need to get back to teaching children the basics so that we can unfold the full potential of these children in the classroom," she said.
"Being on strike and forcing children back onto computers at home, in environments where parents had no idea the night before whether or not they were going to be able to go to work because their child may or may not have school is unacceptable," she added. "This is a broken system. They're failing children and we have to stop funding failure."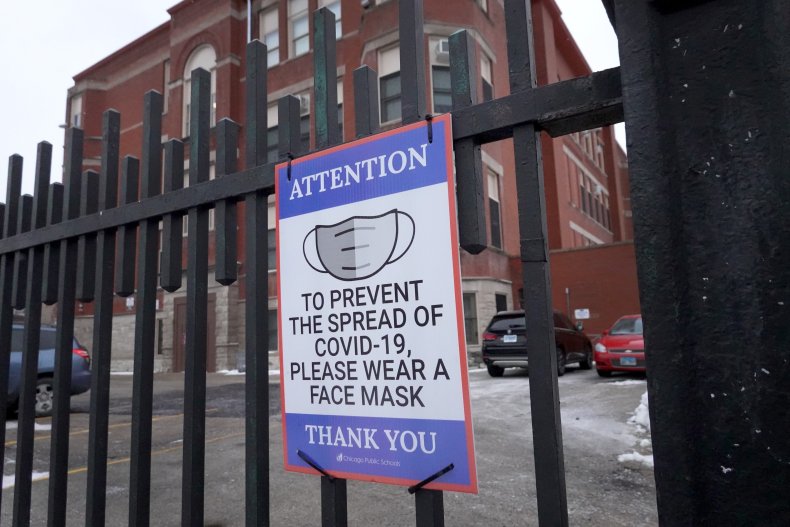 Florida-based Moms for Liberty was started a year ago in January 2021 after Justice's co-founder Tina Descovich lost her seat on the Brevard County school board to an opponent who campaigned on a platform for mask mandates and teacher raises.
The group has also vocally opposed critical race theory in public education and applauded elected officials like Florida Governor Ron DeSantis for taking a stance against race-based curriculums.
"Social and emotional learning is a vehicle that's being used to influence curriculum and to kind of weave critical race theory and other types of critical theory, including gender theory into our children's education and parents have had enough," Justice told Newsweek.
Moms for Liberty rose to prominence during the Virginia gubernatorial election in November as "parental rights" became a key campaign issue. In the end, Republican Glenn Youngkin's "parents matter" campaign clinched him the victory with 50.6 percent of the vote.
As of December 2021, Moms for Liberty says it has has 70,000 members across its 165 chapters.
Members of the group have been accused of threatening and harassing school board members, but both Justice and Descovich have said there is no evidence of those behaviors in their organization.
"These are not our people, we denounce it," Descovich told WFTS in December.
Late Tuesday, Lightfoot warned Chicago teachers that if failure to show up on Wednesday, would mean that they would be placed on "no-pay status" until they return—a move Justice supports.
"As far as I'm concerned, they should all lose their jobs. They have abandoned their jobs," Justice said. "Parents did not sign up for online school. That is not what they've signed their children up for."
While some districts have remained closed, the Biden administration has repeatedly stated that it intends to keep schools open, urging states that have not used federal funding toward COVID protocols in public schools to begin doing so now.
But Justice is calling on the president and other national education officials to do more in their commitment to ensure kids are attending in-person classes.
"For all of the talk from the Biden administration, and [Education] Secretary Cardona and all of these people—[American Federation of Teachers President] Randi Weingarten saying she wants schools open—for all of the talk, they need to put their money where their mouth is and get the schools open and running again," Justice said.
"Schools are being funded to be open and available to students and they've been closed," she added.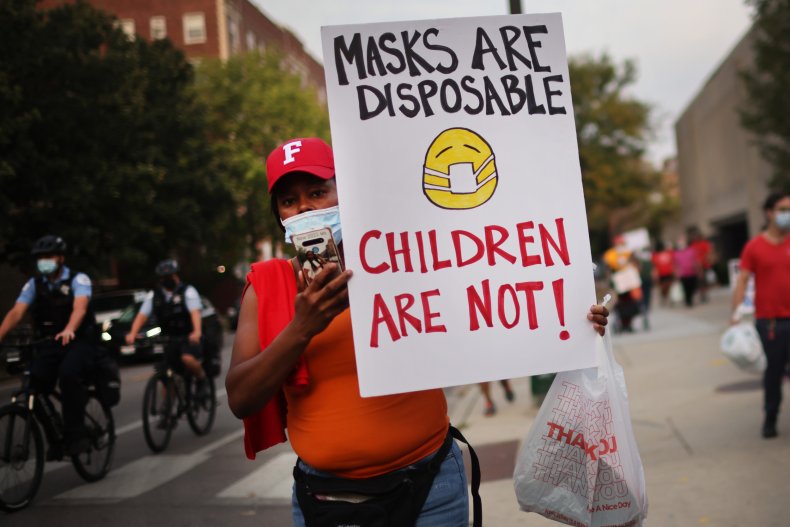 Justice said all COVID protocols—not just the decision to send kids to school, but also the decision to wear masks—should ultimately be left up to the parent.
"We want the masks off of the kids. Masking, quarantining, all of that should be at the sole discretion of the parent," she said.
"If your children are sick, keep them home. It's what's been done for years and years and years," she continued. "If children are sick, keep them home. If they're healthy, send them to school."
Justice told Newsweek that the key concern Moms for Liberty wants to address going into the new year is that parents are being pushed out of the public education system.
"It doesn't seem like the teachers unions have any interest in ensuring that our children are getting what they need in school," she said. "We see that the unions really don't care about our kids and I think that that's making parents question every single thing that happens in a school."
"Your parental rights do not stop at the classroom door and parents have every right to be in the classroom, to see what's being taught in the classrooms," she added. "That's the focus for 2022: Getting parents back into classrooms and making sure that people that are being elected to office are putting kids first in America."