Florida Moms Clash With Black Lives Matter Supporters in School Parking Lot Over BLM Curriculum
Another example of the country's political divide played itself out in what would typically be a sedate school board meeting.
A local group of mothers and their allies known as Concerned Parents of Sarasota Schools showed up in force to a Sarasota County School Board meeting last night to protest the Black Lives Matter movement being taught in the classroom.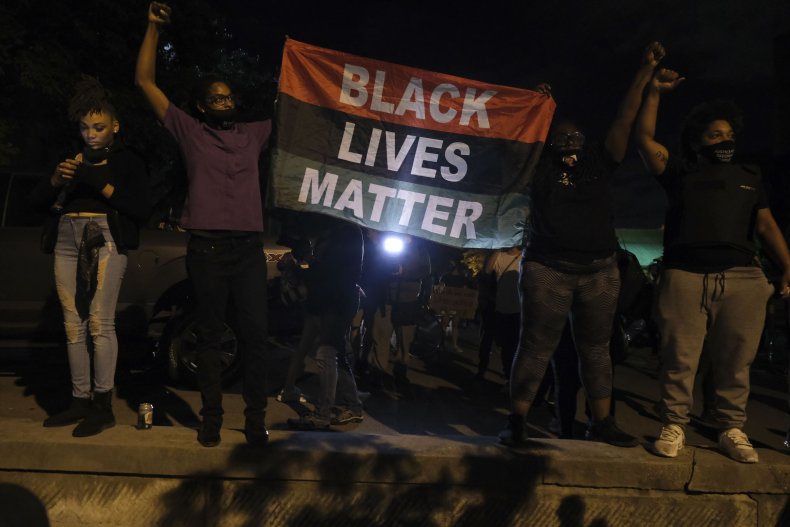 They wore matching red t-shirts and carried signs with messages like "#TakingBackOurSchools" and parentsfedup.com, their website, which spells out their message that BLM is a Marxist organization designed to indoctrinate the youth, that the dangers of COVID-19 are exaggerated, and that local legislators who changed their party registration to Democrat from Republicans are "traitors."
They also believe, according to their website, schools are supposed to be bipartisan and not push the agenda of any political party or belief system.
The Concerned Parents weren't alone. Supporters of Black Lives Matter counter-protested in the parking area, meeting their ideological adversaries chant-for-chant.
"You don't get to have an opinion as a teacher. You're supposed to be non-partisan. That's what we pay you for, we don't pay you for your opinions," Kristen Brooks, a member of the Concerned Parents, told local ABC news affiliate station WFLA.
The school board was gathering inside to debate, with comments from the public, whether or not Black Lives Matter should be taught as part of the school curriculum. A school board spokesperson explained teachers have already been discussing the movement with students as it is part of current events.
Ashley Cote, another Concerned Parents member, disagreed with BLM being acknowledged by teachers. She told WFLA that she believes Black Lives Matter is a radical, terrorist group, and she emphasized that she is furious that it is being taught at school in any context.
A BLM supporter named Sarah Parker took exception. "This is about black history being taught as an organization," she told WFLA. "I don't understand why this is even a debate, honestly. We teach Math, Science, English, Spelling, and History. This is history."
Teacher Mary Holmes agreed. She told the news outlet, "To think that a couple a whiny people just frantically blew this so out of proportion. After seeing these parents here today, it's alarming."
Another topic of discussion at the Sarasota school board meeting was a video available as a supplemental curriculum on BrainPop.com, a website used and paid for by school districts across the county. In the video, cartoon characters discuss a range of issues related to racism.
Sarasota teachers aren't able to screen the flagged video on school property, but it can be seen by children at home on the school-sanctioned website.
The Concerned Parents of Sarasota Schools seemingly take the same stance on the issue as President Donald Trump. He has spoken at length about what he calls "left-wing indoctrination" in history classes that teach students about racism in America's past and systematic racism built in its founding ideals.
During a Constitution Day event in September, Trump linked what he called "propaganda" taught in schools and this year's protests over racial injustice. He specifically targeted last year's New York Times Magazine's Pulitzer Prize-winning "1619 Project," which deeply examined slavery and its effects on the country. The same day, the president announced the "1776 Commission" to "promote patriotic education" and a grant to fund "a pro-American curriculum that celebrates the truth about our nation's great history."