Mondaire Jones Says Manchin Op-Ed Might as Well Be Titled 'Why I'll Vote to Preserve Jim Crow'
West Virginia Democratic Senator Joe Manchin is receiving backlash on social media over an op-ed piece he published in the Charleston Gazette-Mail where he explained why he would not be voting for the For the People Act.
In the Sunday op-ed, the moderate Democrat from West Virginia said he was against the legislation because it had not garnered any Republican support. He felt a resolution for changes in voting rights should be reached with agreement from both parties.
"The right to vote is fundamental to our American democracy and protecting that right should not be about party or politics. Least of all, protecting this right, which is a value I share, should never be done in a partisan manner," Manchin wrote.
However, Manchin's defense of trying to seek a bipartisan solution was slammed on Twitter by some progressive Democrats. Democratic Congressman Mondaire Jones of New York tweeted that Manchin's op-ed "might as well be titled, 'Why I'll vote to preserve Jim Crow.'"
Jones was joined by others criticizing Manchin's moderate approach, including New York Congressman Jamaal Bowman, who cited an article from the Data For Progress blog in which 56 percent of self-identified Republicans supported the For the People Act.
Walter Shaub, senior ethics fellow at the Project On Government Oversight, said: "Voting rights aren't partisan. Voter suppression is."
In addition to voting against the For the People Act as a result of a lack of bipartisanship, Manchin explained in his op-ed that he opposes Democrats' attempts to eliminate the filibuster that was blocking the bill.
"They've attempted to demonize the filibuster and conveniently ignore how it has been critical to protecting the rights of Democrats in the past," he wrote.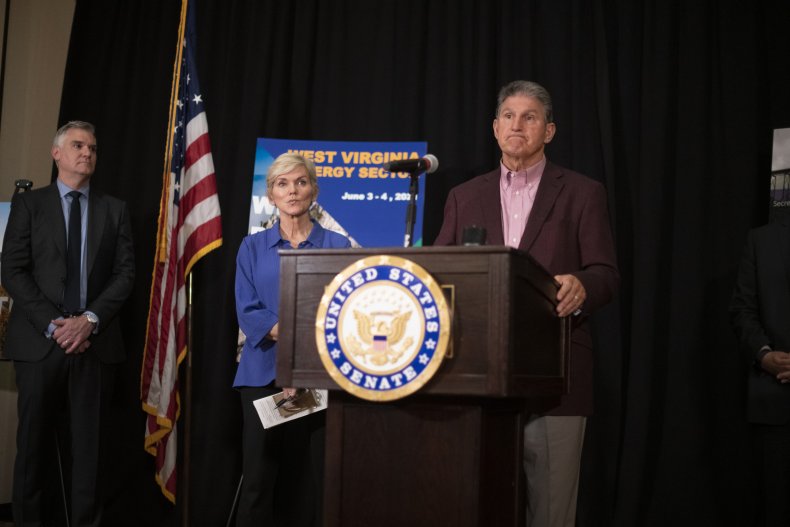 The filibusters enacted by the Republicans in the Senate cannot currently be overcome by the Democrats because both parties lack a supermajority of 60 votes, which can block a filibuster. Democrats have now been seeking to reinterpret Senate rules to pass with a simple majority, CNN reported.
Harry Litman, a former U.S. Attorney, tweeted his criticism of Manchin's refusal to support Democratic efforts to remove the filibuster, which has been utilized repeatedly by the Republicans to block President Joe Biden's agenda.
Manchin's efforts to work with Republicans rather than supporting fellow Democrats have led to the trending topic "He's a Republican" on Twitter. The trend was criticized by journalist David Dennis Jr., saying Manchin's decision did not prove the senator is a Republican, but rather "white supremacy" could be found in both parties.
"'He's a Republican' is trending because it makes people feel better to equate white supremacy to republicanism as opposed to the actual truth that white supremacy is bipartisan," Dennis said.
In his op-ed, Manchin explained that while he is not supporting the For the People Act, he does back the John Lewis Voting Rights Advancement Act, which would update the Voting Rights Act of 1965. The John Lewis Voting Rights Advancement Act is a narrower election bill that has the support of Republican Senator Lisa Murkowski of Alaska.
"I continue to engage with my Republican and Democratic colleagues about the value of the John Lewis Voting Rights Advancement Act and I am encouraged by the desire from both sides to transcend partisan politics and strengthen our democracy by protecting voting rights," Manchin wrote.
"Of course, some in my party have argued that now is the time to discard such bipartisan voting reforms and embrace election reforms and policies solely supported by one party. Respectfully, I do not agree."
Manchin remains the only Democrat who is not listed as a co-sponsor on the For the People Act.