Mondaire Jones Suggests Republicans 'Engaging in Racist Activity' by Opposing DC Statehood
Freshman Representative Mondaire Jones, a New York Democrat, suggested that Republican lawmakers are "engaging in racist activity" by opposing statehood for Washington, D.C. and that they "uphold systems of white supremacy."
Democrats and Republicans in Congress are currently debating whether D.C. should be granted statehood, with the House of Representatives approving statehood for the district in a party line vote on Thursday. Now the debate moves to the Senate, where Democrats hold only narrow control and are unlikely to pass the legislation without ending the legislative filibuster or pushing it through the budget reconciliation process. As the nation's capital is a majority minority city, with about 700,000 total residents, Jones and other Democrats have argued that Republicans are disenfranchising minority voters and that it is "racist" to oppose statehood.
Under its current status, D.C. has no representation in the Senate, whereas all U.S. states have two senators—including Vermont and Wyoming, which have smaller populations. (The district does have a non-voting delegate in the House of Representatives.) Republicans argue that Democrats are attempting to rig the Senate, as it's widely expected that two new Senate seats for D.C. would be easily won by Democrats.
"If you uphold systems of white supremacy, even if you do not consider yourself to be racist, you are engaging in racist activity," Jones said Saturday during an interview with CNN. "There are 700,000 people in the District of Columbia—more than in the state of Wyoming and Vermont. And so the idea that we would disenfranchise, that we would tax them without representation—something we fought the Revolutionary War over, by the way—is unconscionable."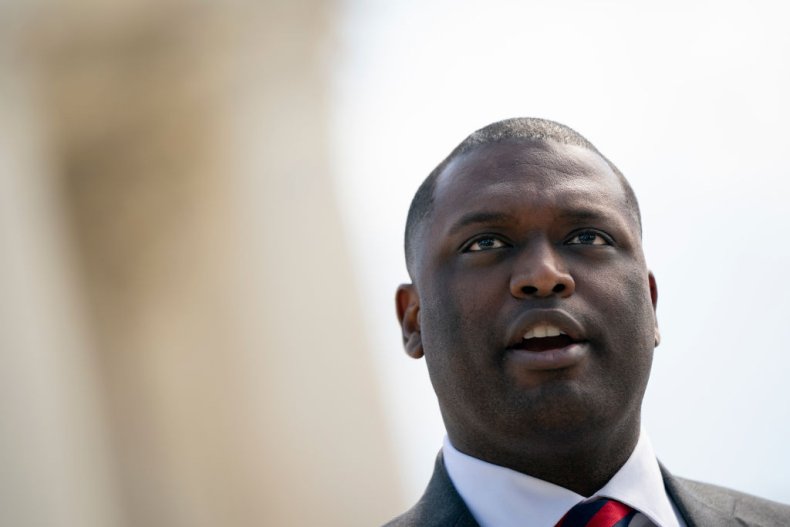 Jones said that when D.C.'s racial demographics are compared to other states that have previously been granted statehood, "it is quite a sinister thing." He went on to say that "a system that disenfranchises 700,000-plus people is voter suppression on its face."
Some Republicans have proposed an alternative, suggesting that parts of D.C. should be ceded back to surrounding states so that the voters there would be directly represented by current senators. Representative Louie Gohmert, a Texas Republican, told Newsmax on Saturday that he agrees with Democrats' concerns about "taxation without representation," noting that he previously put forward a bill that would end federal taxes for residents of the district.
During a House floor speech regarding the statehood debate last week, Jones described his Republican colleagues' arguments as "racist and incendiary." He said that "the truth is there's no good argument for disenfranchising over 700,000 people" and said the GOP arguments against statehood are "racist trash."
Newsweek reached out to multiple Republican lawmakers who have vocally opposed statehood for Washington, D.C. for comment.