'Money Heist' Part 4: Meet Major New Villain Gandía
Money Heist (aka La Casa de Papel) Part 4 starts with the Dali-masked gang already in plenty of trouble, with Nairobi (played by Alba Flores) fighting for life and the rest of the gang preparing for "all-out war" with the police. Though the latter problem is solved temporarily when a truce is declared, The Professor (Álvaro Morte) and his team soon have another deadly adversary to face off against in the form of Cesar Gandía (José Manuel Poga).
WARNING: The following contains minor spoilers for Money Heist Part 4
Though he only becomes a major threat in Money Heist Season 4, viewers of the Netflix show already met Gandía in Part 3. He was introduced in the previous set of episodes as the security chief of the Bank of Spain, one of the hostages taken by the gang.
In the previous instalment, Gandía already proved how dangerous he could be by nearly blinding Palermo (Rodrigo De la Serna). However, it is not until Season 4 that he really shows his killer instinct.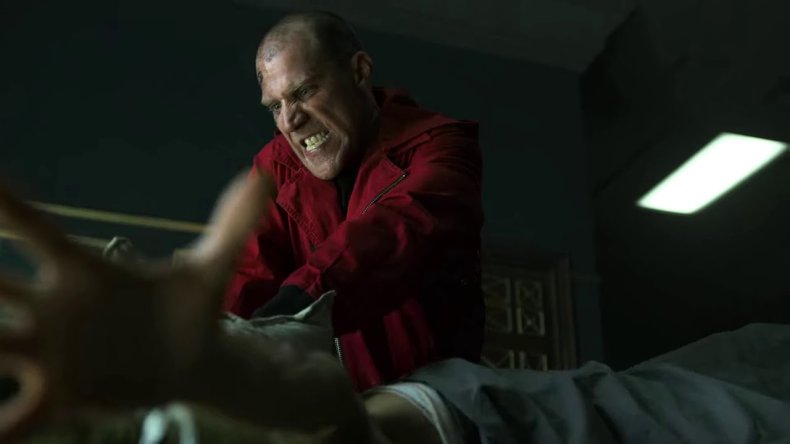 Early in the season, he manages to get out of his handcuffs by dislocating his own thumb, and then sets out on a campaign of terror against the gang, when he is given the task of taking out each member of the gang. Though we will not go into detail here of his exact plan and who does or does not die so as to allow viewers to enjoy it for themselves, the trailer for the new episodes gave viewers an idea of what they can expect from the character.
In that promo, we hear him able to make it to a phone and contact the authorities. He says to them: "Colonel, it's Gandia, the chief of security for the governor of the Bank of Spain. I managed to break free and all the cameras have just been disconnected."
Fans of Netflix's Spanish output may recognize José Manuel Poga from a number of films and movies. In 2017, he made an appearance on the streamer's El Ministerio Del Tiempo (The Ministry of Time), before joining the main cast of drama Fugitiva (Fugitive) in 2018. In 2019, he played a main role in the Netflix movie The Endless Trench.
In a video interview with El Correo, he said that his Money Heist character was someone who made "the weaknesses of the characters emerge."
Money Heist Part 4 is streaming on Netflix.