'Money Heist' Recap: All the Characters Who Have Died so Far on 'La Casa De Papel'
Money Heist (aka La Casa De Papel) is the kind of show that has no problem killing off any of its main cast members at any given time. In the four runs of the Netflix series so far, four main characters have died, and dozens of other characters have had near-misses. In Money Heist Part 4, one character died just a few episodes after nearly losing their life to a fatal gunshot.
All the characters who have died in Money Heist so far
WARNING: The following contains spoilers for all four parts of La Casa De Papel

Oslo—Roberto Garcia
The first character to be offed in the Netflix show is Dimitri Mostovói, aka Oslo, the cousin of fellow Serbian immigrant and Dali-mask gang member Helsinki (Darko Peric). At the end of Part 1, Oslo actually died at the hands of his relative, who killed him in an act of mercy. During the taking of the Royal Mint of Spain, a hostage managed to hit Oslo over the head with a crowbar. Helsinki is then forced to murder his braindead friend in an act of compassion.
Moscow—Paco Tous
Part 2 saw Agustin Ramons, aka Moscow, lose his life at the hands of police. At the start of the show, Moscow was fresh out of prison for robbery and looking to turn his life around. However, his son Denver (Jaime Lorente) persuaded him to do one last job to help him pay off a large debt. However, as nearly always happens in TV and film when someone tries to do one last heist, Moscow ended up dead, shot by police outside of the Mint.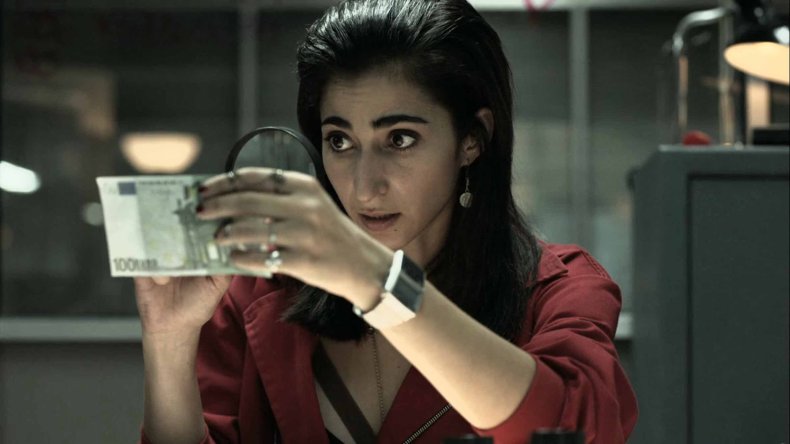 Berlin—Pedro Alonso
Based on these previous two examples, Money Heist clearly loves killing someone with family ties to another gang member. This trend continued with another Part 2 death, that of Andres de Follonosa, aka Berlin. The older brother of The Professor (Alvaro Morte) was also killed by police. However, Berlin's death was essentially an assisted suicide. Diagnosed with a disease that only gave him seven months to live, he decided to sacrifice himself to the police in an attempt to give his crew more time to escape from the Mint.
Nairobi—Alba Flores
The most recent character on the Money Heist chopping block was Nairobi, who died in Part 4 after nearly losing her life in Part 3. In that earlier installment, she was shot in the chest by police after they lured her out of the Bank of Spain with a chance to see her son. Though she managed to pull through this injury thanks to some quick surgery, her time in the world of La Casa De Papel was numbered. She was captured by Gandia (José Manuel Poga) in Part 4, who then shot her in the head just as he agreed to return her to the gang.
His death is crucial to Part 4, as it is the final straw that leads The Professor to engage the Paris Plan in the season finale—the plan that starts to bring down the Spanish government and sets up another season of the Netflix show.
Money Heist Parts 1 to 4 are streaming now on Netflix.