'Money Heist' Season 5 Volume 2: Release Date, Cast, Trailer and Plot
The first half of Season 5 of Money Heist was released on Netflix on September 3.
Just five episodes were released in the first volume of Season 5, with the Spanish crime drama set to come to its thrilling conclusion in the second half.
The show, known as La Casa de Papel in Spanish, has kept fans on the edge of their seats with its action-packed seasons, which follow a group of thieves as they carry out two meticulously planned heists.
Here is everything you need to know about the forthcoming season.
When Is Money Heist season 5 volume 2 Out?
The next volume of the show will feature five episodes in total, bringing the overall number of episodes in the season to a total of 10.
Split in half, volume 2 of Money Heist's fifth season will be released exactly three months after the first on December 3.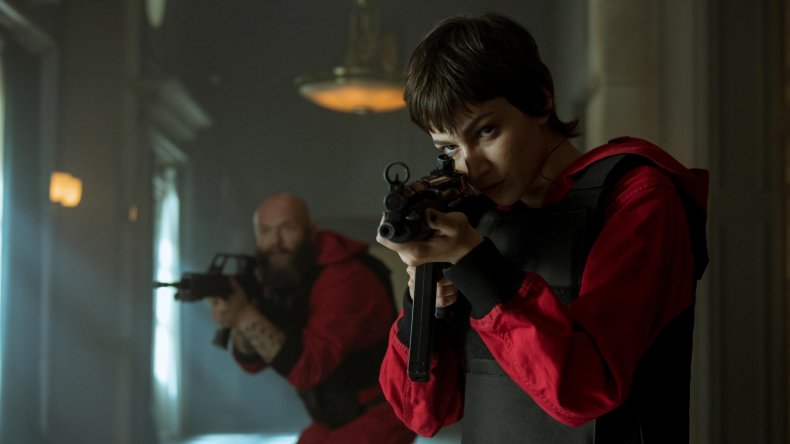 Who Will Star in Money Heist season 5 volume 2?
Season 5 of Money Heist has seen many fan favorites return for one final round, including those who have died, like Berlin played by Pedro Alonso.
The gang are still carrying out their heist in the Bank of Spain, with stars Miguel Herrán, Jaime Lorente, and Darko Perić reprising their roles as Rio, Denver, and Helsinki respectively.
Itziar Ituño, Esther Acebo, Hovik Keuchkerian, Rodrigo de la Serna, and Luka Peroš are also back as Lisbon, Stockholm, Bogotá, Palermo and Marseille.
Álvaro Morte will also be back as The Professor, the leader of the heists who is communicating with them outside, while Najwa Nimri and Fernando Cayo return as Alicia Sierra and Colonel Luis Tamayo.
One actor whose part in the second half of the season is up in the air is Úrsula Corberó, who plays Tokyo, as her character was killed in the emotional final moments of the mid-season finale.
However Tokyo will appear in future episodes through flashbacks like Alonso's Berlin has done, even though his character died in Season 2.
What Will Happen in Money Heist season 5 volume 2?
The heist members are currently fighting against their worst enemy yet, the army, which was sent in by Tamayo to end their heist.
Now going through an all-out war, and with Tokyo dead, the crew must try to survive as The Professor also rushes to try and help them.
Is There a Trailer for Money Heist season 5 volume 2?
A trailer for the final season of Money Heist was released on November 3, giving fans a first glimpse into how things will end for their favorite characters.
The stakes are higher and the consequences of the group's actions are clearly much worse than they anticipated.
It showed The Professor reuniting with his crew, and suggested they have to overcome their grief in order to survive their most difficult fight yet and escape the Bank of Spain.
Money Heist Seasons 1 to 4, and part 1 of Season 5 are out on Netflix now.
Update 11/03/21, 11.35 a.m. ET: This article was updated to add the official trailer and include more information on it.