'Money Men' Keeping Donations Away From Jeremy Corbyn-Led Labour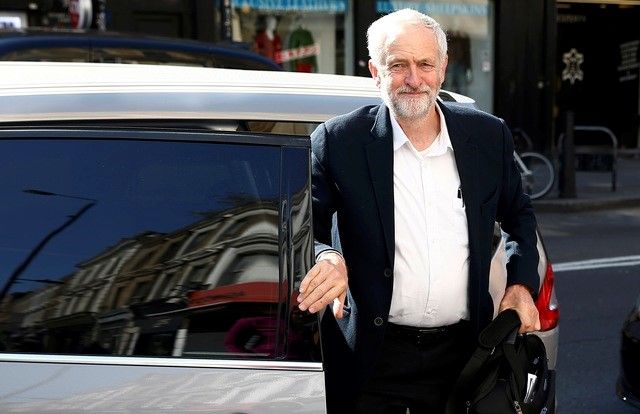 Billionaire Peter Coates has stopped giving money to Britain's opposition Labour Party, seeing little prospect of election victory under left-wing leader Jeremy Corbyn.
One of a handful of "money men" credited with using their cash to help propel Labour under Tony Blair to power in 1997 and keep it there, he has instead made direct personal donations to fund the work of a local Labour parliamentarian, whose centrist views are more aligned to his own. This is part of a pattern which has seen Labour's private donors channel funds away from the party apparatus and toward other groups in an attempt to revitalize the "center-left'"
The Labour Party is in turmoil. Already shaken by a crushing defeat in parliamentary elections last year, a decades-long division between its left and right wings has deepened since leftist Corbyn took over. Labour's problems are mirrored across Europe, where center-left parties have lost support to anti-establishment movements that have emerged since the 2008 economic crisis, and to conservative and centrist groups that have better captured the business vote.
"I'd like to see a modern Labour Party that produces good policies that will be good for the country and get electoral support," said Coates, who owns online betting company bet365 with his daughter and son and was ranked 24 in The Sunday Times rich list this year with 3.765 billion pounds ($5 billion). "For the timebeing I can't see there's anything that you would wish to support that's out there," he added when asked whether he would give any more money to the party.
To be sure, Labour is less reliant on individual donors than the governing Conservative party, and its traditional financial backers the unions remain supportive. But signs of declining donations point to a deeper malaise among backers. In Britain's EU referendum in June, many traditional Labour supporters voted to leave the bloc, against the party's official stance. Pro-EU Coates and others now fear Conservative Prime Minister Theresa May will negotiate Britain's divorce unchallenged by a weak opposition.
Donations to Labour have slipped since Corbyn became leader in September last year. Before Corbyn's appointment, the party received just over 3 million pounds ($3.99 million) in quarterly donations in non-election periods, data from the Electoral Commission watchdog show. That slipped to 2.7 million pounds in his first quarter in charge.
Is Labour 'Finished?'
Corbyn, a veteran left-wing campaigner, is expected to fend off a challenge to his leadership by lawmaker Owen Smith, with opinion polls saying he should win by a wider margin than when he was first elected by party members.
While he has brought many new members into the party, his expected victory will do little to convince almost three quarters of his parliamentary colleagues who say they have no confidence in him and doubt he is the man to lead Labour to victory at the next election in 2020. Recent opinion polls have given the Conservatives a 14 percent lead over Labour with 41 percent of the vote.
Businessman John Mills, who gave the party 1.65 million pounds in shares in his company in 2013, the dividends of which Labour still enjoys, fears that Labour "is finished" unless it reconnects with ordinary workers. To this end he has created a new group, called Labour Future, aimed at reviving British manufacturing to create new and better paid jobs.
"At the same time, the leadership must appeal to centrist voters in England who have previously voted in a Labour government, but have since moved their votes to other parties," he said.
His cause is similar to projects backed by other big donors who want to see the Labour Party reclaim its center ground to try to win elections. Nicola Murphy, a former adviser under the last Labour government, helped set up Labour Tomorrow in April—a platform to raise and distribute funds to center-left groups to help prepare for a Labour government. With former Labour minister David Blunkett and Brenda Dean, a Labour baroness, on the board, the group is careful not to say that it has been set up in opposition to Corbyn. But, along with other groups, it clearly wants to reposition Labour over the long-term.
They have attracted some wealthy backers, amassing more than 250,000 pounds from donors in two months, according to the Electoral Commission. The main donor so far, former hedge fund boss, Martin Taylor, who has given 180,000 pounds, declined to comment, but in articles written at various times says he has been a Labour supporter all his life.
"I believe wealthy people, such as myself, should pay higher rates of tax to help fund the National Health Service, our public services, the armed forces and reduce inequality," he wrote in the Huffington Post in response to Corbyn ally, Ken Livingstone.