Money in Politics: Congressional PACs are Personal 'Slush Funds' Used for Disneyland and Luxury Hotels, Watchdog Alleges
Millions of dollars collected by congressional "leadership PACs" in the names of ranking elected officials, which were supposed to have been used to help less-prominent candidates get elected, have been splashed out on lavish entertainment, luxury hotels, trips to Disneyland and other perks for politicians and their friends and families—against the spirit of campaign finance rules, according to a petition to the Federal Election Commission.
Congressional spending sprees in the third quarter of 2018 alone included at least $124,162 blown at the luxury Greenbrier resort in West Virginia; $160,809 at St. Regis resorts; $53,165 at Ritz Carlton hotels; $46,121 at Charlie Palmer Steak restaurant in Washington, D.C.; and $19,760 at Disney properties. That's according to a letter sent to the FEC by the Campaign Legal Center, a nonpartisan government watchdog, and former elected officials.
CLC federal reform program director Brendan Fischer told Newsweek the leadership PACs amounted to a "slush fund." Unlike a candidate's authorized political action committee, which caps individual contributions at $2,700 per election, individuals can contribute up to $5,000 per year to a member's leadership PAC—even if they have already donated the maximum to that member's campaign. That means that in a two-year election cycle, an individual donating to both PACs can fork over more than $15,000 to a House candidate. Senators—with a six-year election cycle—can take in just $5,400 from an individual donor to their campaign committee, but individual donors can donate $30,000 to each Senate leadership PAC.
The CLC and former Representatives Rod Chandler, a Republican from Washingon; Larry LaRocco, a Democrat from Idaho; Peter Smith, a Republican from Vermont; Claudine Schneider, a Republican from Rhode Island; and John Tanner, a Democrat from Tennessee, last week petitioned the FEC to revise and to clarify that the prohibition on the personal use of campaign funds applies to leadership PACs. "Although the Commission has allowed for the creation of leadership PACs to permit candidates and officeholders to support other candidates or party committees, in the absence of clear rules, leadership PACs have become commonly used as slush funds to subsidize officeholders' lifestyles," the petitioners wrote.
Fischer pointed to Kentucky Senator Rand Paul, who spent only 9 percent of his PAC money on other candidates, while blowing money on personal travel, as one of the more egregious examples. In September 2018 alone, Paul's "Rand PAC" spent more than $4,000 on meals, transportation and sightseeing in London, including $353 for "travel" paid to Historic Royal Palaces, which manages the tourist destination the Tower of London, and $889 to the Mirror Room, an upscale hotel restaurant.
Paul's office told McClatchy that accusation was "fake news."
Both Democrats and Republicans operate these PACs, which can accept money from other PACs and from individuals. Republicans have consistently raised about 20 percent more than Democrats, according to analyses by the watchdog group Open Secrets.
But Fischer pointed to outgoing New York Democratic Representative Joe Crowley, who after being defeated in the primary by new progressive star Alexandria Ocasio-Cortez, blew tens of thousands of dollars through his Jobs Opportunities and Education PAC on racing tickets and other amusements in Saratoga, New York.
In early 2018, Crowley had Democratic leadership aspirations, and his PAC was contributing most of its money to other candidates. After Crowley lost his primary in June 2018, Joe PAC's spending patterns "shifted," according to the CLC, and in the first month after his primary loss, Joe PAC made $0 in contributions to other candidates or committees. Instead, it spent $17,768 at the New York Racing Association for "tickets for fundraising event & catering"— more than five times the amount Joe PAC raised that month. Joe PAC later made $7,223 in contributions, while reporting $1,685 for "catering" at the Saratoga Racetrack plus $6,450 for hotels and meals in Saratoga Springs, around the same date.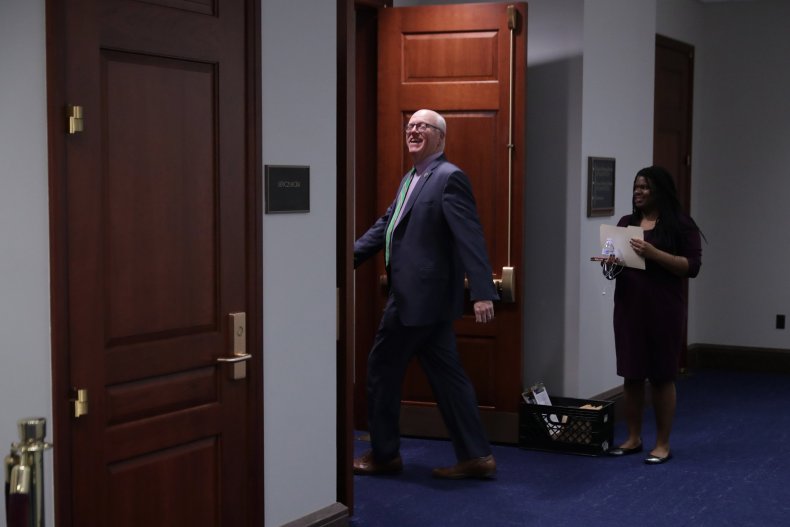 A spokesperson for Crowley, Lauren French, told Newsweek that CLC is "making wrong assumptions" about the PAC, which spent the money on an annual "Saratoga Weekend," to thank donors. "Inherently a leadership PAC is disconnected from being in office," she said. "And you can use PAC money to facilitate a fundraising event. These are not personal expenses. The weekend is to encourage donors to give money and build relationships with fundraisers. It is part of the process that everyone and their mother does."
Fischer said the leadership PACs were created in the late 1970s, after a massive post-Watergate congressional campaign finance law overhaul but abuse soon became rife.
"Once the door was opened, the expenditures became further and further removed from the original purpose, and now they have become a second pot of money that lawmakers dip into for all sorts of expenditures that may not be connected to duties or needs as a candidate," he said.
Fischer said that many of the fundraisers may be technically permissible under the current rule, but the FEC needs to revise it in order to rein in the abuses.
"With many of the PACs, they are fundraising for the purpose of fundraising and subsidizing the next fundraiser," he said. "You spend $17,000 for a fundraiser at the Saratoga racetrack, then use the funds you raise there to fund your next fundraiser at the next resort, then all you are doing is flying around and rubbing shoulders with rich donors. That is a problematic situation."
The FEC has no deadline on which to act on the petition. The six-member body normally consists of three members from each party, but currently only has four members, because the Trump administration hasn't filled two vacancies. Because any action requires at least three votes, the FEC "has been dysfunctional" for the last two years, Fischer said.