'Monica & David': HBO's Down Syndrome Documentary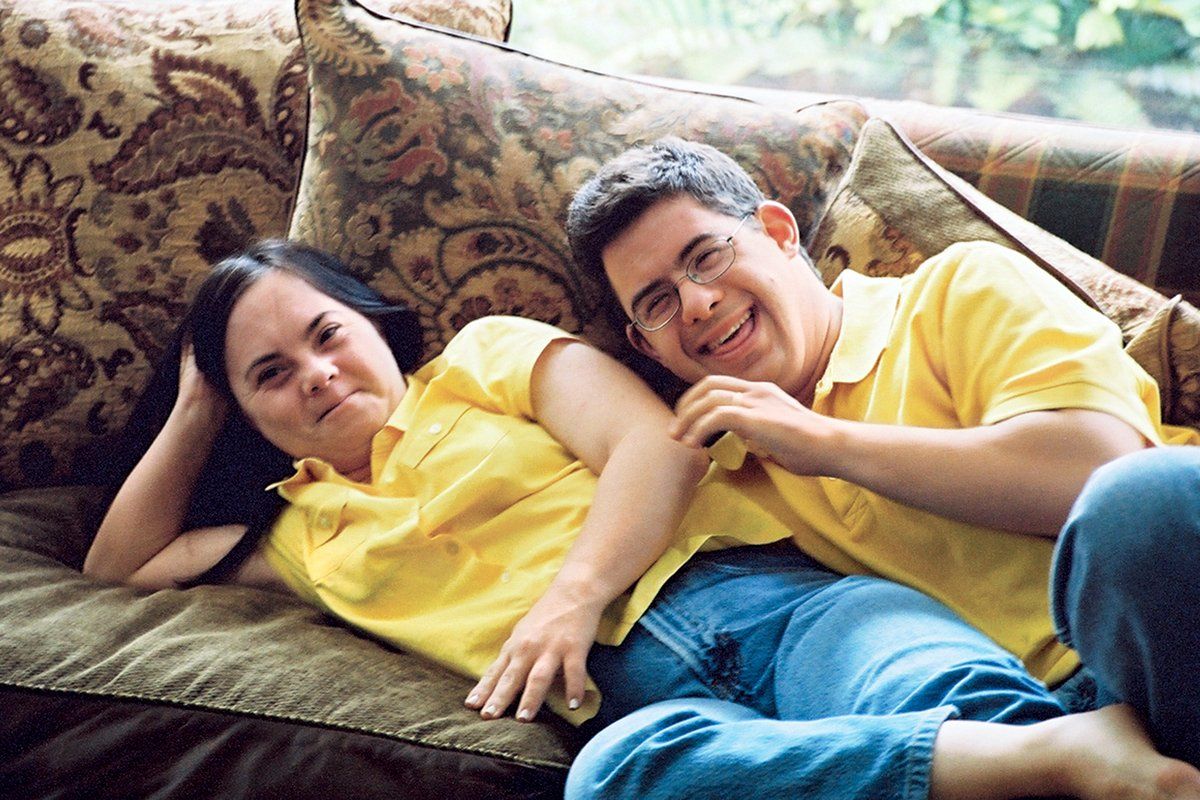 Who among us can resist a tale of all-consuming true love? Within everyone there is a true romantic, a cellular understanding of how intoxicating, maddening, and life-affirming love can be. The courtship of Monica and David is that kind of love story. He met her in class and was instantly smitten. She rejected him at first because she had a boyfriend, but he persisted. Now they're married, and completely stuck on each other. He calls her his Winnie the Pooh, and he's her Prince Charming. The rub, because all love stories come with one, is that both Monica and David have Down syndrome. Marriages between people with Down syndrome were unheard of in the mid-'80s, when the life expectancy for those with the disorder was 25. That age has risen to 60, and with it, the desire of those with Down syndrome for companionship.
The wedding and the happily-ever-after are chronicled in Monica & David, the Tribeca Film Festival–winning documentary that airs Oct. 14 on HBO. It's a refreshing and rare story for television. A just-released study revealed the dearth of characters with disabilities on television. The only recent examples of characters with Down syndrome include Glee's Becky Jackson, one of the school's mean-girl cheerleaders, and a controversy-courting depiction of a rude and demanding love interest for Chris on Family Guy. In that sense, Monica & David is a triumph—and not just for them.
Monica and David's parents provide the story's conflict with the inner turmoil they experience as they begin to cede control to the children they've spent years caring for. They're extremely supportive, and they accept the couple's desire to live their own life, but they worry about Monica and David's ability to function independently, and especially, how they'll deal with people who are hostile or discriminatory. In one touching scene, the couple dotes on a baby and ponders whether they would want children of their own, an option that is likely unavailable to them due to their cognitive limitations. But to Monica and David, no aspect of the American Dream is off-limits. They take cooking classes so they can have romantic dinners together. They fantasize about getting jobs as cashiers or baggers at a nearby grocery store. You'd be forgiven for forgetting they even have Down syndrome, as they seem to forget themselves. When asked, David says he has it "sometimes, not all the time."
Monica and David want the same things any other human being wants: to love and be loved, to have a family, to chart a course for their own lives, and to be free of other people's judgments. It's easy to attack a relationship like theirs when it's an abstraction. But after watching this documentary, it becomes harder to make a logical argument for why two people shouldn't have access to the lives they desire. In that way, the beauty and grace of Monica & David is a far stronger argument for, say, gay marriage than well-meaning agitprop like 8: The Mormon Proposition or Outrage. Films like those appeal only to those who have already made up their minds. Monica & David swerves around the mind and goes right for the heartstrings.