Monica Lewinsky Rips Harvey Weinstein's 'Forgotten Man' Claim, Says Women 'Scarred' And 'Traumatized' by Him 'Probably Haven't Forgotten Him'
Former Hollywood mogul Harvey Weinstein's complaint that people fail to give him proper credit for promoting women in film didn't bode well with some of those who accused him of sexual assault and harassment and people who support them.
"Kinda thinkin the women who've been scarred [and] traumatized by Harvey probably haven't 'forgotten' him," anti-bullying activist Monica Lewinsky wrote on Twitter in response to Weinstein's interview.
Weinstein, who faces criminal charges for sexual assault and rape, told Page Six on Friday that he felt like the "forgotten man." He claimed that his work promoting women in film, including actor Gwenyth Paltrow who was one of his accusers, before it was in "vogue" was overshadowed by "what happened."
The former movie mogul pleaded not guilty to all charges and refused to discuss the allegations against him, according to Page Six. His comments focused predominately on his contributions to the world of film and his charitable work.
"I made a success out of myself. I had no money, and I built quite an empire with Miramax and decided to give back," Weinstein said. "If you remember who I was then, you might want to question some of this."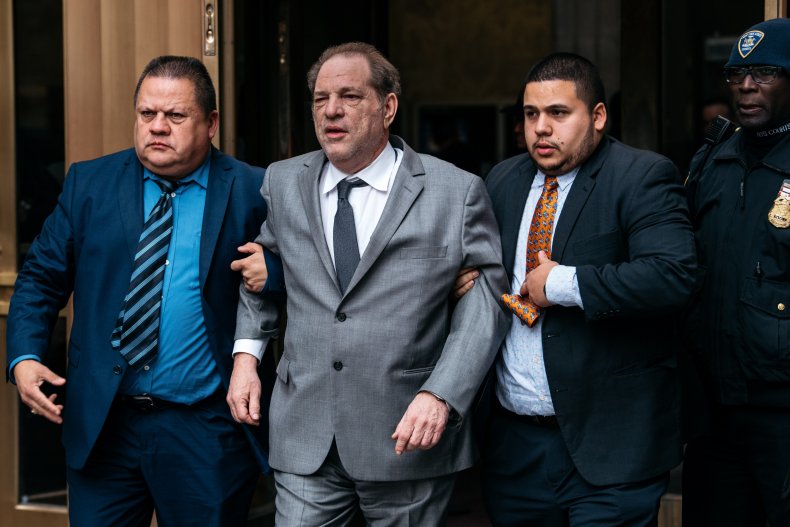 On Sunday, the Silence Breakers, a group of 23 women who accused Weinstein of sexual misconduct, told Deadline that Weinstein was "trying to gaslight society again." Pointing to his comment about being "forgotten," the women said Weinstein wouldn't have to worry about that because he would be remembered, albeit not in the way he wanted.
"He will be remembered as a sexual predator and an unrepentant abuser who took everything and deserves nothing," the statement said. "He will be remembered by the collective will of countless women who stood up and said enough. We refuse to let this predator rewrite his legacy of abuse."
Actor Rosanna Arquette, one of the Silence Breakers, posted on Twitter that she would never forget when Weinstein told her she was "making a big mistake," and she responded with, "I'll never be that girl." Arquette told The New Yorker in 2017 that after she rejected Weinstein's sexual advances, her career suffered and he "made things very difficult" for her.
Actor Rose McGowan, also a Silence Breaker, posted on Twitter that she too hadn't forgotten Weinstein, although she wished she could. McGowan reached a $100,000 settlement with Weinstein in 1997 over an encounter in a hotel suite during the Sundance Film Festival that McGowan described as rape, according to The New York Times.
"I refused to sign an [nondisclusure agreement] after it happened because I knew I would come for you. And I did. This is about stopping a prolific rapist. You," McGowan said.
In his interview with Page Six, Weinstein claimed that he made more movies directed by women and about women than any filmmaker, work that's been forgotten. Mentioning Paltrow by name, he said she was the highest-paid female actor in independent film when Weinstein's company, Miramax, paid her $10 million in 2003 for View From the Top.
In 2017, Paltrow told The New York Times that Weinstein sexually harassed her when she was 22 years old. After being cast as Emma Woodhouse for the 1996 adaptation of Jane Austen's novel Emma, Paltrow said Weinstein suggested they go to his bedroom at the Peninsula Beverly Hills hotel for massages. She refused his advances and told The New York Times she made it clear the relationship had to be professional, although she was expected to keep the "secret." Paltrow later won an Oscar for her role in Miramax's Shakespeare in Love.
In November, at The New York Times DealBook Conference, Paltrow told journalist Andrew Ross Sorkin that she wasn't sure how she felt about Weinstein. While he gave her "incredible opportunity," USA Today reported she said, they also had a "very fraught, complicated relationship."
"The postscript to that chapter of my life is where it gets extremely complicated for me, because information came to light about who he was and how he was behaving that I didn't know during my already very difficult time with him," Paltrow said.
Weinstein's trial is scheduled to begin on January 6 in Manhattan Supreme Court and faces life in prison if found guilty. Newsweek reached out to an attorney listed for Weinstein via email for comment but did not receive a response in time for publication.