Monkey Holds Newborn Puppy Hostage for Three Days in Trees
A wild monkey in Malaysia adopted his own two-week-old puppy and scoured electrical lines and tall trees with it for three days. Locals were finally able to rescue the newborn pup, who was adopted and named Saru.
When residents witnessed the wild macaque carrying the small puppy up to the top of a tall electrical pole several gathered around the scene – some with bananas in hand.
The residents witnessed the wild monkey tight roping across electrical wires and hopping through tall trees before stopping at the top of one. Some residents believe the monkey snatched up the stray puppy from his litter nearby.
"It looked like it was treating the puppy as a friend or its baby, it was very strange," Cherry Lew Yee Lee, a bystander, told Newsflare.
In the video, a bystander films the macaque holding the puppy as one of his own offspring. The puppy is seen trying to escape the macaque's grasp but is not strong enough.
The footage was captured right outside a neighborhood surrounded by houses on one side and rainforest on the other. The monkey is sitting at the top of a tall tree at the edge of the forest.
Residents claim the macaque was from a group of monkeys that are notorious for stealing food from around the neighborhood. Now they are worried that the monkeys are also stealing their pets since some cats and dogs have gone missing from the area, Newsflare reports.
Parts of the video from the incident show residents equipped with large nets and blankets in hopes of rescuing the puppy. The monkey repeatedly returned to the edge of the forest for food but quickly scurried through trees after eating. By the third day, residents decided to attempt to scare the monkey by throwing small rocks and pieces of wood at him.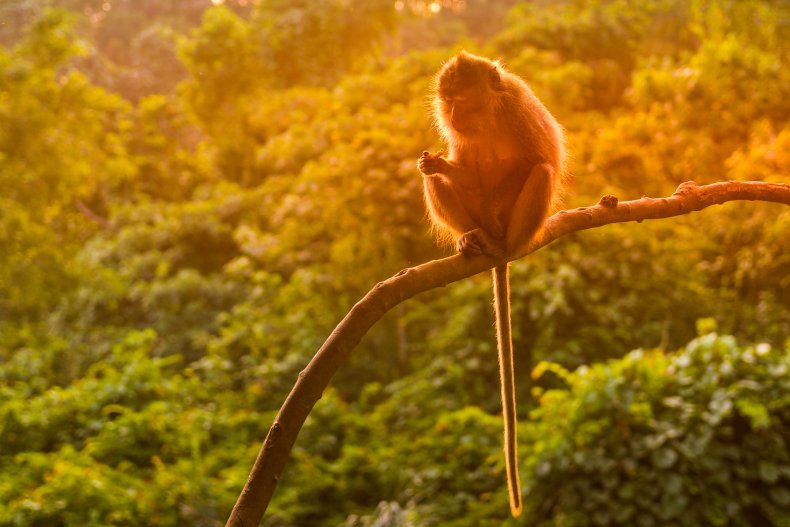 Eventually, the monkey dropped the puppy into the greenery below and disappeared into the forest. The surrounding residents can be heard happily cheering and clapping at the successful rescue efforts.
A local took the puppy home and had it checked for any injuries. The puppy was given a clean bill of health and is now happily living in his adopted home.
Due to the growing number of public complaints about wild macaques, Malaysia's Department of Wildlife and National Parks started conducting "culling" of thousands of free-living macaques a year, the International Primate Protection League estimates. They've also introduced a kill quota for each state and have provided two incinerators to dispose of the corpses, Al Jazeera reports.
Macaques are notorious in the area for being sneaky and extremely intelligent. Residents who live near large macaque populations claim they have to look out for fridge and pantry raids. These monkeys are also known for snatching clothes and bathing suits from unsuspecting swimmers.