Monkeypox Case in Massachusetts May Be Linked to Canadian Outbreak
The U.S.'s first confirmed case of monkeypox in Massachusetts may be linked to an outbreak in Canada.
The Massachusetts Department of Public Health announced Wednesday that a man in the state, who had contracted the virus, recently traveled to Canada. The department stated that the case "poses no risk to the public, and the individual is hospitalized and in good condition."
On Thursday, Canada confirmed its first two cases of monkeypox, with its public health agency saying that it had been working "to investigate potential exposure and contacts of a case of monkeypox recently identified in the United States."
The Public Health Agency of Canada (PHAC) stated on its website that the U.S. citizen "travelled by private transportation and may have been infected before or during his visit to Montreal, Quebec."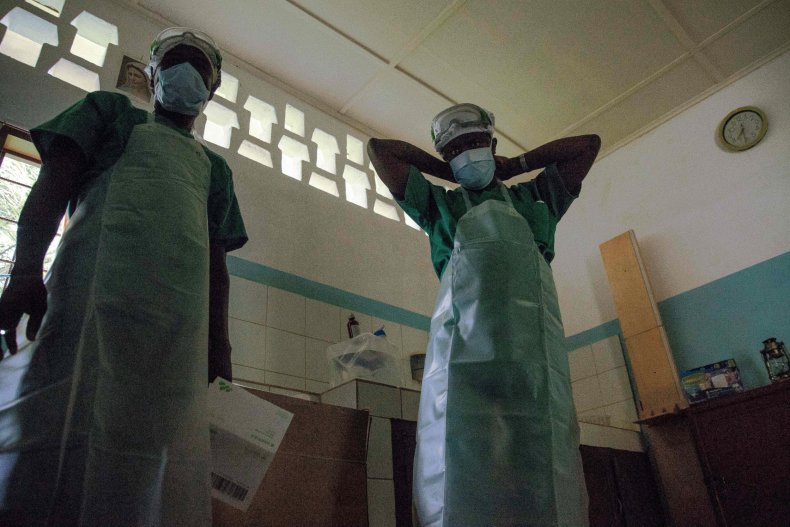 "As part of the ongoing investigation, health partners have identified individuals in Canada who have signs and symptoms which could be consistent with monkeypox infection," the agency stated, adding that so far two samples have tested positive for the virus.
Reached for comment on Friday, the PHAC referred Newsweek to its Thursday press release. "PHAC will continue to provide updates to the public as new information becomes available," a spokesperson for the agency said in an email.
Newsweek has also reached out to the Massachusetts Department of Public Health for comment.
Public health officials say that monkeypox is a rare, but possibly serious virus. It begins with flu-like symptoms and "swelling of the lymph nodes and progresses to a rash on the face and body," according to the Massachusetts Department of Public Health.
Infections typically last two to four weeks, however the department noted that the virus doesn't spread easily between humans. "Transmission can occur through contact with body fluids, monkeypox sores, items that have been contaminated with fluids or sores (clothing, bedding, etc.), or through respiratory droplets following prolonged face-to-face contact," it said.
Following a monkeypox outbreak in the United Kingdom this month, the U.S. ordered millions of doses of a vaccine for the virus. Biotechnology company Bavarian Nordic, which makes the vaccine, announced the $199 million order Wednesday.
As of Friday morning, in addition to the case in Massachusetts, six people were being monitored for possible infections after they sat near an infected traveler on a flight. Meanwhile, another individual was being monitored for a possible infection in New York City.
Most of the confirmed cases have been identified in Portugal, Spain and the U.K. Other confirmed cases have also been identified in Italy, Belgium, Sweden, Germany, France, and Australia.
Jennifer McQuiston, a Centers for Disease Control and Prevention (CDC) official, told CNN Thursday that there's a "level of scientific concern about what we're seeing because this is a very unusual situation," noting that most cases are reported in Africa.
"At the same time, there really aren't that many cases that are being reported—I think maybe a dozen, a couple dozen—so, the general public should not be concerned that they are at immediate risk for monkeypox," she added.
Last year, Texas and Maryland each reported a monkeypox case in people who recently travelled to Nigeria.