Monkeypox Focused on Gay Community but Not Fueled by Prides, WHO Says
The monkeypox outbreak is still focused on the gay community, but it has not been fueled by recent Pride parades, the World Health Organization (WHO) has told Newsweek.
Monkeypox continues to spread rapidly across the globe, with 15,848 cases confirmed as of July 21, according to data from the Centers for Disease Control and Prevention (CDC).
A WHO spokesperson has told Newsweek that in newly affected countries, the virus continues to be concentrated "among gay, bisexual and other men who have sex with men who have had recent sexual contact with a new partner or partners."
The spokesperson said there is now more data on the virus, and how it is spreading within this community.
WHO said that "it might also be of interest to note" that so far in the outbreak, there have been no cases reported in other parts of the LGBTQI+ community, "including, for example among the lesbian community."
"This is interesting given the large number of Pride festivals held in recent months that have involved casual interpersonal contact in the context of large groups," the spokesperson said.
WHO said that "a limited number of cases" have also been recorded in women and children in newly affected countries "although this has not yet led to the outbreak taking hold in new populations."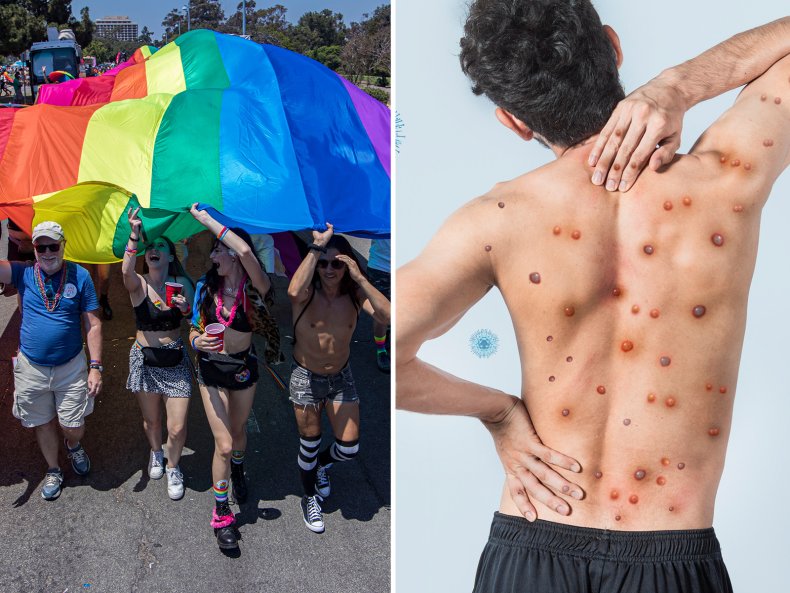 "Data tells us that close and prolonged intimate contact between men, including sexual activity, continues to play a significant role in transmitting monkeypox. We know that some men who have sex with men are connected to sexual networks that extend across different cities and countries. Symptoms in the current outbreak are often localized to the anal and genital areas which has not been observed in previous outbreaks," the spokesperson said.
"Some emerging data, including from retrospective examination of samples provided to STI clinics by men who have sex with men who have not been diagnosed with monkeypox, have indicated the presence of the virus in those without obvious symptoms."
"Clearly we need to continue to closely monitor the data as we know that all diseases can shift and evolve sometimes in an unpredictable fashion," the spokesperson said.
Monkeypox spreads through direct, physical contact. It remains unclear why monkeypox seems densely concentrated within the gay community. However experts have warned against stigmatising the virus—they have also reiterated that it is not exclusive to the gay community, and anyone may catch it.
A new study recently highlighted new symptoms seen in monkeypox patients, including single sores on the genital area. Studies are also underway, exploring whether the virus can travel through seminal fluids.
"We continue to strive for a balance between the clear targeting of resources and addressing stereotyping, stigmatizing, blaming or shaming of people. We all have a role to play in being alert to misinformation and communications fueled by racism or homophobia—we can do this by sharing only reliable, evidence-based and non-stigmatizing information from trustworthy sources," the WHO spokesperson said.
Jay Brown, senior vice president of programs, research & training at LGBTQ+ non-profit the Human Rights Campaign, told Newsweek that more needs to be done for the gay community to prevent the spread of monkeypox.
"There was at first too little knowledge of [monkeypox] even existing, then, too little knowledge of the fact that it was particularly impacting LGBTQ people. And that then creates some challenges with prevention and treatment access," Brown said.
"Now we're at the stage where I think we have some concerns around the excessive connection just to sexual activities, because [the virus] can spread through so many different means of direct skin to skin contact. So we don't want folks to think the only way that they can get it is through sexual activities and that's what I think we're really concerned about in terms of a stigma."
Brown said the Human Rights Campaign is "pushing for more to be done" in terms of vaccinations and raising public awareness of the virus among the gay community. There is an effective vaccine for monkeypox, but it remains in extremely limited supply.
"[We are] really making sure there's more access to vaccines and treatment and prevention[...] and understanding that our health care system really is inequitable, especially to BIPOC [Black, indigenous, people of color] LGBTQ community members. And we need to make sure that outreach efforts are really targeting communities that tend to be disproportionately impacted," Brown said. "[...It is] just yet another signal of how our public health is low priority here in the U.S. and and it really continues to impact our community and in significant ways."