Monkeypox Must Not Be Another COVID-19 for Communities of Color | Opinion
Just as we saw at the onset of the COVID-19 pandemic, monkeypox is a public health emergency disproportionately impacting communities of color. But this time, we must take immediate action on the lessons we learned from COVID-19 and use them to reduce the spread and suffering and make this time different.
As leaders of Choose Healthy Life's National Black Clergy Health Leadership Council and its Medical Advisory Board, we have gained invaluable experience from working with our communities during the HIV/AIDS epidemic and now through our ongoing efforts to mitigate the COVID-19 pandemic in the Black community. This knowledge equips us with insights relevant to the threat posed by the monkeypox virus, and we applaud President Biden's recent declaration that monkeypox be classified as a public health emergency.
We're not going to let another pandemic emerge and fester again, disproportionately impacting our communities. For this reason, we've assembled some action items that can better protect our communities' health.
Put an end to the stigma
Data indicates that the transmission of the monkeypox virus is primarily through close skin-to-skin contact with a monkeypox rash; bodily fluids; and by touching objects and surfaces that have been used by an infected person. It may also be spread through respiratory secretions when people have close face-to-face contact and scientists are continuing to learn more about this mode of transmission. Right now, the overwhelming majority of infected people are men who have sex with men (MSM) and their sexual networks. Given the stigma and bias this group already faces—especially when it comes to disease—it's critical we exercise careful intention and compassion for those who are suffering and those who are at risk. We are particularly mindful of the high level of vulnerability and transmission among people living with HIV.
We are also aware that while monkeypox thus far is largely spread during physical closeness associated with sexual activity, it has not been deemed an exclusively sexually transmitted disease, and that it will not continue to be only in the MSM community. In fact, there are already children and women who are infected with monkeypox.
Our experience with HIV/AIDS taught us the tragic consequences that accompany stigmatization—it drives vulnerable people underground and impedes engagement with public health efforts. To start, it's important that we don't limit testing and vaccines to one group but make them available to anyone who feels they may be at risk.
Champion health care professionals, community, and faith-based leaders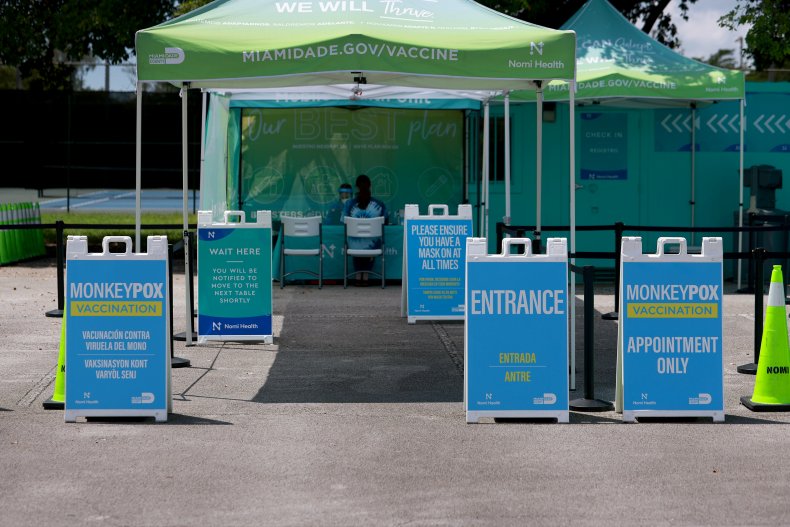 Health care professionals and influential leaders who work with or advise communities of color should have access to frequent, trustworthy, and up-to-date information and briefings on testing availability and processes, vaccination strategies and dissemination mechanisms, as well as the latest on treatment options from federal officials, local government health leaders, and scientific experts. Our trusted community leaders and health care figures should be active participants in strategy and evaluation meetings at all levels.
Bolster access to testing, data, and vaccines
As we learned during the COVID-19 pandemic, convenient and free access to diagnostic testing is critical. Controlling outbreaks depends on prompt diagnosis and effective intervention with infected people and their contacts. Given that this disease is now identified outside of the MSM community, rapidly expanding access to testing is essential. Contact tracing is especially dependent on trusted relationships that ultimately reduce stigma and improve uptake of preventive services. As always, Choose Healthy Life stands ready, along with numerous other community and faith-based organizations, to participate in these efforts.
Our experience also continues to highlight the importance of accurate national, state, county, and city level epidemiological data by race and ethnicity. These data enable us to identify specific geographical areas of concern and monitor progress in disease amelioration. Unfortunately, far too many local jurisdictions are not providing actionable data.
We appreciate the Biden administration's efforts to quickly allocate and deliver the Jynneos vaccine, which protects against Monkeypox. Yet once again, we are mindful of the disparities the Black community experienced in accessing COVID vaccines, especially when they were initially in short supply. It is important that vaccine availability expand beyond a single population group and reach all those who may be at risk. Community advocacy and engagement were effective in addressing these issues and we should take advantage of existing community and faith-based infrastructures immediately.
Consider social determinants of health
We understand the importance of those exhibiting any monkeypox symptoms to isolate in their homes for the duration of their illness, which typically lasts two to four weeks. But the COVID pandemic taught us that successfully achieving quarantine in our communities often requires attentiveness to emerging social needs like unhealthy or crowded housing, financial insecurity, and food insufficiency. Strong engagement between local public health agencies and community-based resources is necessary to ensure quarantine is a feasible option for all groups. Our own Choose Healthy Life Health Navigators have proven the importance of such collaborative efforts to address compelling social-based needs. Funding should be made immediately available to support such efforts.
Additionally, the drug tecovirimat (also called Tpoxx) is in short supply and still labeled as an "investigational drug." This limits its rapid release from the strategic national stockpile. From experience, we know that the Black community is especially attentive to the safety of drugs during public health emergencies. As such, we call for the inclusion of expert physicians and scientists of color in expedited scientific reviews. This will ensure that when these stockpiled drugs are released, their effectiveness and safety will be clearly communicated to all Americans.
Monkeypox is both real and frightening. We pledge our efforts and support to the communities that are becoming severely challenged by this emerging health threat. As we help lead the Black community, we are also devoted to supporting all disproportionately impacted and vulnerable groups through this crisis both nationally and internationally. Perhaps our foremost lesson from our experience with HIV/AIDS and COVID-19, is that we are truly all in this together. With love, compassion, and attention to the execution of well-designed strategies, we will get through our latest health crisis together and make this time different.
The Rev. Dr. Calvin O. Butts III, pastor of The Abyssinian Baptist Church (Harlem) and the Rev. Al Sharpton, president and CEO of the National Action Network, are the co-chairs of Choose Healthy Life, a national program to address health equity through the Black church. Dr. Reed Tuckson, co-founder of the Black Coalition Against COVID-19, and Dr. Donna Christensen, the first female physician in the U.S. House of Representatives (1997-2015), both serve on Choose Healthy Life's Medical Advisory Board. Debra Fraser-Howze is founder of Choose Healthy Life.
The views expressed in this article are those of the writers.