Where to Get Monoclonal Antibodies to Treat COVID and How Much They Cost
A potentially life-saving COVID treatment involving monoclonal antibodies is going largely unused as Americans wait for a vaccine to become more widely available, a White House science official has said.
To date, over 56 million doses of a coronavirus vaccine have been administered across the U.S., with 15.5 million of those being a second dose. This week, President Joe Biden said it would take until the end of July for 600 million doses to become available—enough to vaccinate nearly all of the population with two shots.
It means many will be waiting months for a vaccine—but there are other treatments available.
Dr. David Kessler, chief science officer for the Biden administration's COVID response, has now said "it is very important" that Americans enquire about monoclonal antibodies if they test positive for coronavirus and fall into high-risk categories.
He told MSNBC's Rachel Maddow on Wednesday: "I looked at the data last night, and what it shows is that for every 52 doses administered of monoclonal antibodies with somebody who's tested positive and are high risk, we can save one life.
"Only 32 percent of what we've shipped has been used. There's hundreds of thousands of doses available. It decreases hospitalizations by 70 percent in high risk patients and it does save lives. If you have symptoms, please get tested early, especially if you're at high risk. Because you can do something about it. We have therapies that work."
Kessler defined high-risk patients as those who are over 65 or have medical conditions including obesity, diabetes, are immunosuppressed or are going through on-cancer chemotherapy.
They are authorized for use on patients who have tested positive for COVID in the previous 10 days and are aged 12 or over.
Hospitalizations in the U.S. have fallen in recent weeks as the graph by Statista below shows.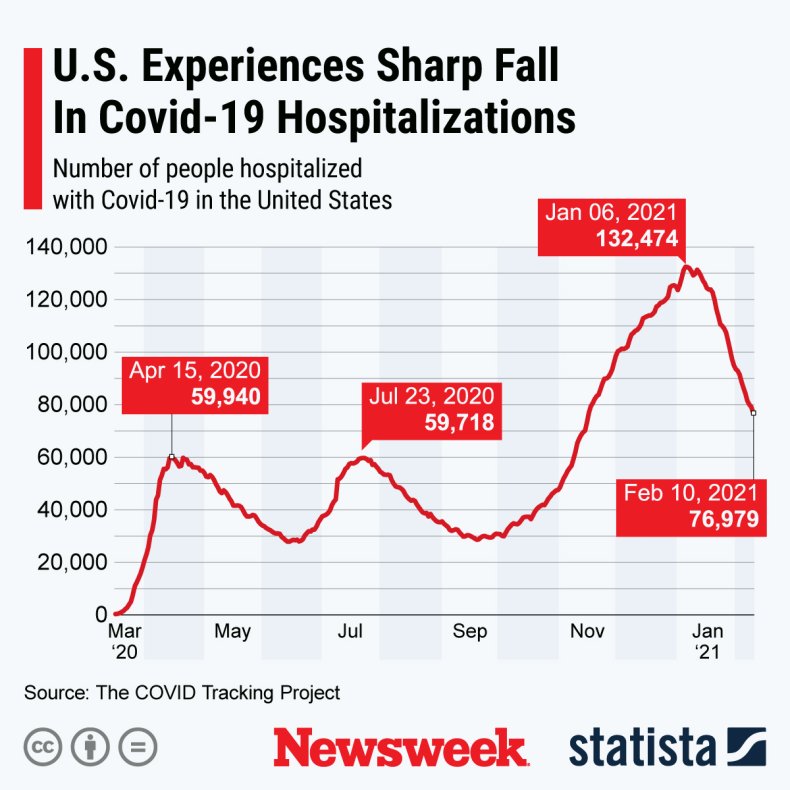 What are monoclonal antibodies?
Monoclonal antibodies are administered in the same way as a COVID vaccine—with an injection.
However, the way they work is quite different. A COVID vaccine works by exposing someone's immune system to a weak or dead form of the virus so the body can prepare itself and produce antibodies to attack the real thing in future.
Monoclonal antibodies work by injecting into the patient human-made antibodies which attack the virus.
According to the U.S. Department of Health and Human Services (HHS), two different monoclonal antibody treatments have been authorized for emergency use by the FDA. One is bamlanivimab, and the other is a mixture of casirivimab and imdevimab. Over 600,000 such treatments have been shipped to U.S. health care facilities.
How much are they, and where are they available?
The federal government is currently distributing monoclonal antibodies for free, but some health care providers may be charging patients for administering the treatment.
These costs may be covered if the patient has insurance. If not, it is advised to ask the treatment facility if there will be any charges.
Those covered by Medicare should not have to pay any costs for getting monoclonal antibodies, according to HHS. In November, the federal government waived co-payments associated with the treatment for Medicare beneficiaries.
A national map showing monoclonal antibody treatment locations is available now on the HHS website, and more information on who is eligible can be found on CombatCovid.HHS.gov.
Newsweek, in partnership with NewsGuard, is dedicated to providing accurate and verifiable vaccine and health information. With NewsGuard's HealthGuard browser extension, users can verify if a website is a trustworthy source of health information. Visit the Newsweek VaxFacts website to learn more and to download the HealthGuard browser extension.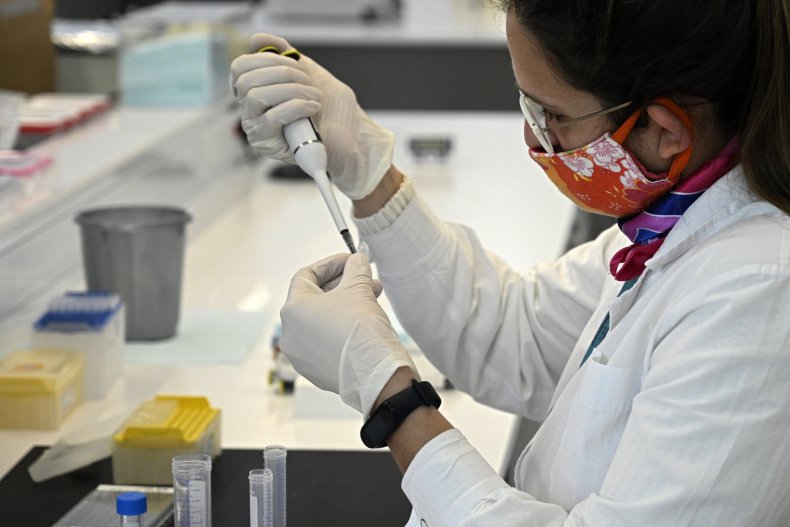 This piece was updated with a graph by Statista.