Demand for monoclonal antibody treatments have surged as the Delta variant spreads, but hordes of Americans relying on the treatment instead of vaccination is an expensive solution to the pandemic.
A free and effective way of helping to keep COVID-19-positive people out of the hospital, states ramped up access to monoclonal antibody treatments. Amid increased interest, the Biden administration purchased another 1.4 million doses of Regeneron's monoclonal antibody treatment, but the move to fight off a potential shortage of the treatment came at a cost of nearly $3 billion.
Regeneron is selling its monoclonal antibody cocktail to the U.S. government at $2,100 per dose, the same price as Eli Lilly's treatment. That's about 52 times more than the cost of two doses of the Pfizer vaccine.
The only COVID-19 vaccine to be fully approved by the Food and Drug Administration, Pfizer sold its vaccine to the Trump administration in July 2020 for about $19.50 per dose. A two-dose vaccine, the inoculation costs about $40 per person. Moderna's vaccine is priced at about $15 per dose, a total of about $30 for full vaccination, and Johnson & Johnson's one-dose vaccine was only about $10 per dose, according to the Congressional Research Service.
More than 41 million people in the United States have tested positive for COVID-19 and more than 660,000 people have died. Following a surge in vaccinations in April, daily inoculations nationwide trended downward for months, giving rise to the Delta variant, which has proven more transmissible.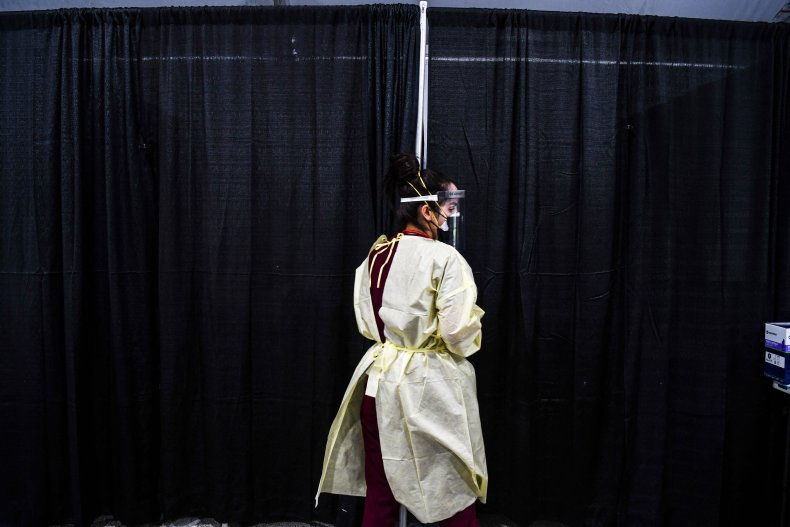 The spread of the Delta variant fueled surges in cases and hospitalizations and health care systems nationwide have been pushed to their breaking points. Health care systems in states with low vaccination rates have been particularly strained, making the need for monoclonal antibody treatments vital to helping alleviate stress.
The treatment was approved for COVID-19 under an Emergency Use Authorization after it showed promise at helping prevent people from developing serious illness. Christos Kyratsous, who heads the infectious disease research team at Regeneron, told Newsweek the antibodies help supplement people's natural immune systems and are extremely beneficial for people who can't get vaccinated or don't develop a strong response of their own after they get vaccinated.
Surges in ordering from seven states, including Alabama, Mississippi, Louisiana, Tennessee and Georgia, where vaccination rates are low, prompted the Department of Health and Human Services to put a temporary allocation on ordering. The goal is to ensure equitable distribution and ensure future patients nationwide have access to the potentially life-saving treatment.
There's no set timeline for when the allocation will be lifted so states can receive their full orders again and the decision to limit supplies prompted some criticism. Dr. Aruna Arora, president of the Medical Association of the State of Alabama, called for an increase in supplies, not a limitation, and Representative Chip Roy asked HHS Secretary Xavier Becerra for answers as to why the limit was put in place and if a shortage was expected.
Alexandra Bowie, a spokesperson for Regeneron, told Newsweek demand is "way up," going from delivering about 25,000 doses per week in mid-July to up to 200,000 doses per week recently. While some of those doses are likely being used on vaccinated people who are breakthrough cases, many people seeking the treatment are unvaccinated.
Monoclonal antibodies are an important part of the response, but officials and even those who work for companies manufacturing the treatment note they're not intended to be a substitute for vaccinations.
"I have a concern that some Kentuckians who are hesitant about the vaccine are placing faith in monoclonal antibodies," Kentucky Governor Andy Beshear said on Tuesday. "What this shortage ought to tell you is that if you're unvaccinated and you get really sick, not only might there not be a bed in the hospital for you because they are so full but that monoclonal antibody treatment might not be there for you either. That thing you're counting on might not be available. What is available, and there are no supply issues at all, are these safe and effective vaccines."
Although they've been approved for use in people who have been exposed to COVID-19, monoclonal antibodies are largely being used to prevent the disease from progressing after someone has tested positive. That means they have little impact on the virus' ability to spread, so it's not reducing the chances of the emergency of more dangerous variants. Lowering a person's risk of contracting the virus and therefore the virus' potential to spread is a benefit vaccines have over monoclonal antibodies.
Increasing vaccinations is a key priority of the Biden administration and the World Health Organization (WHO), as it's considered the most effective way at ending the pandemic and returning to normal life.
"COVID-19 treatments known as monoclonal antibodies are life saving therapies that are used after infection to stave off more severe outcomes," a spokesperson for the Department of Health and Human Services told Newsweek. "We also want to remain focused on preventing infections in the first place which is why vaccines and other prevention strategies such as mask-wearing are so important for getting the pandemic under control."
Both vaccinations and monoclonal antibody treatments are being offered to members of the public free of charge, as the government purchased the supply. Bowie couldn't speculate as to what the cost of a monoclonal antibody treatment would be to an individual if the government-funded supplies ran out and they moved to a commercial model. However, given the price point of the treatment, if that day comes, it's reasonable to expect it will cost people more than the vaccine.
This article has been updated to include comment from the Department of Health and Human Services.
About the writer
Jenni Fink is a senior editor at Newsweek, based in New York. She leads the National News team, reporting on politics and domestic issues. As a writer, she has covered domestic politics and spearheaded the Campus Culture vertical. Jenni joined Newsweek in 2018 from Independent Journal Review and has worked as a fiction author, publishing her first novel Sentenced to Life in 2015. She is a graduate of the University of Arizona. Language: English. You can get in touch with Jenni by emailing j.fink@newsweek.com.