AirPods weren't the first independently wireless earbuds, but once they came out, the market exploded. Then AirPods Pro debuted with active noise-canceling technology. Today there are plenty of choices for people wanting earbuds that can block out the world.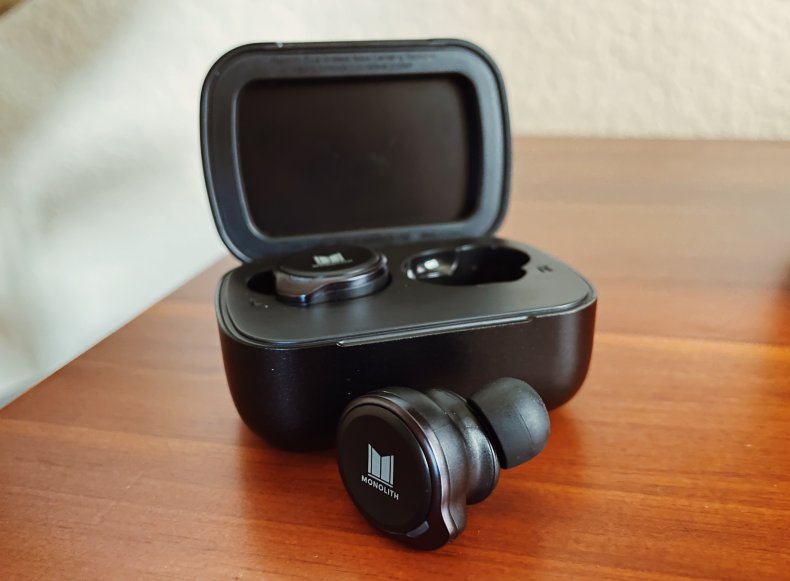 The Monolith M-TWE Earphones put active noise-canceling tech in its wireless earbuds and do so at a low price point. These Monolith Earphones are made by Monoprice, a company that has been perfecting quality products on a budget for years. It's no surprise that at just $129.99, these earbuds offer rich sound and decent noise-canceling technology.
How do these earbuds compare to AirPods Pro and other wireless options? They provide a comfortable fit and great value. Overall, these earbuds are a decent option that can't escape a few downsides.
Design and Setup
I've enjoyed using the M-TWE Earphones, but it's not because of their design or looks. The earbuds themselves have a generic aesthetic with a now-familiar shape that slightly protrudes when resting in your ear.
There's nothing offensive about the design of these wireless earbuds, but there's also nothing to write home about. That's OK. I would prefer a boring look to one that's unattractive.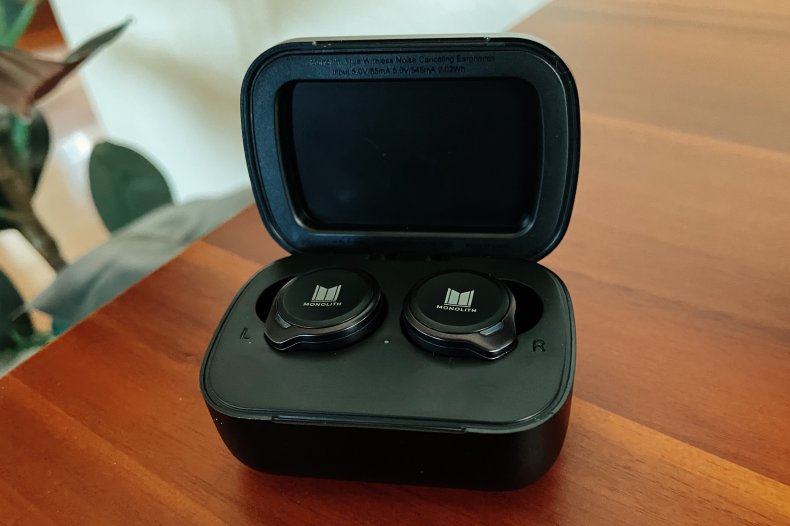 The case that the earbuds rest and charge in isn't anything special, either. Instead of being refined and pocketable, the case is just large enough to look funny in a front jeans pocket. It charges with USB-C, which is a nice, future-looking inclusion.
Setting the earbuds up was a piece of cake. They paired to my iPhone on the first attempt and work like any other wireless Bluetooth options. There is a mobile app from SoundID they can connect to, but it doesn't provide many settings or additional features.
Features and Specs
Advertised specs from Monoprice:
Bluetooth 5 with Qualcomm aptX audio
IPX4 water resistance
USB-C charging case
Hybrid Noise Cancellation
10-hour playtime with 20 hours in case reserve
Touch controls
SoundID sound personalization
Qualcomm cVc 8.0 Echo Cancelling and Noise Suppression
Performance
The most shocking thing about the M-TWE Earphones is how well they fit and how comfortable I found them to be. Most midrange wireless earbuds with silicone tips just don't stay in my ears. If there's no over-the-ear hook, they just slide out. The M-TWE looked like they might do the same, but they didn't. I didn't need to try one of the other sizes of silicone ear tips they come with because out of the box the earbuds fit perfectly. Sizing will always be personal, but they are probably the first low-cost earbuds that fit me well.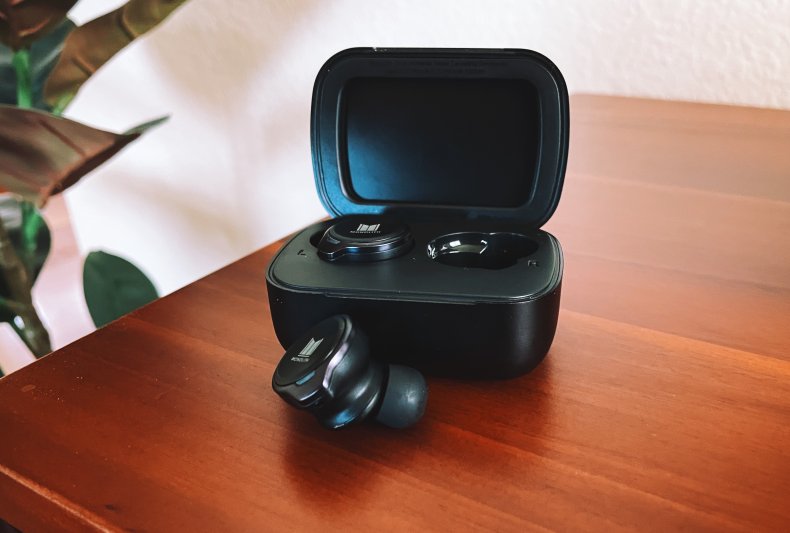 These could work for active use, but they don't especially seem geared toward going on runs or aggressive exercise. They never fell out of my ears around the house, and I suspect they would be more than fine for minimal exercise activities, like a rowing machine or a stationary bike.
The biggest draw for these $129.99 earbuds is their ANC noise-cancellation feature. Only recently has this superpower comes to products below the $150 price point. Normally it had been reserved for those above $200.
The active noise canceling is not as strong as the AirPods Pro's or Sony WF-1000XM3's, but the feature does work fine. It was strong enough that I could work on the couch while my kids were at home doing remote learning in the next rooms. The earphones were able to block miscellaneous noise and keep random sounds at bay. If music isn't playing, however, the ANC doesn't block too much noise.
When ANC is turned off, there's still a minimal amount of passive noise canceling that results from the rubber tips stuck in your ears. If you prefer to hear what's going on in the room and don't want to block out the world, there's an ambient setting. You can cycle through the different sound modes by tapping once on either earbud. The ambient setting worked fine to hear people talk clearly, but it constantly produced low, scraggly background static noise.
One performance issue I did have from time to time were momentary hiccups that sounded like skips in the song. At first, I thought this might be a Spotify issue, so I switched to Apple Music. I tried using the earbuds with different devices, but the result was the same. I couldn't find any updates or firmware fixes to try. This problem was infrequent enough to write off, but it should still be noted for long-term consideration. If it's an actual problem with the earbuds, it's something that could potentially be fixed with a software update.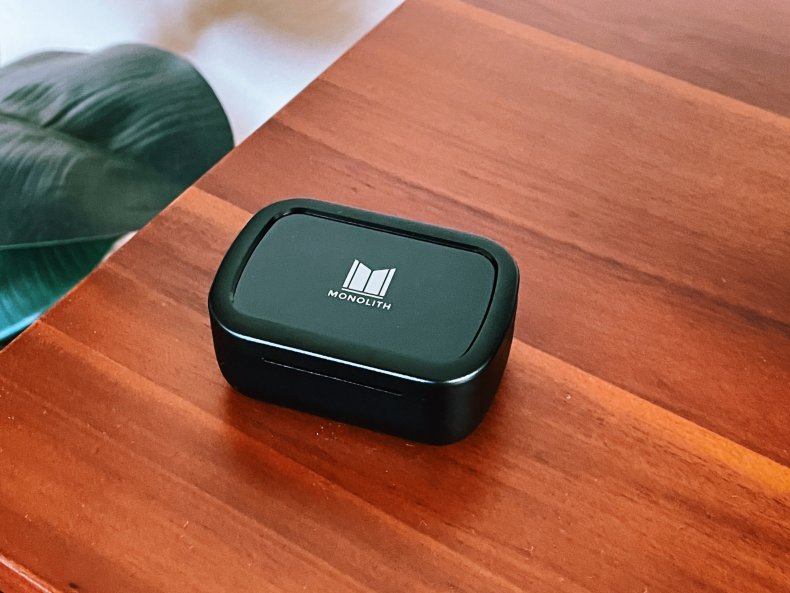 The M-TWE sound quality was solid and probably a little better than you would expect for its price. The bass is present and punches (like on Dua Lipa's "Don't Start Now"), but it isn't shockingly deep and doesn't overpower any of the other musical elements. In fact, one of the great aspects of the sound profile is that it's very balanced. Vocals aren't muddy, high frequencies ring clear, and the midrange actually exists.
Should You Buy the Monolith M-TWE Earphones?
The name of the game with the Monolith Earphones from Monoprice is all about value. The product offers plenty of features at a price that shouldn't break the bank. The noise-canceling strength is decent but not amazing; the sound is great but, again, not amazing. The price point for the noise-canceling and sound quality, however, are pretty amazing. Even better, I've seen these drop as low as $109.99.
While these are a great value and will likely suit most people who are watching their bottom line, they aren't flawless. The ambient mode constantly produced some static. The Bluetooth connection may also throw up some glitchiness from time to time. If you can live with those things then give them a try.
Newsweek may earn a commission from links on this page, but we only recommend products we back. We participate in various affiliate marketing programs, which means we may get paid commissions on editorially chosen products purchased through our links to retailer sites.