"Its origin and purpose still a total mystery."
A mysterious monolith has somehow wound up in a remote Utah desert in a peculiar turn of events that has drawn comparisons to 2001: A Space Odyssey.
The structure was spotted by state employees counting sheep from a helicopter. It is estimated to stand between 10ft and 12ft high and it appears to be planted in the ground.
The straight edges of the giant silver slab stand in stark contrast to the surrounding rugged wilderness, giving it a distinctly otherworldly, extraterrestrial feeling.
So how did it get there?
The helicopter pilot, Bret Hutchings, told local news outlet KSLTV the monolith is "about the strangest thing that I've come across out there in all my years of flying."
"One of the biologists is the one who spotted it and we just happened to fly directly over the top of it," Hutchings said. "He was like, 'Whoa, whoa, whoa, turn around, turn around!' And I was like, 'What?' And he's like, 'There's this thing back there—we've got to go look at it!'"
The pilot confirmed that the object appears to be manmade and firmly planted in the ground—not dropped from the sky.
Some have compared the monolith to the plank sculptures by the late artist John McCracken.
"I'm assuming it's some new wave artist or something or, you know, somebody that was a big 2001: A Space Odyssey fan," Hutchings said.
In the film, a group of apes encounters a monolith and it influences them to evolve by using tools.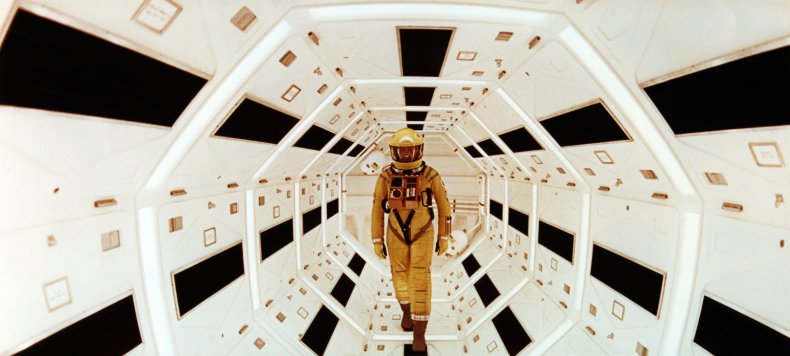 Hutchings said he and his crew members were just as awestruck and found themselves climbing on each other's shoulders to try to see over the object.
"We were kind of joking around that if one of us suddenly disappears, then the rest of us make a run for it," Hutchings said.
Regardless of whether it ends up being a clever art installation or an alien communication device, the monolith is distinctly reminiscent of the one from the iconic 1968 science fiction epic by Stanley Kubrick.
Unsurprisingly, there have been many more comparisons made between the Utah structure and the monolith from the film as the news circulates on social media.
"2020 ending by going full Kubrick on us. Utah Wildlife Resources discovered a monolith in the desert. Time to blast György Ligeti's 'Requiem for Soprano...'" one tweet reads.
Another person joked: "*ape violence intensifies*"
"I've watched enough Kubrick to see where this is going," mused another.