The Monoliths: A Timeline of the Mysterious Objects That Keep Appearing and Disappearing
You can practically hear the Twilight Zone theme music and Rod Serling's monologue beginning as more monoliths appear. With the discovery of a third monolith in California on Wednesday, there are still many more questions than answers.
The phenom has captured social media's attention with everyone wondering where exactly these large metal structures are coming from, what they are, and where the next one will appear?
Naturally, a number of people want to believe that aliens have been dropping them off to communicate with the human race (fingers crossed), while others have suggested that they're more likely some sort of art project, aiming at creating buzz online. Of course, the anomalies have inspired memes.
While it's unclear where the next monolith will spring up (or if another monolith will even surface), there's still plenty to unpack.
November 18: First Monolith Found in Utah
The first structure was found in a red rock cove, while the Utah Department of Public Safety was doing a flyover. A biologist spotted the monolith and encouraged the pilot Bret Hutchings to turn back and land, according to local outlet KSL TV. Hutchings told KSL that he thought it was between 10 and 12 feet tall and theorized that NASA may have had something to do with it, but later suggested that it was an art piece or a contribution from a Stanley Kubrick fan. "I'm assuming it's some new wave artist or something or, you know, somebody that was a big (2001: A Space Odyssey) fan," he said.
November 27: Utah Monolith Disappears (Sorta)
Only to stoke the theories that extraterrestrials are trying to signal us earthlings, the Utah monolith vanished just days after news broke of its existence. Unfortunately, the answer is far less mysterious.
A video on Instagram indicated that four men dismantled and removed the structure in an effort to "leave no trace." In an Instagram caption, one of the men who removed it said that the group were disappointed to remove it and that while they support artists, the area was not prepared for "the damage caused by the internet sensationalism and subsequent reaction from the world."
"This land wasn't physically prepared for the population shift (especially during a pandemic)," he wrote, explaining that people used various means of transportation to arrive as well as suggesting that people caused more damage to the area by visiting it, pointing out that there aren't trash cans or restrooms.
November 27: Romania Monolith Appears
Just as the Utah monolith was disassembled, another similar structure was erected in Romania. According to Sky News, it was found in Piatra Neamt. People on Twitter remarked that while the two were similar in size and shape, there were clear differences. Most people said that while the Utah piece was sleek, its Romanian counterpart looked like it was thrown together rather quickly.
December 1: Romania Monolith Mysteriously Vanishes
Just days after springing up, the Romanian monolith also mysteriously vanished, leaving only a small hole, according to Reuters. Unlike Utah, there isn't a logical explanation for why the Romanian monolith disappeared, although local authorities are investigating why it was there in the first place. Here's hoping it was aliens!
December 2: California Obelisk Appears
On Wednesday, a reporter for Atascadero News tweeted photos of a new monolith that was found on Atascadero's Pine Mountain. Atascadero News reported that the structure was 10 feet tall and 18 inches wide, and unlike the piece in Utah, it wasn't secured to the ground and could be knocked over (maybe the aliens are getting lazy).
While the fate of this structure is unclear, don't be surprised if it goes missing in the next few days (especially if it can be knocked over easily).
December 3: California Monolith Torn Down By Evangelicals, Replaced with Cross
On Thursday, the San Luis Obispo Tribune reported that a group of young men livestreamed a video of themselves driving for hours to the California monolith to take it down in the name of Jesus. The Tribune reported that the men streamed on DLive.tv, where they said that they carpooled for a 500 mile round trip to remove the structure and erect a crucifix instead. At one point in the livestream, the men allegedly say that they support President Donald Trump and believe in the QAnon conspiracy theory.
In the video shared to Twitter, one of the men goes on a xenophobic rant, and says various right-wing slogans. "Christ is king in this country. We don't want illegal aliens from Mexico or outer-space. So let's tear this b***h down," he says. The men then chant "Christ is King" and one declares "America First."
The men's decision to tear it down upset Mayor Heather Moreno. "We are upset that these young men felt the need to drive five hours to come into our community and vandalize the monolith," she said to The Tribune in a press release, calling the monolith "unique and fun."
December 6: Monoliths found in Isle of Wight and Washington D.C.
A shiny (literally) new monolith popped up in the UK's Isle of Wight on Sunday December 6. Sky News reported that a local man stumbled upon it while on a walk with his fiancé, sister and dog on Compton Beach.

In Washington D.C., another monolith was discovered the same day. Local Fox affiliate reported that a man had gone to take a walk only to return and find the monolith sitting on his front lawn. Unlike the other structures, the monolith sitting in a residential area is an interesting twist on the trend.
December 7: San Diego Monolith Appears

Another Monolith that broke from the trend of appearing in isolated locations appeared a day later. A San Diego NBC affiliate reported that a similar structure appeared in near the Scripps Ranch Marketplace, a shopping center east of Mira Mesa. Either the aliens are getting more comfortable sneaking the monoliths closer to humans or artists are getting bolder.
December 8: Less Mysterious Australian Monolith Appears
Even though a number of the structures have left people scratching their heads, the Australian monolith's creator has come forward, nearly as quickly as it was discovered. YouTube channel I Did a Thing posted a video documenting it creating and installing a monolith in Victoria, Australia's Doongalla Picnic Ground. The monolith was created alongside comedy troupe Aunty Donna (which consists of Mark Samual Bonanno, Broden Kelly, and Zachary Ruane) to promote their new Netflix show Aunty Donna's Big Ol' House of Fun. The group hilariously take credit for the other monoliths in the video, but it appears they're only responsible for this one.
December 9: Atascadero Monolith Creators Come Forward
Even though it was taken down, Business Insider interviewed the three men behind the Atascadero monolith. The three men said they carried the monolith through the park. Unsurprisingly, they said they were fans of 2001: A Space Odyssey.
While the monoliths are interesting contrasted against the nature they're found in, it seems like they're unrelated (unfortunately). Even though I'm pulling for some secret alien-communication, it seems like the first was an art piece and the other two were copycats. Hopefully it's not just a viral marketing scheme, as The Daily Beast suggested.
Still, keep pulling for the alien invasion by the end of the year: #AlienMonolithInvasion2020.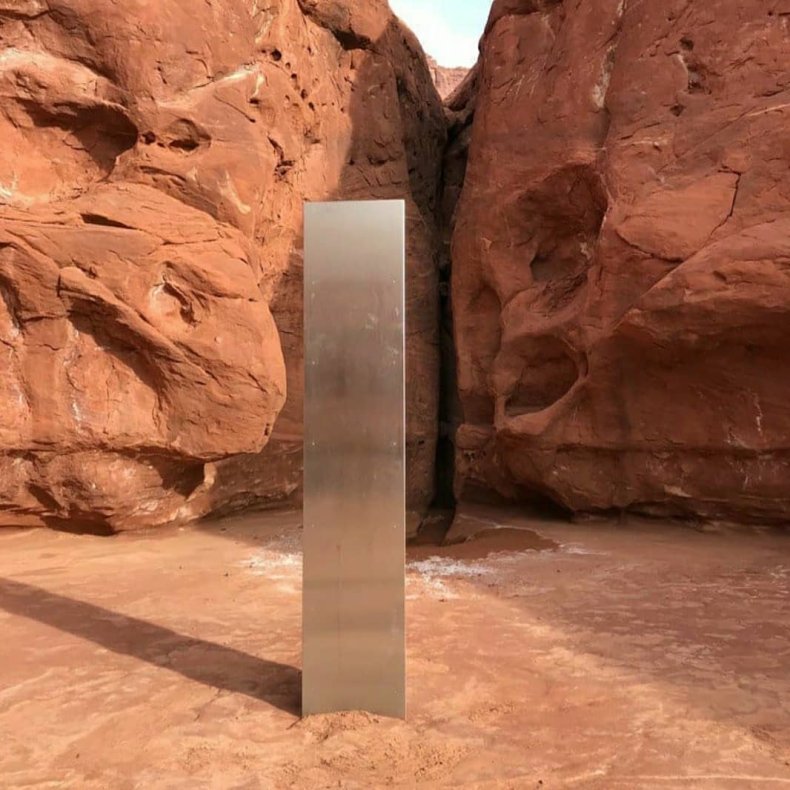 Update 12/9/20 5:02 p.m. EST: This story has been updated to include the monoliths in San Diego, Washington D.C., Isle of Wight, and Australia. It also includes an update on the Atascadero monolith.