Super Mario and Other Nintendo Characters Enter Monopoly's World in New Gamer Edition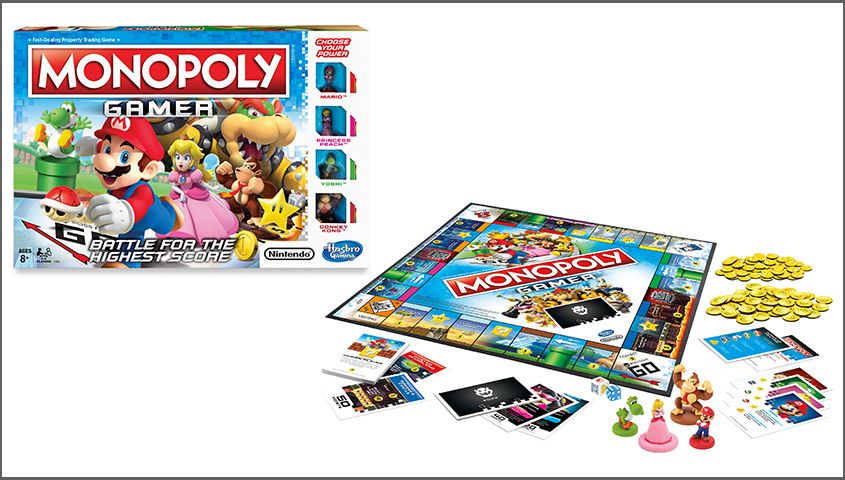 Toy manufacturer Hasbro, best known for its long-popular board game Monopoly, is launching a new version featuring Nintendo characters. Monopoly Gamer Edition, due out in August, not only overlays the Monopoly aesthetic to thematically tie into the world of Nintendo (as it's done in the past with everything from Star Wars to One Direction to bass fishing), but also dramatically changes gameplay to incorporate rules from the Super Mario line of video games.
"For the first time in MONOPOLY history, each character token will have its own unique Power-up ability, introducing another layer of strategy for new and old players alike," Hasbro announced in its press release. "For example, landing on the Super Star board space will activate Princess Peach's Super Star ability to collect rent from the bank. Players can also activate a special Power-up boost by rolling the Power-up die."
In other words, each playable character on the board carries its own unique skill or advantage, which can be used by rolling a separate die. Cash, which determined the score in all other versions of Monopoly, has now been replaced by points, which can be earned through collecting coins and winning "boss battles." The latter involves the playable characters of Mario, Luigi, Princess Peach, and Donkey Kong choosing to take on Bowser and other villains from the Super Mario universe every time they pass Go, drawing from a stack of cards and rolling a die number high enough to win the battle.
As of now, Monopoly Gamer Edition appears to be a standard physical board game, without any ties to the virtual world of the Nintendo Switch or any other videogame consoles. However, a collector's edition version of the game has already been made available at select locations of GameStop—primarily a videogame seller—suggesting that future editions of the Nintendo tie-in may feature a multi-platform component. The game will be available at market retailers for $24.99 beginning in August, with additional Power Packs priced at $2.99 each. The collector's edition, featuring a playable Bowser token, now sells for $39.99.