'Monster Hunter Rise' Online: How to Join Hunts and Create a Lobby
Are you ready to gather your friends and hunt down some of the biggest, baddest monsters around?
Monster Hunter Rise brings the monster-hunting goodness that fans of the franchise have come to expect, with new features that make exploring and hunting beasts a blast. But even though there is a solo-play option, some quests are best completed alongside friends or strangers online.
If you're looking to play Monster Hunter Rise online, you'll need two things. The first is a Nintendo Switch Online subscription. Since Monster Hunter Rise is a Nintendo Switch timed exclusive, you'll need this subscription to hop online on your Switch.
The second is a Wi-Fi connection that will connect you to the internet and to other hunters. To learn more, continue reading.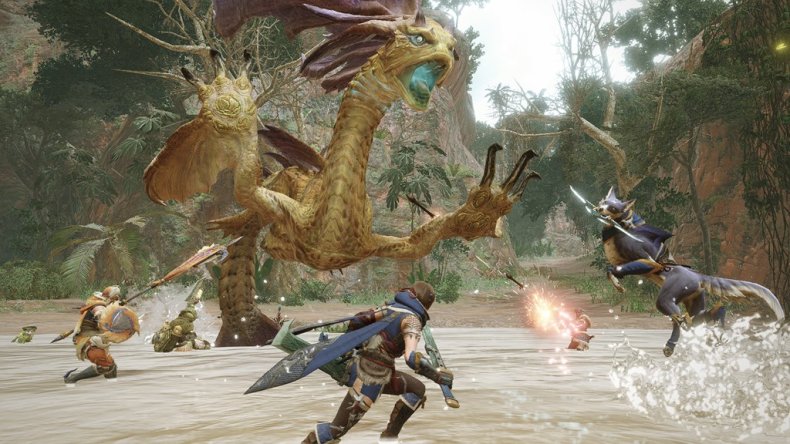 How to Play Monster Hunter Rise Online
There are two ways to play online multiplayer in Monster Hunter Rise. One way is via a lobby—either one that you create yourself, or a lobby made by someone else that you join. The other way to play the new game's online multiplayer is through the quest request board.
Join Requests
Accepting Quest Requests, or putting out one of your own, is available for online play only, and it's the easiest way to play with others online.
To join these requests, your Switch must be connected to the internet and you must be a member of the Nintendo Switch Online server. Head over to the Gathering Hub and talk with Minoto at the Quest Counter.
Select "Hub Quests" and then the quest you desire. When Minoto asks if you want to accept this quest, you can select "yes" to enter it solo, but if you want to send a request to anyone looking to join, select "Accept via Join Request."
After selecting this option, you can depart to your quest and if anyone wishes to accept your request, they will appear on your map.
If you're looking to join someone else's Join Request, you will have to go to the Quest Board next to the Quest Counter. Select "Respond to Join Request" and then the type of quest.
If there is a Join Request in the quest you've selected, you will depart to the map of the hunter who sent the request.
How to Create a Lobby in Monster Hunter Rise
If you're looking to gather your friends together to hunt monsters, then you'll want to create a lobby.
To create a lobby of up to four hunters, you'll need to speak with the Courier Palico in the Steelworks section of Kamura. Speaking to this Palico will give players the option to create or join a lobby. First, you'll need to decide whether you're playing locally or online.
Play Locally
If you're playing locally, you can connect with other Nintendo Switch consoles on the same internet connection.
Select "Find Lobby" and the game will connect to your wifi and compile a lobby that was created.
"Create a Lobby" will make the lobby over your wifi. You'll be returned to Kamura and will have to wait for others to join your lobby locally. You can also "Create a Lobby" with a passcode—meaning that you'll have to create a four-digit password. Others will need to enter this password to join your lobby.
Play Online
If you want to play with friends or strangers on different internet connections, then you'll want to select "Play Online."
From there, you'll decide to either find or create your own lobby. "Find Lobby" will allow players to find a lobby based on the target monster, quest type, minimum and maximum hunter rank and the language. You can search for a lobby using these parameters.
Once a lobby is found, you can join it by selecting it if there's no passcode, or you'll need to input the four-digit password to join if there is one.
"Create a Lobby" will let you set the parameters for the target, quest type, minimum/maximum hunter rank, language, number of players and much more. Once your parameters are established, you can create a lobby and bring in whoever joins or knows the password that you've created.
Monster Hunter Rise is out Friday, March 26, on the Nintendo Switch.