'Monster Hunter Rise' 3.1 Update Adds Weekly Event Quests, New Armor, Fixes Bugs
Monster Hunter Rise has just received a new update that adds weekly event quests, new cosmetic items, and an assortment of bug fixes.
Currently only available on the Nintendo Switch, this sixth mainline entry in the Monster Hunter franchise has been one of the most financially lucrative releases of 2021 so far, having shipped over 7 million copies as of May. As such, it is not surprising to see that the game is being supplemented with numerous expansions throughout the year, with the content roadmap for summer alone featuring five major updates.
Today's patch, known as version 3.1.0, is the second of these planned expansions and introduces weekly event quests, support for new paid DLC, and a long list of bug fixes.
Weekly Event Quests
In addition to the main story chapters, Monster Hunter Rise has what it calls "event quests." These have been part of the game since April and are essentially time-sensitive missions that must be completed before a certain date, otherwise they will expire. Like most quests in Monster Hunter Rise, the objective here is always to track down a named beast and slay it for valuable loot and crafting resources.
Since April, there have only been a handful of optional event quests added to the game but update 3.1.0 is promising to make them far more regular. According to developer Capcom's website, these missions will now be added on a weekly basis.
The confirmed titles for the next batch of event quests include: "Almudron: Fashion Victim," "Rampage: Muddi Gras," "Fooled in the Flooded Forest," "Heart of a Hero," and "An Icy Blade So Bright." To download any of these once they are available, you will need to speak to the courier in Kamura Village.
Naturally, there will also be limited-time rewards up for grabs if you manage to complete any of the new quests. The trailer for version 3.1.0 showcases some of these, including new black leg armor, a "play possum" gesture, tinted sunglasses and a "festival sticker set."
Paid DLC
Monster Hunter Rise version 3.1.0 also introduces a new set of premium cosmetic items. You will be able to find the collection in the Nintendo eShop under the name "Monster Hunter Rise DLC Pack 4." It includes new armor pieces, face paints, voice options for your hunter, background music tracks, and adorable outfits for your palamute companion.
DLC pack 4 can be purchased for $24.99.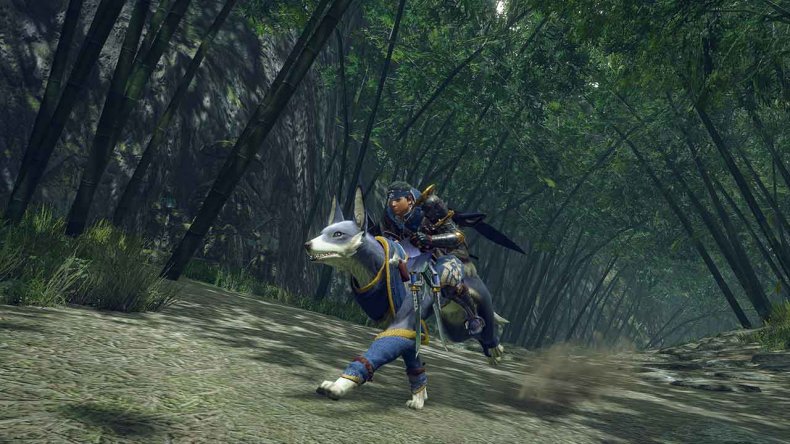 Bug Fixes
In addition to all of the above, Monster Hunter Rise version 3.1.0 implements a multitude of bug fixes and balancing tweaks. The full details can be found on Capcom's official website and it is quite extensive. The below list is by no means everything but, in terms of game-breaking bugs, these are the most significant fixes:
Capcom has fixed a bug preventing the quest from finishing if a player joins in right before it is completed.
Capcom has fixed a bug occasionally preventing guest players from being able to finish a quest if the host leaves while experiencing lag in the connection.
Capcom has fixed a bug causing the connection to be lost when taking on a Rakna-Kadaki quest in Multiplayer.
Capcom has fixed a bug occasionally causing the player to change to the appearance of another hunter after completing a quest in multiplayer.
Capcom has fixed a bug occasionally preventing the player from capturing a monster if it is inflicted with paralysis, sleep, or stun.
Capcom has fixed a bug that occasionally causes quest information to be incorrectly displayed.
Capcom has fixed a bug that occasionally caused unnecessary UI to be displayed on the "Quest Completed" screen after finishing a "Rampage Quest."
Capcom has fixed a bug causing a lag in the controls when performing a dodge and then using an item.
During Capcom's E3 presentation, the developer revealed a content roadmap for Monster Hunter Rise. From this, we can see that the next major update is scheduled for July 9 and will introduce crossover elements with the upcoming Monster Hunter Stories 2.