'Monster Hunter World' Iceborne, 'Witcher 3' Collaboration and More Updates
Capcom revealed upcoming content for Monster Hunter: World that should excite loyal fans, including a Witcher collaboration as well as a new expansion for late 2019.
The Game of the Year nominee will release the Monster Hunter World: Iceborne expansion featuring new quest ranks, locales, monsters, moves and gear. There will also be a new story that continues from the ending of the base game.
Producers and directors of Monster Hunter: World teased this announcement at the 2018 Game Awards after receiving the award for Best RPG. And while the upcoming Iceborne expansion won't be released until the Fall, Monster Hunter fans will get more information this Spring.
In the meantime, Capcom released this teaser trailer for Iceborne. In the trailer, the Rathalos escapes hunters as it flies across the ocean to a snowy island.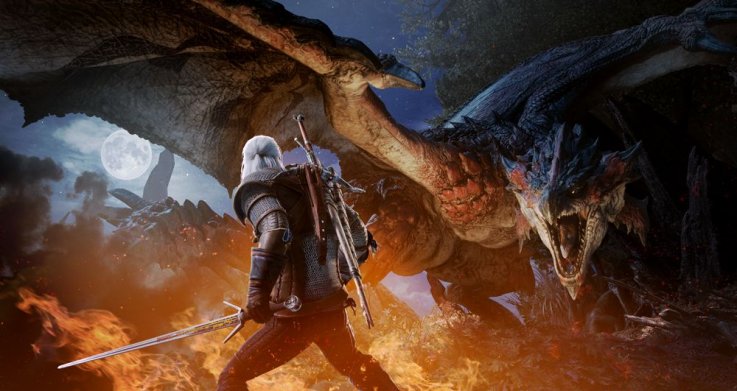 GERALT QUESTS
While Monster Hunter fans wait for the expansion, players will be able to take part in new quests and earn new gear based on The Witcher 3. Capcom is working with CD PROJECKT RED to bring Geralt into the New World in early 2019.
Unique quests based on a "brand-new type of gameplay" that will blend the RPG experience of The Witcher 3 with Monster Hunter: World. Check out the Geralt in Monster Hunter: World trailer, below.
Geralt's inclusion in Monster Hunter: World isn't Capcom's only collaboration for MHW. In the past, monsters from the Final Fantasy series have appeared in the New World, as have quests and gear based on Aloy from Horizon: Zero Dawn and Dante from the Devil May Cry series.
APPRECIATION FEST AND RETURN OF KULVE TARTOH
Finally, more immediate updates were revealed. The Kulve Taroth Siege will return for those hunters who missed out the first time. However, this time the Arch Tempered version of Kulve Taroth will appear making it harder to take down but also yielding more powerful rewards.
Also, a new fest event is coming to Monster Hunter: World in January. To celebrate the anniversary of the game's release, the Appreciation Fest will include a redecorated Gathering Hub, special equipment and more anniversary quests.
Monster Hunter: World is available now for PS4, Xbox One and PC.
What do you think of the upcoming updates for Monster Hunter: World? Which are you most excited for? Let us know in the comments section below.
'Monster Hunter World' Iceborne, 'Witcher 3' Collaboration and More Updates | Gaming