'Monster Hunter World' Winter Fest: Start Time, New Event Quests and More
The fourth and final seasonal event of the year is coming to Monster Hunter: World. The Winter Fest event brings holiday festivities to Astera as well as new exclusive quests, weapons and armor.
Like other seasonal events, players can only partake and take advantage of the in-game goodies for a limited time. If you're looking for all the pertinent information on Monster Hunter: World's Winter Fest, including the start time and details about the new event quests, look no further.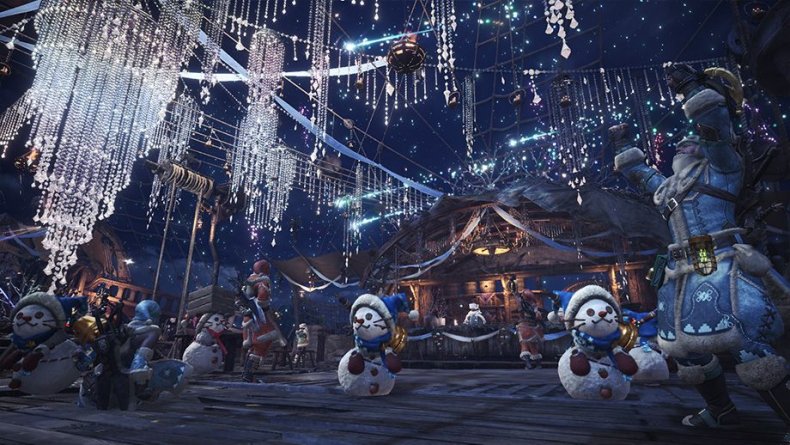 WHAT TIME DOES THE WINTER FEST START AND END?
The Monster Hunter: World Winter Fest will begin Thursday, Nov. 29 at around 8 p.m. EST. It is set to end on Sunday, Dec. 16 at around 8 p.m. EST.
NEW EVENT QUESTS
With past seasonal events, the Winter Fest will allow Monster Hunter: World players to partake in all of the previously released quests. So if you are low on materials to craft special armor or weapons, this will be a great time to stock up.
However, if you're looking for the new event quests that are tied to the Winter Fest there are three. Here are the three new event quests coming to Monster Hunter: World, with the requirements to participate, the mission and rewards.
Timberland Troublemakers (Four-Star)
Hunter Rank 4 or higher required
Hunt two Anjanath
REWARD: Ticket for new Hammer
Kings Know No Fear (Seven-Star)
Hunter Rank 13 or higher required.
Hunt all target monsters
REWARD: Sealed Eyepatch and Wigler Head layered armor tickets
Like a Moth to the Flame (Nine-Star)
HR 50 or higher required
Slay Xeno'jiiva
REWARD: Xenoy armor set and Commission layered armor tickets
IN-GAME BONUSES
Monster Hunter: World players will expect the Gathering Hub to have a winter theme with the NPCs dressed up in holiday attire. Here is what players can expect during the Winter Fest:
Login Bonuses
Limited Bounties
Limited time platter
Sales in all facilities
What do you think of the Winter Fest coming to Monster Hunter: World? Is there an event quest you missed out on that you're looking forward to? Let us know in the comments section below.