Pastor Builds Monster Truck for Jesus: 'It Belongs to God and He Lets Me Drive It.'
An Alabama minister has built a monster truck for Jesus, taking the mammoth vehicle to car shows, church fairs and tent revivals to spread the Good News.
"It's the Jesus truck," Rev. Terry Billings told The Birmingham News. "If you want to get your picture with the truck, first you have to hear my story."
The "Heaven Bound Mud Bogger," as he calls it, definitely gets looks: Painted blood drips from the tailgate, with the slogan, "Covered in mud but washed in blood." There' a cross painted on the side and the 52-inch tractor tires have "Heaven Bound" stamped on the rims.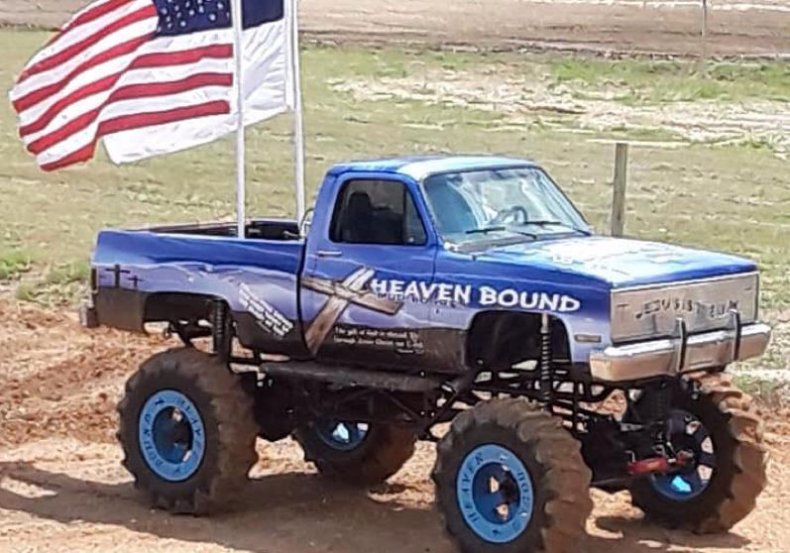 The truck itself is something of a resurrection: It started life as a 1987 Chevrolet four-wheel-drive pickup that Billings bought for about $300 in 1991.
"It was my farm truck," he says. "The kids got in it and we'd ride through the mud."
But it was a bad time in his life, Billings admits: "I drank a lot and lived a bad life. I was an alcoholic... I lived a life that was not of God. I was drinking a fifth of rum a day. I was smoking two packs of cigarettes a day. I was cussing."
In the summer of 2004, he decided to give his life over to Jesus—he stopped cursing and gave up drinking and smoking. Five years after being saved, Billings became an ordained pastor at Forest Baptist Church in Gordo, a small town about 90 minutes from Birmingham.
Then, one night in 2014 he had a vision: A truck tearing through the mud—a metaphor for Jesus helping people who, as Billings says, are "stuck in life." He felt commanded to turn his old mud truck into a symbol of that vision. "That's what [God] said to use."
Trey Robertson, the owners of a garage in Tuscaloosa offered to help work on it—charging only about half of his usual fee for labor. "It opens up so many avenues of metaphors, getting stuck in the mud," Robertson told the News. "You can relate that to being a Christian. There's times you get stuck, and you've got to rely on God."
But fully tricking out the Heaven Bound Mugger would take more than kindness—it would take money. Over $100,000. The motor alone—which runs at 850 horsepower on pumped gas and nearly 1,000HP on race gas—cost $18,000.
Neighbors soon started donating, but Billings made it clear he wouldn't accept advertising on the truck—even the Chevy insignia has been removed. "Nobody's name is on it except for Jesus," he says.
He formed the Heaven Bound Mug Bogger ministry and, on April 23, 2018, the truck made its public debut. "I had to sell the truck for $10 to the ministry," Billings reveals. "It actually belongs to God and he lets me drive it."
In church parking lots, curious parishioners climb the ladder to get into the Mud Bogger. Billings hands out Bibles and shares his testimony. "Even though we're sinners, God still loves us," he says.
But Billings is also reaching people who might otherwise not hear God's word.
"Every time I stop anywhere, everybody in the gas station or Dollar General unloads and goes out to look at it," he told The Alabama Baptist. "Then I get to tell them my story and what Jesus did for me," Billings said. "All it takes is a trip to Hardee's, and we have church."
A monster truck for Jesus might sound sacrilegious to some, but event evangelism is big in America. "People raised their eyebrows when they thought about motorcycle ministry," Sammy Gilbreath of the Alabama Baptist State Board of Missions told The Baptist. Now motorcycle ministry is huge, he says, and people even testify at horse-whisperer events.
"Mud bogging [is] a great evangelistic tool for reaching into a segment of our culture that is not being touched by any other phase of evangelism. I'm thrilled Terry is doing it. I think it will draw attention and spark ideas and creativity for other people too, and that can cause a domino effect."