'Monsters at Work': All the Links Between the Disney+ Show and 'Monsters, Inc.'
Monsters at Work is streaming now, with the first two episodes airing on Disney+ and the remaining episodes coming weekly on Wednesdays. The series is set in the same world as Pixar's Monsters, Inc., which also previously had a prequel movie in Monsters University.
Though Monsters at Work is set in the same universe as those movies and features plenty of references to both, it does make some changes, including introducing some brand new characters alongside ones Pixar fans know and love.
All the Links Between 'Monsters at Work' and 'Monsters Inc.'
WARNING: The following contains spoilers for the first two episodes of Monsters at Work
Though it is 20 years in real time since the November 2001 release of Monsters, Inc., Monsters at Work is set very shortly after the events of that movie.
A quick recap of those events: At Monsters, Inc., there is an energy crisis due to children being harder to scare than they were in the past. The company's CEO Henry J. Waternoose III (voiced by James Coburn) plans to solve this by kidnapping children, but he gets arrested after Mike Wazowski (Billy Crystal) secretly records him confessing this.
When Waternoose gets taken away by the authorities and undercover agent Roz (Bob Peterson), Sulley (John Goodman) concocts a plan to solve the energy crisis by harvesting laughter rather than screams, as laughter turns out to be a far more potent energy source.
Monsters at Work begins very soon after the end of Monsters, Inc., with Sulley as CEO, trying to completely transform the way the company does business by moving into laughter—a change many of the monsters who have spent their lives terrifying kids find difficult to adjust to, even with Mike's comedy classes.
Nearly all of the main voice actors return from Monsters, Inc. Crystal and Goodman return, as do Jennifer Tilly as Celia, who has been promoted by Mike to floor manager, and Bonnie Hunt as Ms. Flint, the in-company trainer who now has to teach monsters how to become jokesters. In later episodes, long-time Pixar voice actor John Ratzenberger will return as the Yeti Mike and Sulley met during their banishment, as well as a new character.
Even though the show begins by saying goodbye to Roz (who no longer has to be undercover now Waternoose has been arrested), Peterson returns to the voice cast as Rose, Roz's almost identical sister.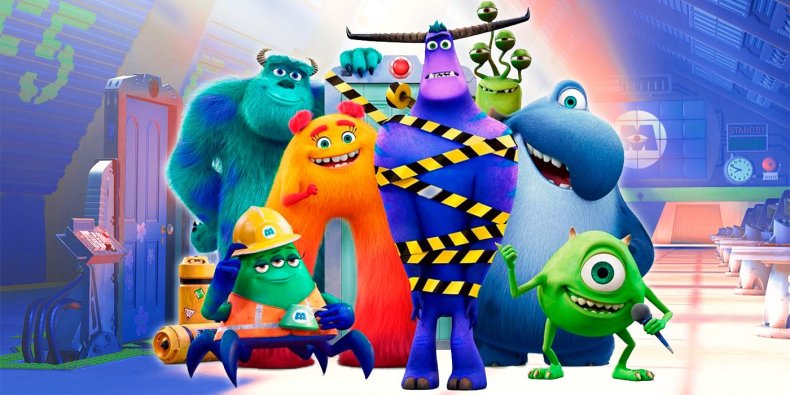 A number of old characters do not return—or at least are not mentioned in the first two episodes. Mary Gibbs does not return as Boo—unsurprising, as the actor did not continue to act after the movie and is now 25 years old. Steve Buscemi also does not come back as Randall after he encountered a human who tried to beat him to death after thinking he was an alligator in the movie. Waternoose actor Coburn, meanwhile, died in 2002, just months after Monsters, Inc. came out.
While fans will be glad to see these old friends, the show also has a whole host of new characters. Alongside Sulley and Mike, the show focuses on Tylor Tuskman (Ben Feldman). A talented new recruit from Monsters University, he finds his first day on the job as a scarer is also the first day the company moves to laugh power. This means that Tylor has to take a job he thinks is beneath him in the maintenance department.
In that maintenance department, called MIFT, we also meet new characters Val (Mindy Kaling), who was in college with Tylor before he dropped out, Tylor's boss Fritz (Henry Winkler), the conniving Duncan (Lucas Neff) and the sarcastic Cutter (Alanna Ubach). We also meet the non-verbal monster known as "Banana Bread," who is voiced by actor Dee Bradley Baker, known to many Disney+ subscribers of all of Clone Force 99 in Star Wars: The Bad Batch.
As well as taking place straight after Monsters, Inc. and mentioning Monsters University, Monsters at Work features a number of Easter eggs to the wider world of Disney and Pixar. While the original movie gave Boo a plush clownfish at one point (a reference to the then-upcoming Pixar movie Finding Nemo), in Episode 2 eagle-eyed viewers may notice that Tylor gives one child a Winnie the Pooh toy after trying to make him laugh.
Monsters at Work airs Wednesdays on Disney+.