Montana Border Patrol Reports Amount of Fentanyl Seized Has Gone up by 36 Times Since 2014
U.S. Customs and Border Patrol (CBP) increased their overall arrests by 100 percent across the nation from 2018 to 2019, while statistics for narcotics like fentanyl seized at the border more than doubled.
Six stations make up the Havre Sector, which patrols 456 miles of international border between Montana and Canada, Wyoming, Colorado, Utah and parts of Idaho: Plentywood, Scobey, Havre, Malta, St. Mary and Sweetgrass. From each station, the border is within a 45-minute or less drive by car.
Although the trend of arrests are up for CBP overall, agents from the Havre Sector made 64 percent more arrests in 2019, according to the Missoula Current.
"The arrests we see on the northern border are fewer compared to the southern border, but are just as important to our communities and national security," deputy chief patrol agent Anthony "Scott" Good said. "We rely on people, technology and our law enforcement partners in Canada and across Montana to help keep our community safe."
The media spokesperson for the Havre Sector, David Lines, told the Current that CBP does not release statistics for local areas, but spoke about the key focus for agents at the northern border.
"The majority of immigration arrests we encounter up here are going to be for Entry Without Inspection (someone that did not get inspected at a port of entry before coming into the country) or visa overstay," Lines said, who clarified the latter as "someone who had a valid visa or entry permit, but overstayed the amount of time they were given to be here in the country."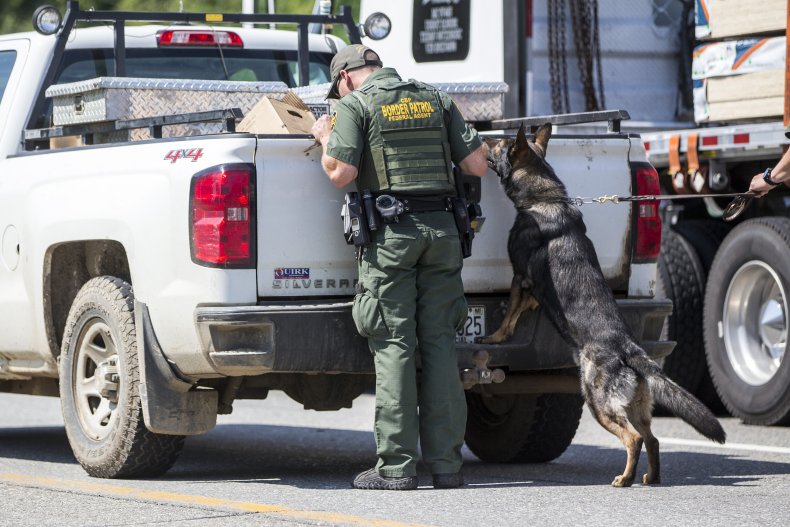 While CBP has seen marijuana seizures go down, there has been a big surge in hard narcotics at the border, such as cocaine, methamphetamine and the synthetic opioid, fentanyl.
The amount of cocaine seized by border agents doubled in five years, from 45,323 pounds in 2014 to 89,2017 in 2019. Methamphetamine also doubled with 19,613 pounds seized in 2104 to 68,585 in 2019.
The biggest change was fentanyl, which didn't register enough in 2014 for CBP to collect or post data. In 2015, 70 pounds of the opioid were seized by agents and by 2019, 2,545 pounds were reportedly confiscated.
In September, the National Center for Health Statistics (NCHS) released estimates on drug overdoses in the country, which covered one year ending in February 2019. An estimated 69,029 people died of a drug overdose in that time.
From those statistics, almost 70 percent of those deaths were due to opioids, and 47 percent of those opioids deaths were connected to fentanyl or other synthetic opioids besides methadone.
While those numbers are staggering, the report also showed an estimated 2.9 percent decline in total drug overdoses in the U.S.