Two Montana men who were arrested while driving through Douglas County, Minnesota with more than $4 million in marijuana have been set free after a judge ruled that the seizure was illegal.
Alexander Clifford Gordon, 24, of Helena, Montana and Jared Michael Desroches, 30, of Missoula, Montana were charged on March 5 in Douglas County District Court with two counts of controlled substance crimes in the first degree for possession of more than 900 pounds of marijuana.
Bail for both men was set at $150,000 for unconditional release.
Aaron Myren, a Minnesota state trooper with a track record of making large drug busts, said a cracked windshield and unsteady driving led him to stop the two men, reported the Star Tribune.
Myren's initial report also said that it was unusual to see campers traveling on Interstate 94 that time of year, but lawyers for the defendants said video of the traffic stop showed at least five other campers go by during the stop.
A narcotics-detecting dog alerted the trooper to the presence of drugs inside of a camper attached to their vehicle, according to a news release issued by Douglas County Attorney Chad Larson.
A search of their Chevrolet pickup truck and camper revealed 900 pounds of marijuana, 406 one-gram packages of THC concentrate, 112 glass jars containing THC wax and over $15,000 in cash.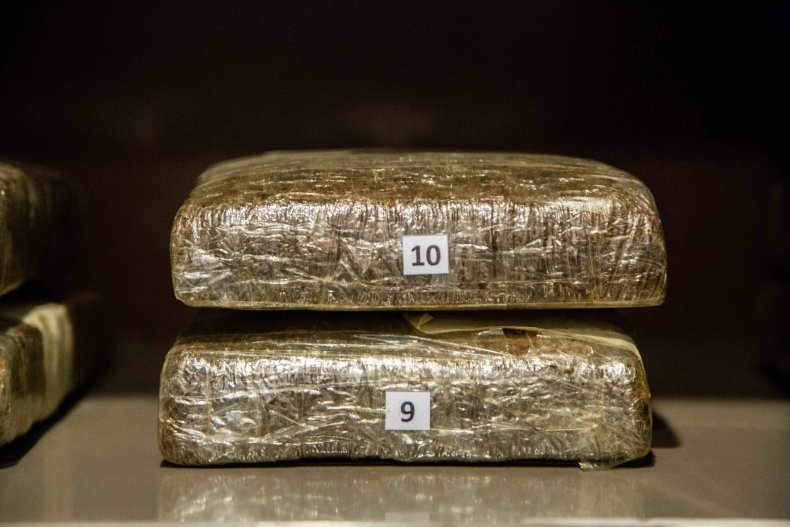 According to Myren, Desroches expected to be paid $30,000 to move the narcotics, which the State Patrol estimated as having a street value of $4.25 million.
After watching video of the stop taken by Myren's squad car, St. Paul lawyers representing Desroches and Gordon, Paul Applebaum and Hillary Berit Parsons, filed motions to suppress the evidence as the result of an illegal search.
"The squad video, which essentially records from the same vantage point as Myren's, shows that the pickup never crossed the fog-line—it merely touched it once for a fraction of a second and proceeded flawlessly for a substantial distance before Myren pulled it over," Applebaum wrote.
On Tuesday, District Judge Timothy Churchwell ruled that the cracked windshield was sufficient cause to stop the vehicle, but he found Myren lacked reasonable grounds to expand the traffic stop into a search of the vehicle. Therefore the drug seizure was unconstitutional and the evidence would be suppressed.
Without the evidence, there was no probable cause to charge the two men so Churchwell dismissed the charges. Prosecutors have five days to appeal the ruling.
Under Minnesota Statute Section 152.021, possession of marijuana over 50 kilograms (110 pounds) is punishable by up to 30 years in prison and a $1 million fine, or both.