Montel Williams Calls Fla. Surgeon General a 'Circus Clown' for COVID Views
Television host Montel Williams blasted Dr. Joseph Ladapo, Florida's surgeon general, in a Monday tweet, calling the official a "circus clown" for his stance on COVID-19 safety guidelines.
Williams, who became famous for his former long-running eponymous show, currently hosts Military Makeover on Lifetime and is a resident of Miami, made his displeasure known regarding the COVID-19 policies from Governor Ron DeSantis, and more specifically Ladapo.
His tweet came as a reply to an announcement from Kyle Lamb, who works on DeSantis' data and communications team. Lamb posted about a roundtable the governor held Monday morning, during which Ladapo recommended Florida be the first state to recommend against healthy children being vaccinated for the disease.
"You mean the circus clown posing as Florida's Surgeon General because @RonDeSantisFL can't get anyone competent to work for him?" Williams tweeted. "Congrats on being on the wrong side of history though! I'll pray for you."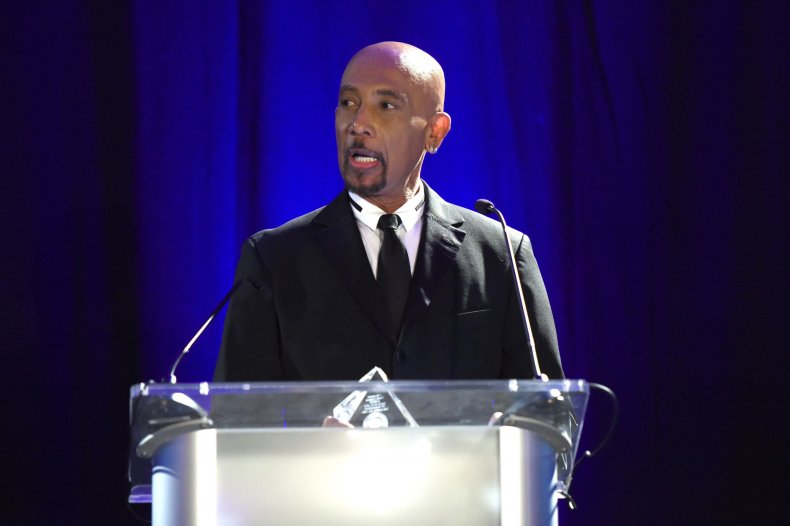 Williams' message drew an immediate response from Lamb.
"Oh, Montel, you're going to tell me Ivy League MD/PhD isn't qualified to be Surgeon General?"
Christina Pushaw, DeSantis' press secretary, also took issue with Williams' comments and tweeted, "Knockoff Jerry Springer calls Harvard educated doctor a 'clown,'" adding, that his criticism was "beyond parody."
When contacted for further comment by Newsweek, Pushaw indicated she did not wish to elaborate beyond her original message.
Florida Department of Health press secretary Jeremy Redfern also weighed in by tweeting, "The Surgeon General of Florida has an MD and PhD from Harvard. He was a research physician at NYU and UCLA. You're a daytime talk show host."
Williams' tweet had some defenders who agreed with the television personality. Many others, however, referenced his past relationship with Vice President Kamala Karris, who he dated briefly more than 20 years ago.
Ladapo was confirmed as Florida's surgeon general on February 23, despite objections from Democratic leaders in the state, including Florida Agriculture Commissioner Nikki Fried. In a statement, Fried, who is running for governor against DeSantis, called Ladapo an "anti-science quack."
During his confirmation process, Newsweek reported a background check for Ladapo included a former supervisor at UCLA who said they would not recommend him for the position. Ladapo created "stress and acrimony" during his time at UCLA for his opinions on the school's COVID policies, according to the supervisor.
"It's unfortunate that a single comment from a disgruntled supervisor would find facilitating discussions a cause for concern, especially during such an ever-evolving medical landscape," Redfern told Newsweek at the time.
A representative for Williams declined to comment when contacted by Newsweek.
Newsweek contacted Dr. Ladapo for comment, but did not hear back in time for publication.