Black Lives Matter Flag at Vermont High School Slammed by White Supremacists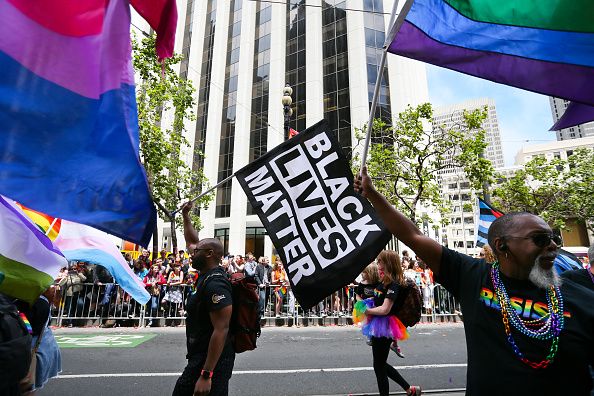 White supremacists have threatened a Vermont high school's decision to raise the Black Lives Matter flag.
Montpelier High School opted to fly the flag on Thursday to mark the start of Black History Month. The school, which is made up of 350 students, including 18 black students, is the first high school in the country to showcase the Black Lives Matter flag.
The school board unanimously voted on January 17 to raise the flag in front of Montpelier High School in February with the help of the Racial Justice Alliance, a student-led organization. "The RJA believes putting up the Black Lives Matter flag is imperative for both demonstrating our school's fight for equitable education for our Black Students, and modeling a brave and appropriate challenge to the status quo impeding public institutions across the nation," said the students of RJA in a statement.
Reports have said Montpelier Public School Superintendent Brian Ricca and High School Principal Mike McRaith received backlash from the public over the flag raising. McRaith told the Brattleboro Reformer he received calls from members of Stormfront, a forum site started by Ku Klux Klan leader Don Black.
McRaith told the publication that someone from the forum called "Mr. K" said, "Until white people start getting the same equal rights as everyone else, including protected groups like BLM and LGBTQ, we will furiously continue to protest this blatant discrimination against our civil rights." The Stormfront website is considered a hate group by the Southern Poverty Law Center.
Ricca confirmed to Newsweek that he and McRaith did receive hateful messages before the flag raising, and these types of messages have spiked a bit since the event. Far-right news sites like Breitbart Newshave also criticized the school's decision.
"We've had some negative feedback, but there has been more support," McRaith told Newsweek.
Ricca said that despite the negative feedback, this is the beginning of continuing conversations about equity in their schools.
"Students have been telling us their experiences and they are not the same as our white students," Ricca told Newsweek. "This is a concrete way for us to continue to [have] conversations."