The Best Places to Eat, Drink, Shop and More in Montréal
Neither French nor English, or even typically Canadian, but cosmopolitan and effortlessly bilingual, Montréal is the French-speaking province of Québec's largest city. While the capital, Québec City, offers centuries-old heritage charm, Montréal is more about what's happening now. When's the next design market in this UNESCO City of Design? Who are the Canadiens playing in the NHL? What's on tap at the local brewpub? Who's headlining at the world's biggest jazz and comedy festivals? What's in season at the farmers markets?
Of course, a city established in 1642 has history to explore, too—especially in Old Montréal. There was more than a century of French rule. Another century under the British, when it became an international Industrial Revolution powerhouse. Then a Canadian metropolis, wrestling with its mixed-heritage past but mostly getting on with living life to the full, including with migrants from around the globe. And with visitors, too, especially since Montreal embraced the world and the future during Expo '67 and the 1976 Olympics – whose daring main stadium remains a symbol of the city.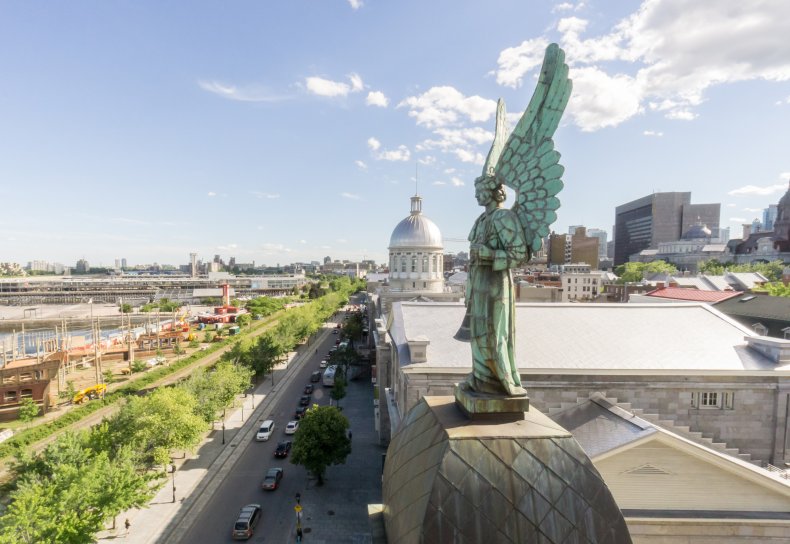 Its eternal symbol is Mont Royal, the big hill that gave Montréal its name. This seasonally evolving natural backdrop is a favorite playground in a town that loves getting outside. That's especially true from May to September. The weather's warm, festival season hots up, and everyone living in the inner-city's distinctive apartments gets out on their balconies, and beyond to neighborhood parks, bike paths and the outdoor seating, the terrasses, of countless bars and restos.
With a flight time of less than 90 minutes from New York, Montréal is on the U.S.'s doorstep, yet unlike anywhere else in North America. Whether you're there for a day or a week, it will be a journey of discovery.
Find out what the city's eating and drinking, and where, from emerging craft cocktail bars to the best places for the city's holy trinity of fast food: poutine, bagels and smoked-meat sandwiches. Discover why it's Canada's cultural capital among its museums, architecture, projections, street art and many festivals. See what's beneath, or sometimes high above the tourist zones' surface, and what's happening in Montréal's coolest neighborhoods, including the Plateau, and the trio collectively known as les quartiers du canal: Griffintown, Little Burgundy and Saint-Henri.
Top Three: Eats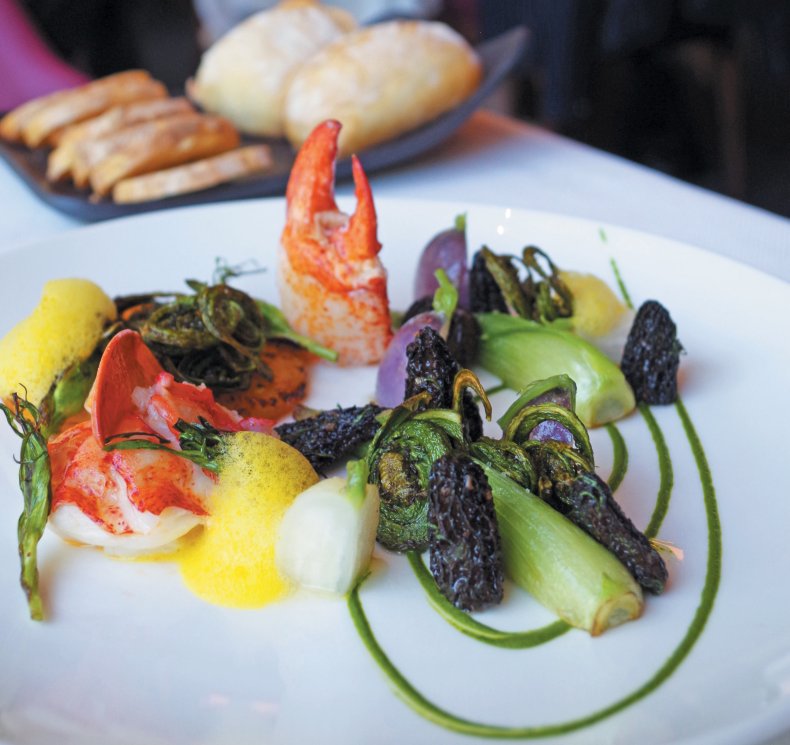 900 Place Jean-Paul-Riopelle, International District
514-499-2084
If you have only one extravagant meal in Montréal, Toqué! is the place. It's consistently first or second on the industry-voted Canada's 100 Best Restaurants list. Head chef since it opened in 1993, Normand Laprise has led the way in seasonal, local produce-driven dining in Québec. He's pioneered playful juxtapositions like halibut and raspberry meat jus, on plates with refined creativity: a swirl of sauce, a dollop of foam, beautiful colours, shapes and textures. Fresh regional produce, from lobster to mushrooms, is obvious in every bite.
Sommelier Carl Villeneuve-Lepage, who placed third in the 2018 Best Sommelier of the Americas, features Québec beer and wine in the European-focused drinks list. You'll dine in understated contemporary luxury with wine bottles suspended from the ceiling above the cellar, white tablecloths, plush carpet and subdued shades of purple, red and orange. Treat yourself, even if it's just one course at the informal bar.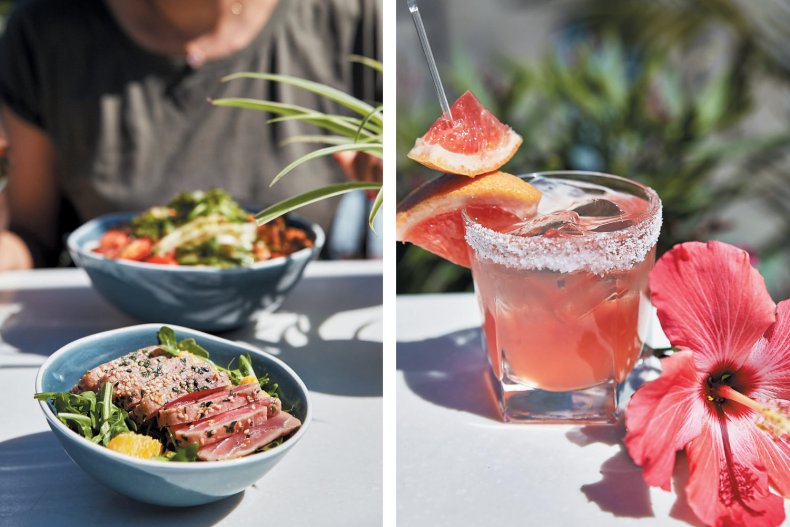 106 Rue Saint-Paul Ouest, Old Montréal
514-788-4021
After extensive research, I've concluded that this is the very best rooftop terrasse in Old Montréal. Here you can get an eyeful of the 19th-century Notre-Dame Basilica and the 1931 Art Deco Aldred building. Look the other way, across the Saint Lawrence River: there's Habitat 67, the striking modernist apartment complex reminiscent of precariously piled toy blocks. What more could you want? Perhaps the lobster rolls and some chilled rosé. From waffles for brunch to wagyu burger for dinner, plus summery cocktails, it's all about indulgence. A fashionable party vibe builds in peak season, but prices aren't over the top. Heaters and retractable awnings ward off unpleasant weather, though not enough to extend the season outside May to September.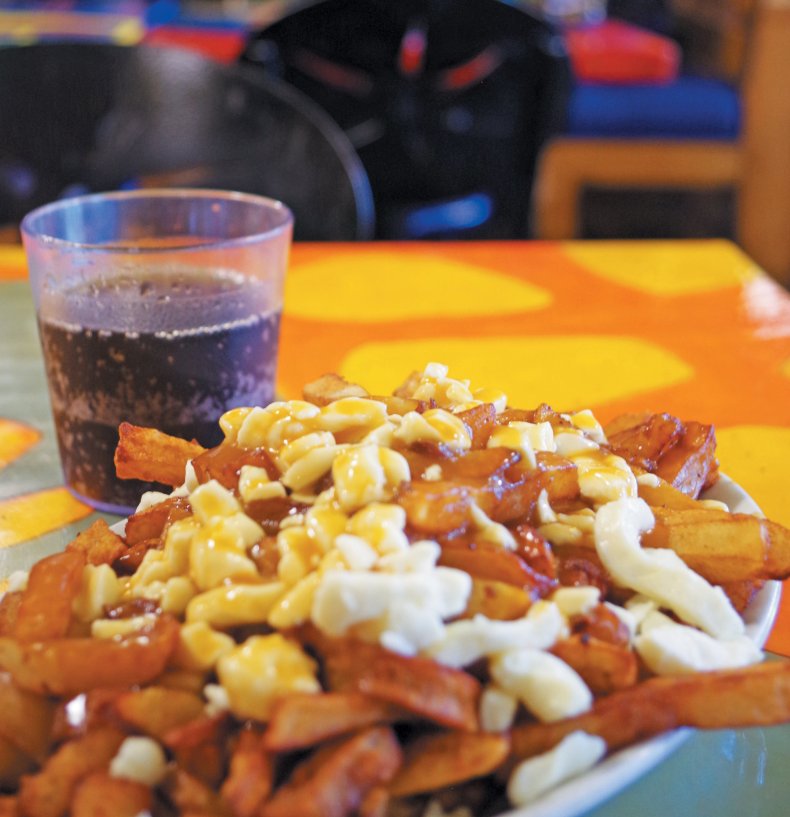 994 Rue Rachel Est, The Plateau
514-525-2415
Summer or winter, day or night—every time I come by this family-run fast-food joint there's a line out the door. It's popular, but I didn't realize just how popular, and how famous, until I saw some tourists – all the way from Asia – pile out of a taxi with their luggage and join the queue. What's the big deal? The hot mess of fries, cheese curds and gravy known as poutine, which may be the world's ugliest, most satisfying comfort food.
This cheap, quintessential Montréal dish, rumored to have been invented in nearby Drummondville during the 1950s, is all over town, but La Banquise has consistently been the local go-to for decades. They take the carb-heavy favorite beyond its classic three ingredients with 30-plus variations, including Mexican, smoked meat and vegan. There are other options, like hot dogs and burgers, but this is the poutine epicenter of the universe, so why would you? The best times for immediate seats are the wee small hours and weekdays either side of lunch.

Top 3: drinks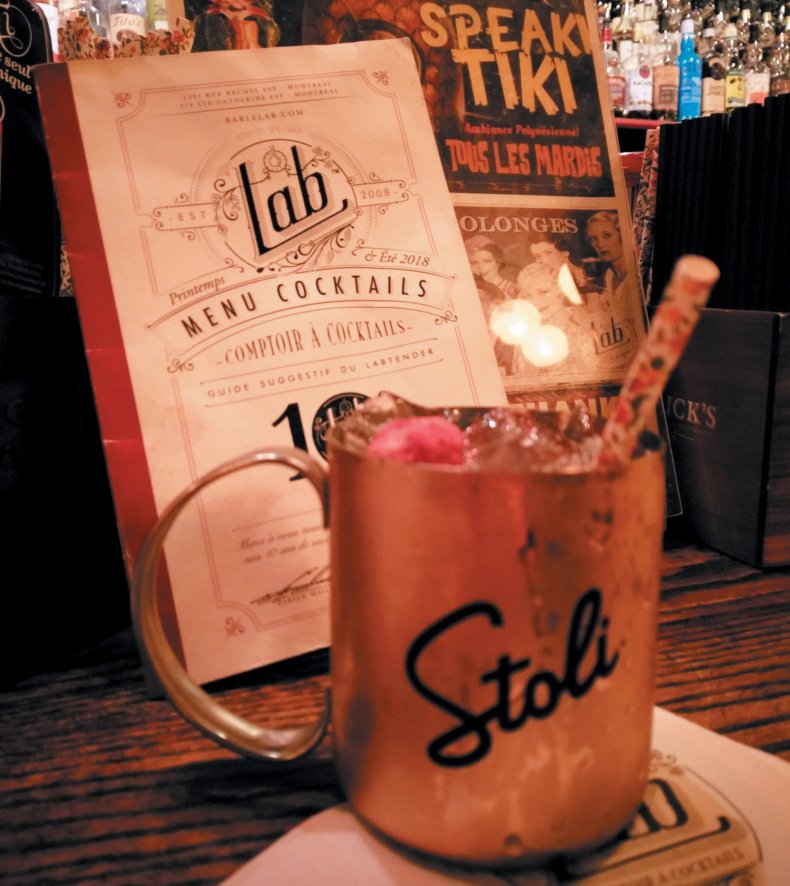 279 Rue Sainte-Catherine Est, Quartier des Spectacles
514-903-6522
When bartender Fabien Maillard moved to Montréal, he found nothing like the sophisticated cocktail scene he knew in Paris. So the Frenchman opened the original Le Lab on the Plateau in 2008, revolutionizing the city's bar culture with his crafty, seasonal cocktails and turning part-timers into professionals. Some have gone on to launch their own cool bars, but Le Lab, now downtown, is still my Montréal gold standard. You don't need a gold credit card to enjoy top tipples at this relaxed, slightly nostalgic establishment.
Cocktails, available for half price between 5 and 8pm, and are equal to anything else on the ever-evolving menu, lovingly styled with vintage illustrations. Also lock eyes on the board of nicely priced monthly specials and the food menu that ranges from classy bar snacks like charcuterie and cheeses to a handful of substantial lunchtime offerings, including smoked bacon burgers. Raise a glass to the past and say santé to innovation.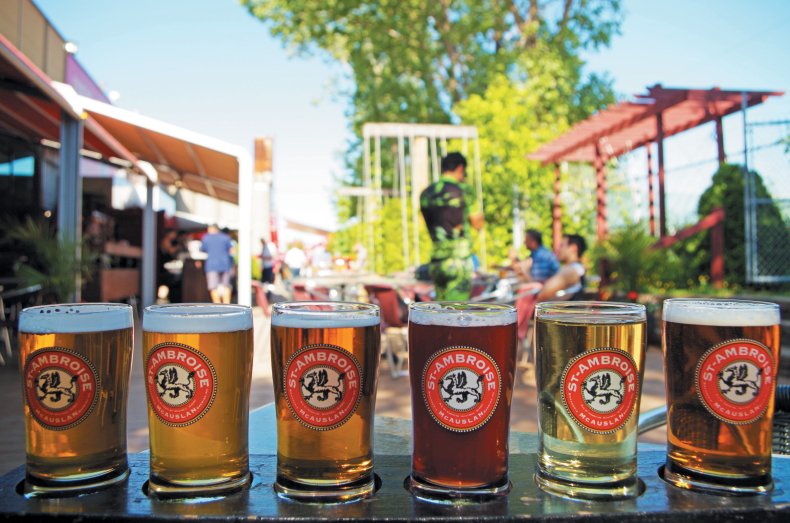 5080 Rue Saint-Ambroise, Saint-Henri
514-939-3060
When husband-and-wife team Peter McAuslan and Ellen Bounsall established the McAuslan brewery in 1988, they produced just one beer: St-Ambroise Pale Ale. It was named for the street they set up on, among the ruins of the Lachine Canal's industrial past, when they were the only craft brewers in town. Fast forward a few decades and Montréal's beer scene's 'changed enormously,' says McAuslan. Wildly popular on warm weekends, yet always laidback, the spring–through–autumn terrasse overlooks one of Saint-Henri's last untouched industrial relics: rusting grain silos, so picturesque beside the green lawn and red umbrellas on blue-sky days. Dog walkers, cyclists, even kayakers mosey in at the canal-side entrance to savour a range from oatmeal stout to grapefruit IPA, plus bar food. Can't decide? Get the six-beer tasting paddle. If you're visiting outside terrasse season, cozy up in the Annexe bar. Regular behind-the-scenes brewery tours include generous tastings and are a bargain at $5 (all of which is donated to charity).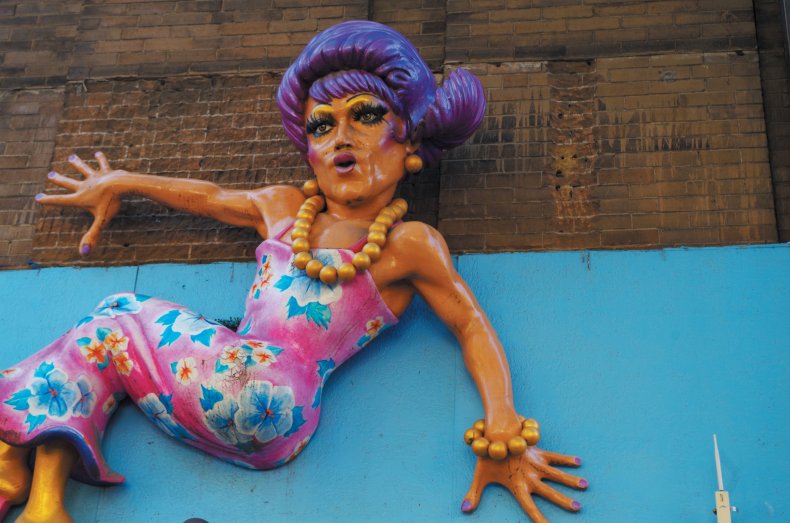 1115 Rue Sainte-Catherine Est, the Village
514-525-7566
Drag queen Mado Lamotte is such a Montréal icon, her likeness is among the famous figures in the city's wax museum. In 2017, she celebrated 30 years in high heels and false eyelashes. The second half of this glittering career has been at the helm of Mado, where the facade's larger-than-life sculpture of the hostess-with-the-mostess confirms her legendary status. Inside, she's often seen DJing, or emceeing drag shows. Her naughty, clever banter is mostly in French and spiced with Québécois slang, but Madame Lamotte doesn't leave Anglais-speaking audience members hanging—and, of course, most of the songs her ladies lip sync to are in English. Their performances are glamorous, energetic and suggestive, and segue into late-night dancefloor action for all. According to Mado, more than half the audience is straight for these drag shows, held every night except Monday, some with Mado herself singing live. In 2018, the magic expanded to a casual resto next door.
Top 3: Shopping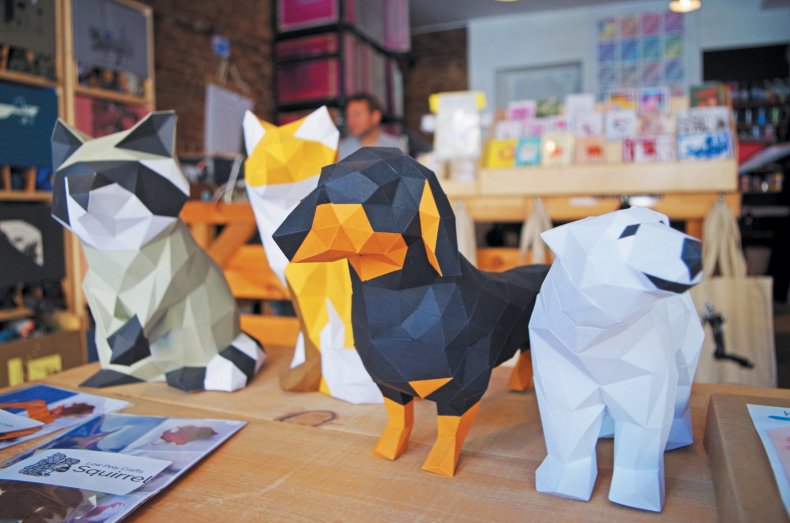 207 Ave Fairmount Ouest, Mile End
514-836-9702
The shop's motto is 'T-shirts for normal people'. Sure, prices are aimed at normal folks, but these threads are genuinely special. The main attraction is the range of Montréal designs: mono- and duo-chrome renderings of everyday urban scenes, like the Fairmount bagel shop down the street, a Métro platform or the exterior of a triplex, those ubiquitous low-rise apartment blocks of the inner-city. These tees, made for men, women and kids, plus a handful of tote bags, are souvenirs with street cred. They are designed and silk-screened in-store by Jörn, who hails from Berlin but wears his Montréal heart on his sleeve. 'I think an outsider has a better eye for what makes a city peculiar,' he says.
While you're here, check out the philosopher, writer and poet designs. Their wit is obscurely intellectual (like the portrait of Albert Camus emblazoned with "Stranger Danger.") Or keep it simple with one of Jörn's whimsical designs—perhaps the shop's logo of a cartoonish figure peering into a dark doorway.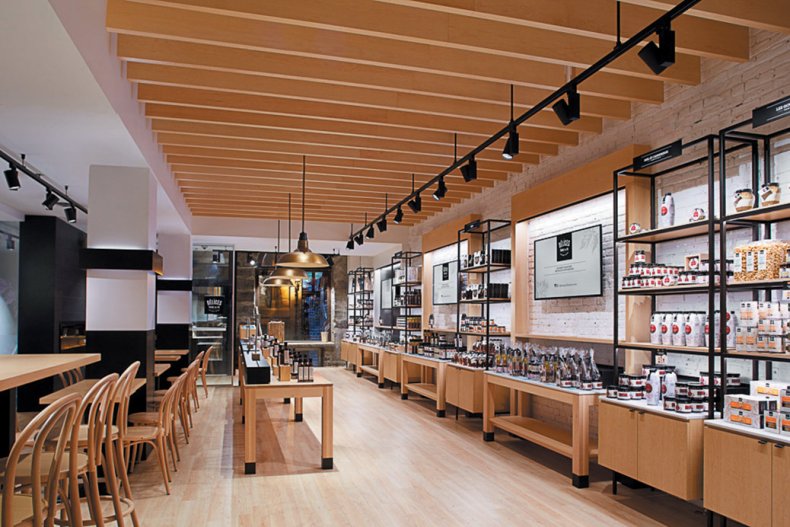 84 Rue Saint-Paul Est
514-765-3456
Did you know Québec produces three-quarters of the world's maple syrup? For the guaranteed good stuff and an array of other maple products, head to Délices Érable & Cie (Maple Delights & Co). It's a retail store for the century-old Citadelle Maple Syrup Producers' Cooperative, whose members tap sap some seven million maple trees and boil the sap down into unadulterated liquid gold. At this bright, sleek boutique-cafe, you can buy different grades, from the early season's golden, delicately flavored style to late season's dark, robust drop. There are functional bottles and beautiful bottles, including maple-leaf shaped ones, and flasks with an elegant pewter maple-leaf decoration. Other temptations include maple popcorn, maple tea, maple butter, candy, sugar, nuts and dressings, plus treats to enjoy in-store including maple ice-cream and cookies. Cranberry and honey products have been added lately, making the sweet shopping quandary harder.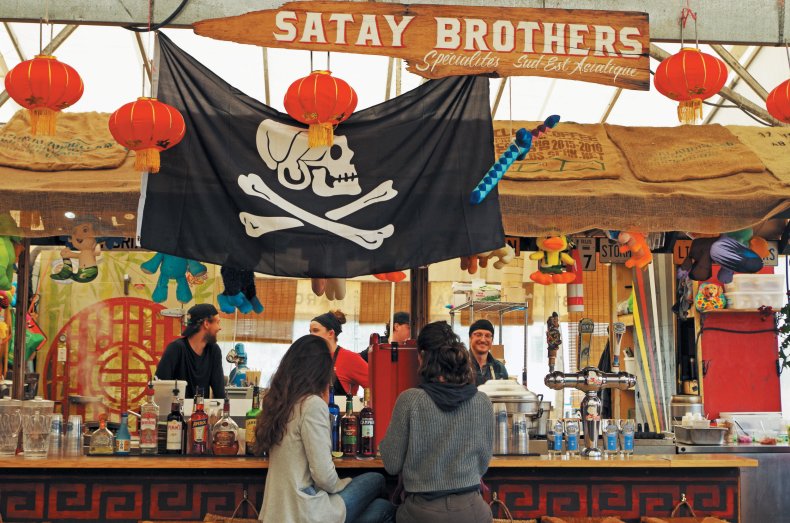 138 Ave Atwater, Little Burgundy
514-937-7754
Atwater Market's big indoor–outdoor experience happens from May to October, but its indoor heart is open year-round. Summer means farm-fresh juicy peaches, plums and tomatoes, while autumn's a riot of colorful pumpkins, gourds and squash. Stroll through an urban forest of Christmas trees from late November, then in spring frolic among thousands of potted herbs and flowering plants destined for gardens and window boxes.
During the warmer months, food stalls like Satay Brothers are open, and it's a prime place for gathering supplies for a picnic on the Lachine Canal's grassy bank. Indoors, Le Paradis du Fromage's three cheeses-for-$12 deal usually solves my dilemma about choosing between fromageries (cheese shops), and Première Moisson's queue allows time for deciding which breads and pastries are the most irresistible. Les Douceurs du March. is packed with gourmet groceries, including local treats like maple products and artisanal condiments.
Top 3: Things to See
1. Notre-Dame Basilica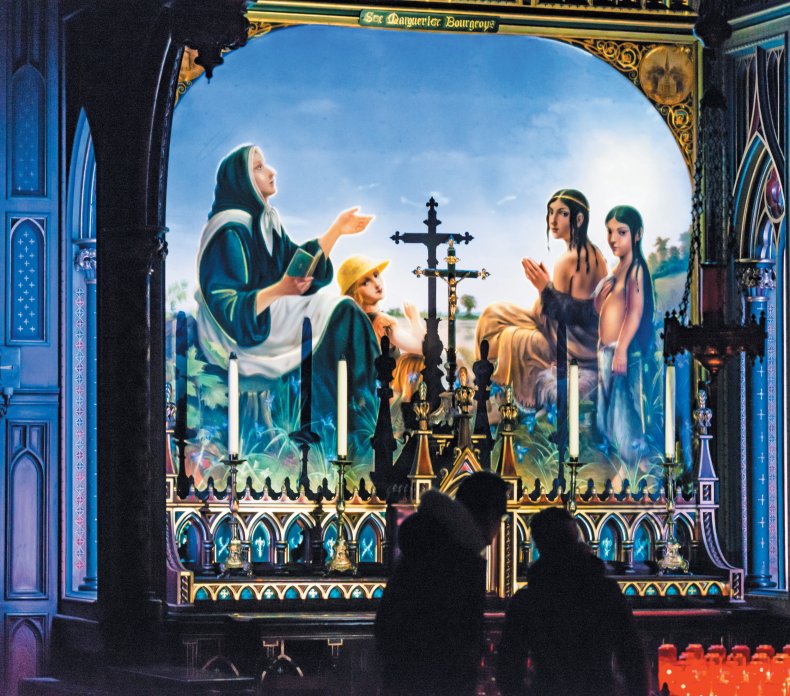 110 Rue Notre-Dame Ouest
514-842-2925
This is among the New World's most memorable churches, especially the sky-blue vaulted ceiling strewn with 24-carat gold stars. If you're into art, design and heritage, pay the modest entry fee, which includes an optional guided tour. The church built here in 1672 by priests of the Sulpician order was replaced by the current, much larger one in 1843. Today, the slightly stern grey-stone exterior is dramatically lit at night, and the opulent altarpiece, stained glass and lavish gold decoration are always impressive. See Aura, a show of music, light, lasers and projections that makes the art and interior come alive. Don't bother queueing before it starts because everyone wanders inside freely for the pre-show's animated artworks.
The basilica adjoins the original Sulpician seminary, Montréal's oldest building. You can see the facade, including the 1701 clock, from the street (or courtyard if the gate's open).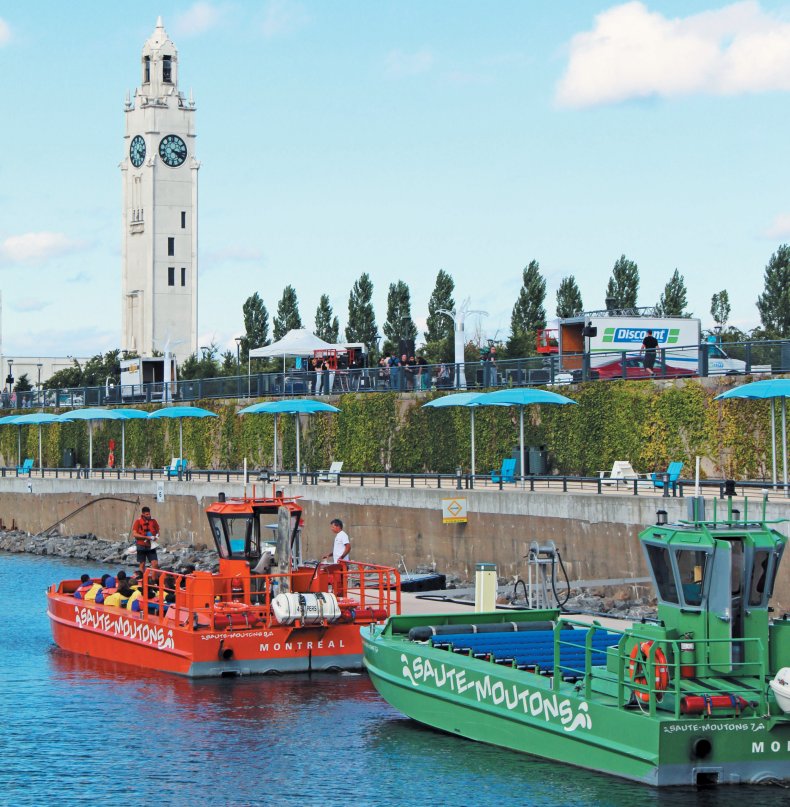 Departs from Clock Tower Pier, Old Port
514-284-9607
Saute moutons means "jumping sheep." It sounds sleepy, but actually refers to the white water leaping along the Lachine Rapids, where this jet-boating business has thrilled urban adventurers since 1983. Its vessels are custom-built for these rapids, rated between four and five on the International Scale of River Difficulty, which goes up to six—or virtually impassable, at least for unpowered craft. Nothing can prepare you for that first wave crashing over the open deck: unless you're wearing supplied raincoats, you're instantly drenched to your underwear. The water's weight feels immense when it explodes over you, then swirls around your legs and drains away. Again and again, plunging up and down the rapids on a rollercoaster ride gone off the rails, each time more wet and wild. Finally, after some 360-degree spins, there's a high-powered bolt back to port.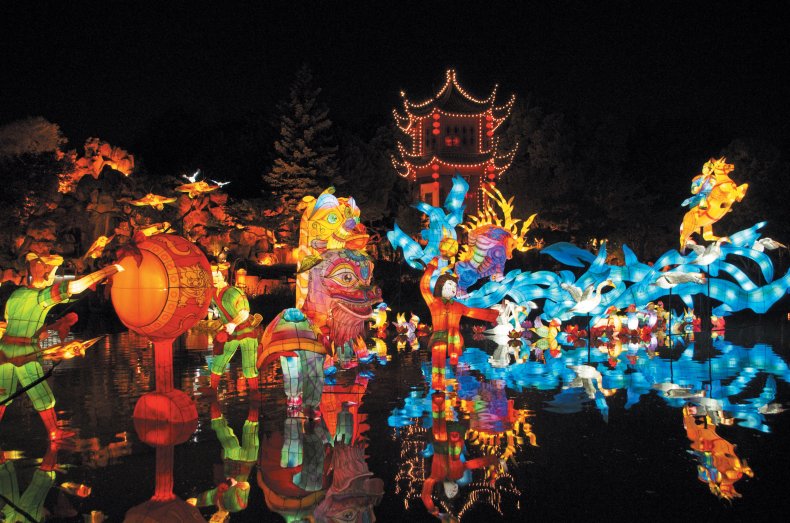 4101 Rue Sherbrooke Est, Rosemont
The first time I visited this garden I was surprised there was an entrance fee, but soon realized it's money well spent. There are 185 acres to explore, all beautifully landscaped and diverse, including various thematic gardens and greenhouses. There's lots of free programming too, from botanical sketching workshops to music performances.
Jardin Botanique opened in 1931, and over the past few decades major new developments have included Japanese and First Nations gardens, and the Insectarium, a fascinating mini-zoo of creepy crawlies. The pièce de résistance is Gardens of Light, an annual autumn event centered in the Chinese garden, where 1000 lanterns glow and reflect off the lake. There's a fresh theme each year, delivering new largescale lanterns – from ships to dragons. The 10 interconnected glasshouses are always worth checking out, from tropical rainforest plants to cacti, and the Butterflies Go Free experience starting in late winter.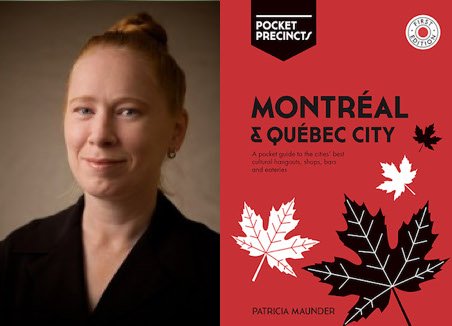 Paul Hicks/Hardie Grant Books

Patricia Maunder is the author of Montréal & Québec City Pocket Precincts, out now on Hardie Grant Books.
She lived in Montreal from 2012 to 2016 and wrote about the region for the English-language daily newspaper The Gazette and her blog, Zut alors! An Australian in Québec.