Monument to Russian Annexation Troops to Be Installed in Crimea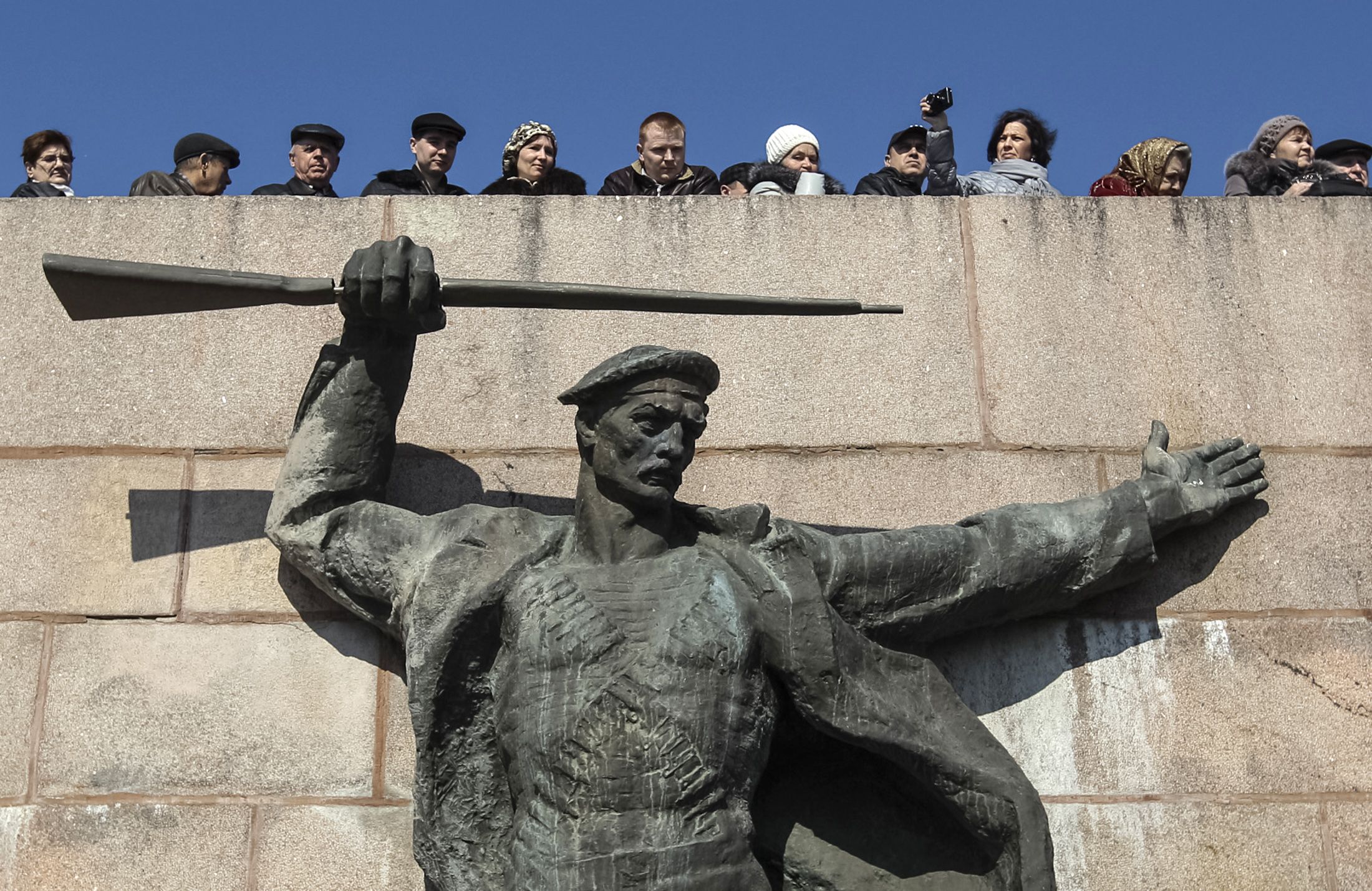 The government in Crimea has announced it is collecting money to build a monument to the Russian troops that annexed the peninsula from Ukraine in 2014.
Crimea was annexed from the territory of Ukraine, after protests in Kiev and other parts of the country ousted pro-Russian President Viktor Yanukovych. The international community has not recognized the region's ascension into the territory of Russia, however the Kremlin currently has de facto rule over Crimea.
In November pro-Russian officials in Crimea opened a contest for sculptors to submit designs that celebrate Crimea becoming part of Russia. On Wednesday the Crimean city of Kerch, which is situated at the closest point the peninsula has to mainland Russia, called for donations toward the project, stating that a sculptor is ready to take the construction on and a site has been chosen.
"At the moment a charitable collection of funds is underway to build the monument to the 'polite people'—to the soldiers and officers of the Russian army," the statement read.
Newsweek subscription offers >
The monument is intended to show thanks to "the professionalism of the 'polite people' during the fateful period for the peninsula". The terms "polite people" and "little green men" became shorthand for the well equipped and unmarked troops that led the annexation, after Moscow denied they were Russian soldiers. At the time Minister of Defence Sergey Shoygu offered the explanation that the men were voluntary forces who were simply fighting to restore order.
Since then Russian officials have made several allusions to the fact that the unmarked troops were Russian soldiers, while President Putin has made the date of the annexation an official holiday for Russia's special forces.
The Russian government in Crimea has appointed sculptor Salavat Shterbakov to design the new monument and speaking to Russian radio RSN on Thursday he unveiled some details about it.
He said that the cost should not be more than four million roubles ($53,000), which he believes will be collected by the autumn. It will be installed in the city of Simferopol and its design will aim to not be "pompous."
Newsweek subscription offers >
"There will be a figure of a serviceman, one of those that they called 'polite people', there will be a figure of a girl with flowers and there will also be a cat," Shterbakov said. "This motif appeared after being partially depicted in real life photographs."
The sculptor appeared to allude to the existing monument to the 'polite people' Belogorsk, Russia. It depicts a smiling, armed fighter leaning forward to gently hand a cat to passers by. The monument was based on a photo taken during the annexation, featuring one of the unmarked gunmen handing a cat to a child.
Monument to Russian Annexation Troops to Be Installed in Crimea | World