Monuments Men to Be Honored With Congressional Gold Medal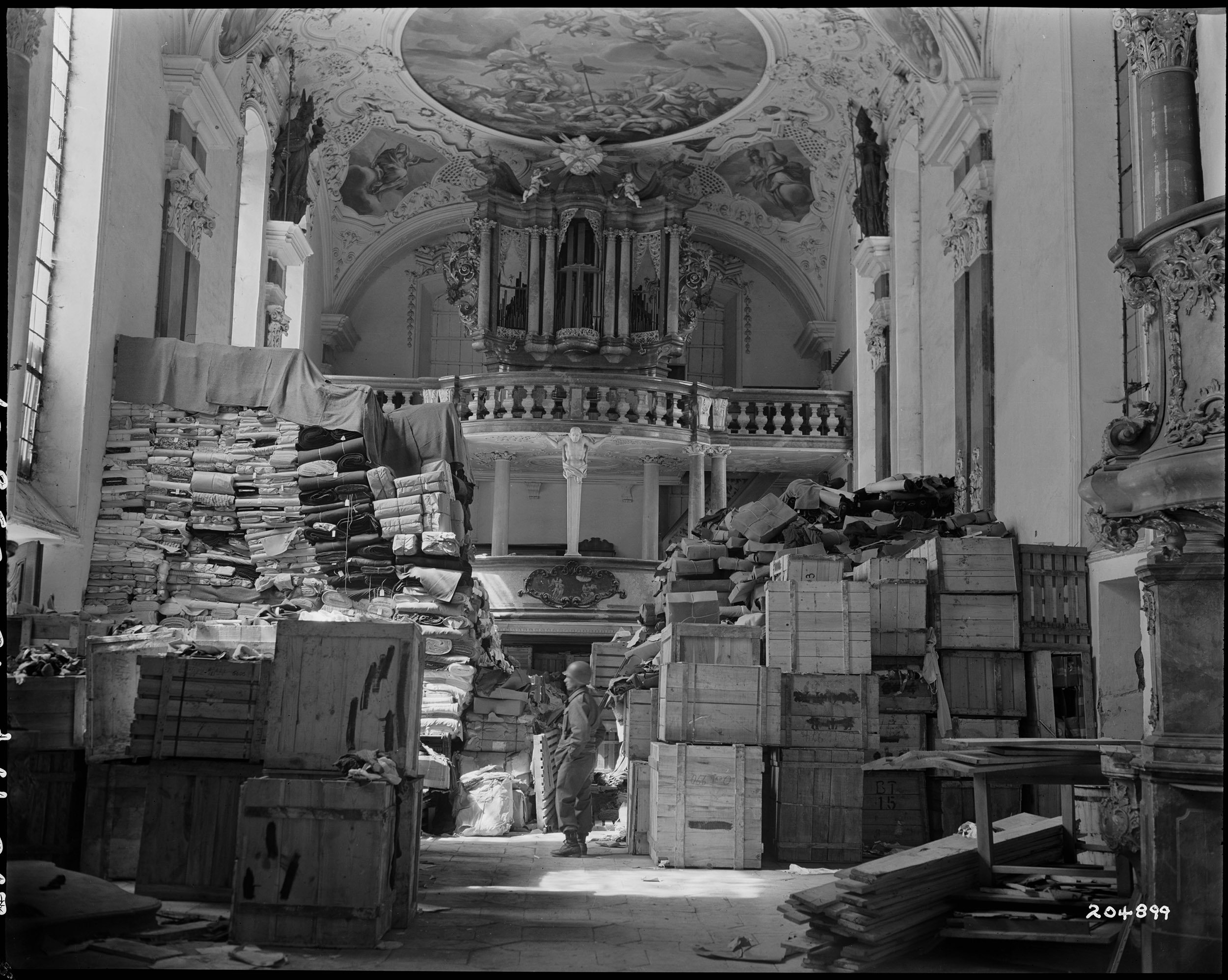 The men and women who during and after World War II worked to protect monuments and to identify, preserve and return almost five million works of art and cultural artifacts are being honored Thursday with a Congressional Gold Medal.
Four of the surviving "Monuments Men" will attend the bipartisan ceremony, along with House Speaker John Boehner (R-Ohio), Senate Majority Leader Mitch McConnell (R-Kentucky), Senate Democratic Leader Harry Reid (D-Nevada), and House Democratic Leader Nancy Pelosi (D-California), among others.
"The Monuments Men will now forever be honored and recognized," Representative Kay Granger (R-Texas), who sponsored the legislation to bestow the medal on this group, said in a statement. "What started out as one of the greatest untold stories from World War II has become a celebrated chapter in our nation's history,"
The group nicknamed "the Monuments Men" served in the Monuments, Fine Arts and Archives section under the Civil Affairs and Military Government Divisions of the Allied Armies. They were portrayed in a 2014 film of the same name starring George Clooney, Matt Damon, Bill Murray and Cate Blanchett.
The Monuments Men Recognition Act of 2014, introduced by Granger and signed into law by President Barack Obama in June of that year, directed leaders of the House and Senate to arrange for presentation of the highest civilian honor Congress can award to the 345 section members "in recognition of their heroic role in the preservation, protection, and restitution of monuments, works of art, and artifacts of cultural importance during and following World War II." As of December 2013, only five were still alive.
Thursday's 3 p.m. ceremony will be live streamed from Emancipation Hall at the Capitol Visitor Center in Washington, D.C.
The ceremony comes just after the news that the Monuments Men Foundation for the Preservation of Art will cease operations at the end of October due to a lack of funding.
The foundation was established in 2007 by Robert Edsel, whose book with Bret Witter, The Monuments Men: Allied Heroes, Nazi Thieves and the Greatest Treasure Hunt in History, served as the basis for the recent feature film. Its mission was to honor the heroes through documentation and increased public awareness, complete their mission by helping to locate and return items that are still missing, and to inspire modern-day appreciation and protection of art and cultural heritage.
The foundation was only able to raise $3.5 million of the more than $7 million required to fund its activities over the last several years. Edsel, a Dallas native who made money in the oil and gas business with his company Gemini Exploration, covered the rest. Though the foundation will disband, he'll continue to pay two researchers to finish writing short biographies of the Monuments Men.
"Our commitment was to make sure they were honored, make sure their legacy was preserved, and that the world knew not only what they've done but also what was possible, in regards to the protection of cultural treasures," Edsel told The Dallas Morning News. "We've certainly done that."
Edsel, along with Granger and Harry Ettlinger—one of the last living Monuments Men, a Jew who fled Germany with his family in 1938—are scheduled to speak at Thursday's ceremony.