Anthony Scaramucci Is Desperately Trying to Keep His Role as a Tufts University Adviser as Students Petition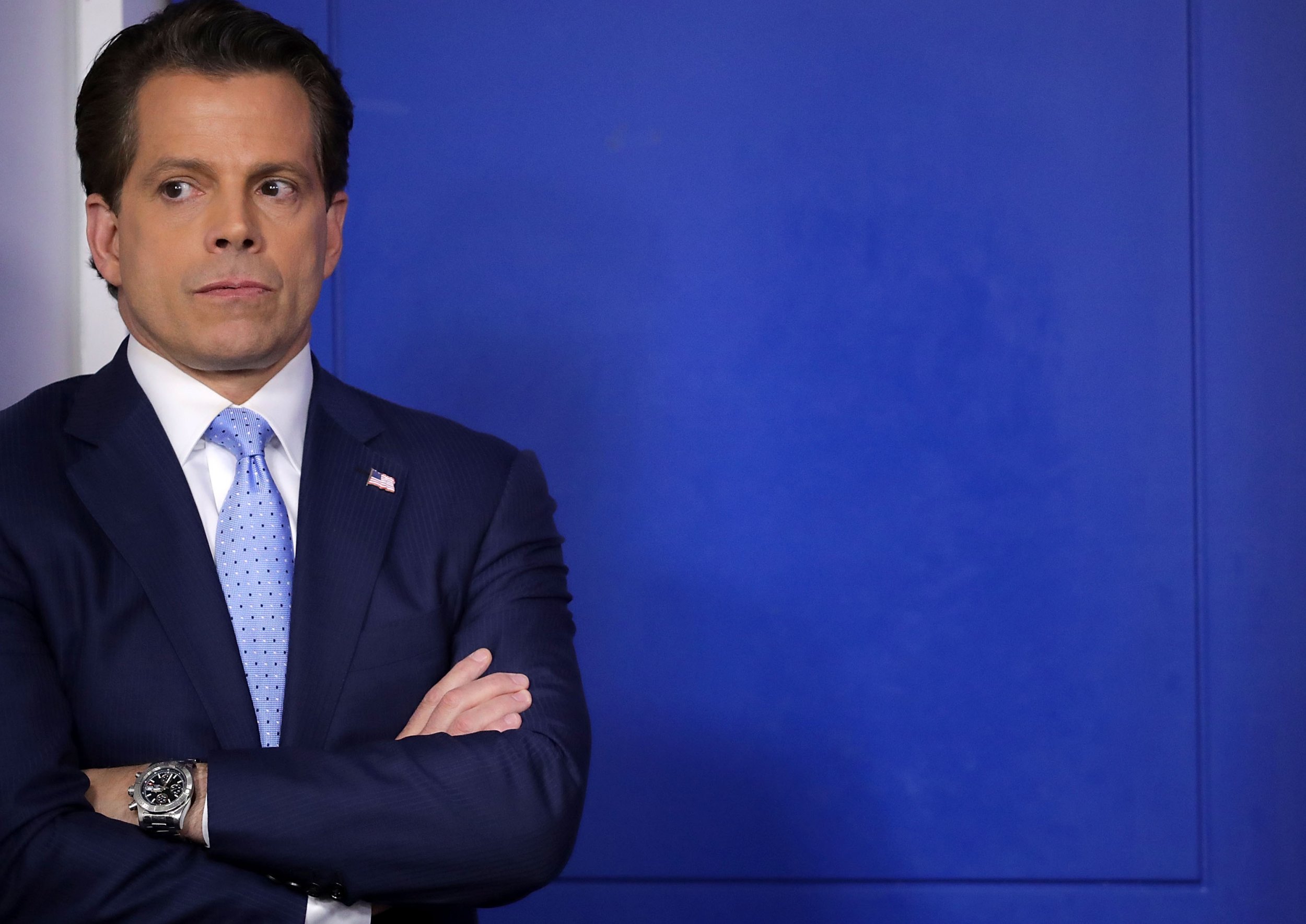 More than 200 Tufts University students and alumni are pushing to get Anthony Scaramucci removed from a college advisory board in the wake of his brief stint in the White House, his profanity-filled New Yorker interview and the recent Holocaust-related poll circulated by his Scaramucci Post website. The Mooch is fighting back.
Scaramucci tweeted Monday night at Carter Banker, a graduate student who circulated a digital petition last month requesting that administrators sever ties with the Tufts alumnus. Scaramucci, who has been on the Fletcher School of Law and Diplomacy's advisory board for more than a year, said he wanted Banker to invite him to campus for "an honest exchange of ideas and info" that would help her "draw a more informed conclusion."
Banker tweeted back on Tuesday morning, and Scaramucci doubled down on his request to meet. "Since you are going into Diplomacy, the harder part of it of course is meeting with ppl that you may disagree w/ and may not like," he responded.
The exchange came after Banker collected about 245 signatures on her petition, which argued Scaramucci's judgment as White House communications director—a job he held for 11 days—demonstrated that his "'advice' is not worthy of our institution."
"The way that he conducted himself is completely contrary to how we're taught to conduct ourselves," Banker told the student newspaper, The Tufts Daily. "He has shown himself to be somewhat of a hypocrite and an opportunist."
Banker took issue with Scaramucci's time spent defending President Donald Trump, as well as remarks he made to The New Yorker about not being Steve Bannon ("I'm not trying to suck my own cock") and potential investigators having "to go fuck themselves." The final straw, she said, came when Scaramucci's new media venture tweeted a poll on on October 17 asking: "How many Jews were killed in the Holocaust?"
Experts generally agree that about 6 million Jewish people were murdered under Nazi rule, but the Scaramucci Post survey included the options "less than one million," "between 1-2 million," "between 2-3 million" and "more than 5 million." The poll was quickly deleted and was blamed on a staffer. The account then said the tweet wasn't approved by Scaramucci.
A few days later, @ScaramucciPost put up the poll again, and Scaramucci ultimately said he would donate $25,000 to the Simon Wiesenthal Center to support Nazi hunter Efraim Zuroff.
Banker said she turned in the petition to Fletcher's alumni relations office on November 1. The administrators responded by saying they were looking into it but made no promises.
"We are aware of the petition and that there has been reaction to it among some students and alumni," university spokesman Patrick Collins told The Boston Globe. "As one would expect, there's no clear consensus."