Terrified Cub Rescued From Poachers Given Teddy Bear for Comfort
A little moon bear cub that was rescued from poachers in Vietnam was so frightened that he cried whenever he was left alone in the sanctuary he was taken to.
The cub probably saw his mother being killed by illegal wildlife traffickers before he was put in a tiny cage only just larger than his body, wildlife organization Animals Asia said.
The moon bear, which the team has named Yên, was rescued after police in Vietnam's Quang Ninh province recovered him from poachers. He had been put in a small birdcage and was nervous and afraid.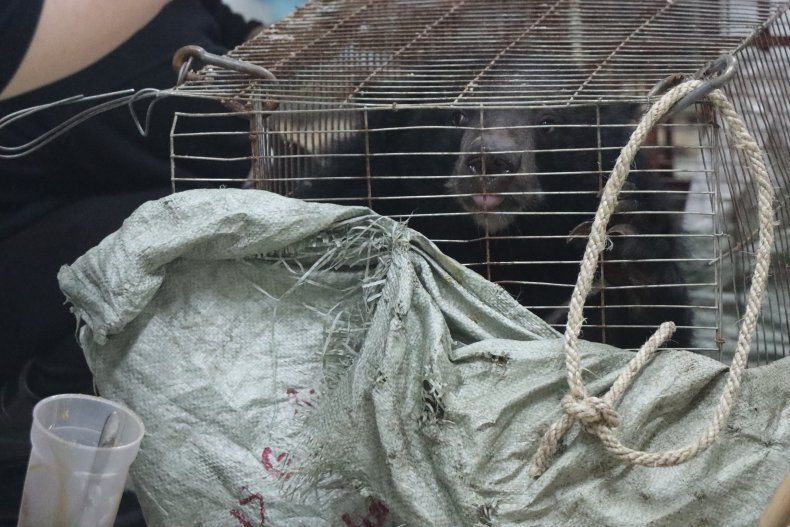 Yên was transported to Animals Asia's sanctuary four hours away, where he was handed over to vets and bear experts at the organization. He was so terrified he cried whenever he was alone, so the team took turns staying with him and put a teddy bear next to his cage to make him feel safer. Eventually they started leaving him for short periods of time until he was calm enough to get some rest.
Tuan Bendixsen, director of Animals Asia Vietnam, said the bear's rescue shows that police in the Quang Ninh province are committed to stopping bear bile farming—a cruel practice where bile is extracted from the gallbladders of live bears and used in traditional Chinese medicine. Quang Ninh, Bendixsen said, was once the worst regions for bear bile farming in Vietnam.
"We are grateful for the swift and decisive actions of the Uong Bi police force which display their continued diligence and determination to keep the province free of illegal bear farming," he said in a statement.
Bear bile was one of the products being touted by wildlife traffickers as a cure for COVID.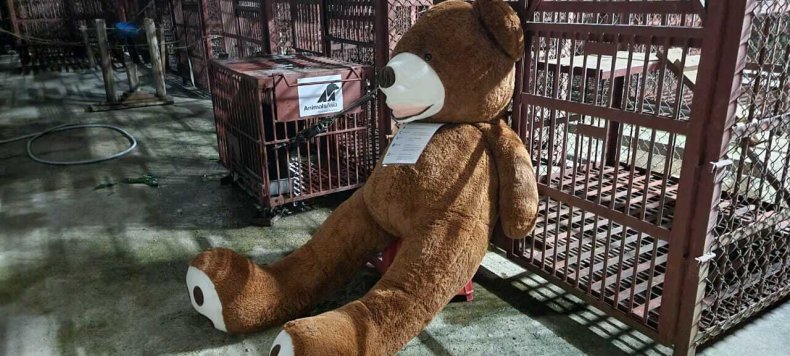 Asiatic black bears, informally known as moon bears, are on the IUCN Red List as a vulnerable species. Their population is decreasing as they face a range of threats from human activities, with logging and commercial hunting the most significant.
Heidi Quine, Animals Asia's Vietnam bear and vet team director, said in a statement: "Even though little is known about the ecology, status of distribution of Asiatic black bears in Vietnam, it is clear that across their habitat, bears are either locally extinct or in decline. Each bear poached from the forests is a massive blow to fragile wild populations. Our Vietnam Bear Rescue Centre is an all-important component of curbing the wildlife trade."
Yên is the 650th bear to be rescued by Animals Asia. He will spend the next 45 days in the sanctuary's quarantine facility to make sure he is safe and healthy. After that, he will be let out into the bear enclosure, where he will be able to interact with other rescued animals.