Who is Moon Jae-in? What South Korea's Probable Next President Has Said About Trump, North Korea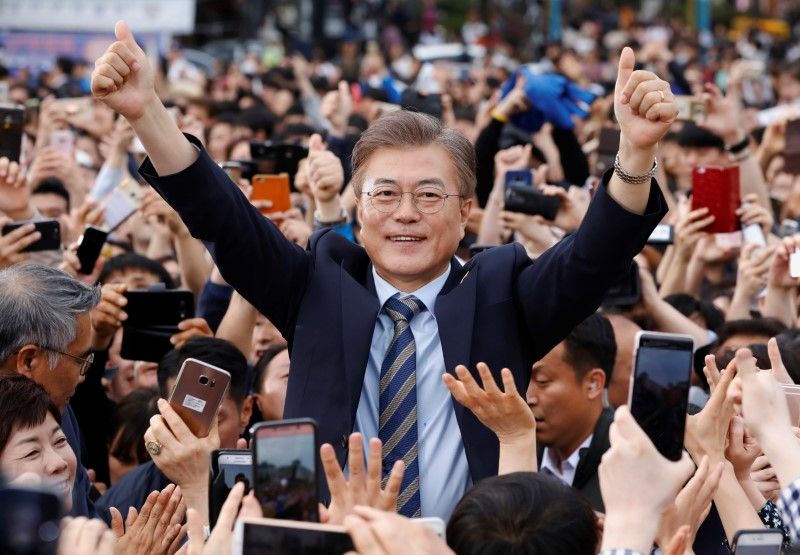 Barring a polling mishap on the scale of what occurred in the U.S. in November, Moon Jae-in on Tuesday will become South Korea's next president. As such, the former human rights lawyer will be immediately plunged into the midst of an ever-worsening war of words between North Korea and the United States. While his victory would represent a seismic shift in politics in South Korea, it could also upend President Donald Trump's plans to apply increasing pressure to the regime of North Korea's Kim Jong-un.
Related: As Kim Jong Un threatens U.S., South Korea's top presidential candidate vows to pull away from Washington
In the aftermath of a corruption scandal that took down former President Park Geun-hye, South Korea is set to turn its back on the conservatives who have governed the country for the past nine years, in the process enjoying close relations with the U.S. Moon, the son of North Korean refugees who moved to the South during the Korean War, represents a switch back to the liberal governments that enjoyed a decade of power between 1998 and 2008 and fostered closer ties with their neighbors to the north.
South Korea's relations with the North during that period were governed by what was known as the "Sunshine Policy," and Moon has strongly suggested he will revert to those principles. The policy saw greater cooperation between the two countries and earned President Kim Dae-jung a Nobel Peace Prize. That Moon should seek what has been dubbed "Sunshine Policy 2.0" is of little surprise, given that he was the chief of staff to Kim's successor, Roh Moo-hyun, who continued the policy.
"I am confident to lead the diplomatic efforts involving multiple parties, which will lead to the complete abandonment of the North Korean nuclear program, and bring the relationship between South and North to peace, economic cooperation and mutual prosperity," Moon, the Democratic party candidate, said during a debate April 25.
In addition to meetings between the presidents of the two countries, the first Sunshine Policy era saw closer economic ties. A key part of that was the opening of the Kaesong Industrial Complex, in which South Korean companies operated in North Korean territory with North Korean workers. South Korea closed down the park last year in response to the North's nuclear testing and launching of a long-range rocket. Moon, however, has pledged not just to restart operations but to expand them, stating that it could provide "leverage" to help curtail North Korea's nuclear ambitions.
"It was the last safety valve that prevented a decisive disruption in inter-Korean relations," he said in February.
Moon, who had about a 20-point lead over Ahn Cheol-soo of the centrist People's Party and Hong Jun-pyo of the conservative Liberty Korea Party in the final opinion polls, has signaled a similar break from his predecessor, and Washington, when it comes to the military. Specifically, the 64-year-old has criticized the U.S rush to deploy the Terminal High Altitude Area Defense (THAAD) system, designed to intercept and destroy North Korean ballistic missiles, at a time when South Korea still had a temporary government.
"One of the biggest problems with this THAAD deployment decision was that it lacked democratic procedure, and it has resulted in a wide division of the nation and aggravated foreign relations," he told The Washington Post last week.
Moon, who has served as the opposition leader after finishing as runner-up to Park in the 2012 election, has also called for a realignment of the relationship with the U.S.—to one in which South Korea is more of a leader than a follower in regard to North Korea.
"We want to be in the driver's seat. Driving would mean doing so very actively with the United States, and Pyongyang," he said.
His stance on South Korea's central foreign policy issue has led some conservatives to label him "pro-North."
North Korea. meanwhile, has made clear that it would welcome a Moon victory. A commentary in the state-run Rodong Sinmun newspaper Monday blamed the previous, conservative government for "the tragic North and South Korean relationship."
Still, Moon has stopped a long way short of calling for ripping up the alliance with the U.S., stressing its importance to South Korea. Similarly, he has spoken of his hopes for a close relationship with Trump, even stating his belief that the U.S. president "is more reasonable than he is generally perceived."
There is little doubt, however, that the election of Moon, who would assume power right away, would shake up the status quo. Moon has said that he wants to be a leader who "opens the door for a new era, new politics and a new generation."