Everything We Know About 'Moon Knight' So Far as the Trailer Drops Online
Moon Knight is the latest classic Marvel character to get his own Disney+ series and the new trailer has shown fans what to expect.
Oscar Isaac is the titular hero of this London-based MCU show, which is arriving on the streaming platform soon. Marvel and Disney have kept their cards close to their chest prior to the release, with only a few casting announcements, and they've also kept many story details under wraps — until now.
Ahead of the launch of Moon Knight, Disney+'s fifth live-action MCU series, here's everything you need to know about the series.
What Is Moon Knight About?
The trailer of Moon Knight introduces us to a mild-mannered character called Steven Grant, played by Isaac. He complains of not being able to tell the difference between his dreams and reality, and even goes as far as to tie himself to his bed at night so he doesn't go wandering.
Later we see that "Steven," who works at a museum in London, has dissociative identity disorder and also goes by Marc Spector, which is a name familiar to Marvel Comics fans.
Throughout we see that Marc/Steven may be an unreliable narrator as he sees images of things that aren't there. The trailer ends when bandages start to mummify Marc and he becomes Moon Knight.
In the London museum setting, ancient Egyptian artifacts are constantly seen, which is very likely to lead to Marc becoming the super-powered Moon Knight.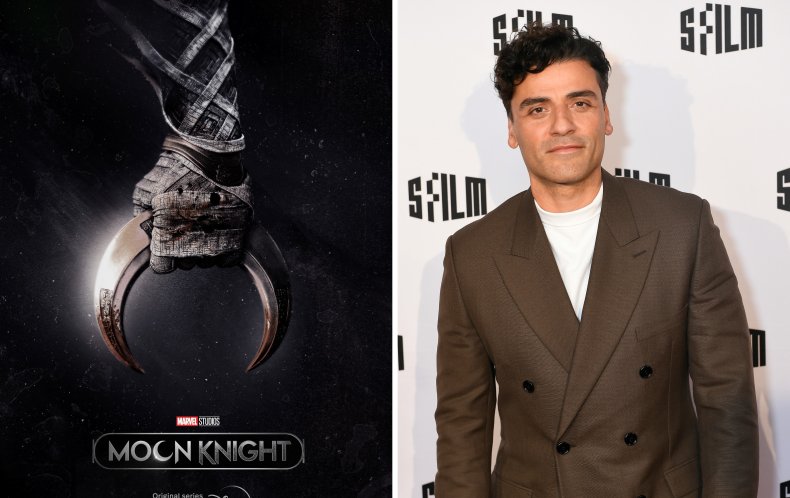 Who Stars in Moon Knight on Disney+?
Only a few casting announcements have been made prior to the release of Moon Knight on Disney+, with Star Wars and Ex-Machina actor Isaac being one of them. It's the second Marvel role he's taking on after playing the super-villain Apocalypse in X-Men: Apocalypse.
Joining Isaac is Oscar-nominated actor Ethan Hawke (Training Day, Reality Bites). He plays cult leader Arthur Harrow, and the trailer shows his influence on his followers who bow before him in the street.
Also confirmed to appear is French actor Gaspard Ulliel (Hannibal Rising), who'll play Anton Mogart, while Egyptian-Palestinian actress May Calamawy (Ramy) has also been cast.
Jeremy Slater (The Umbrella Academy) is credited as the creator of Moon Knight. Mohamed Diab directs four of the episodes, while Justin Benson and Aaron Moorhead directed the other two as a pair.
When Will Moon Knight Be Released?
Kevin Feige confirmed to Collider that the upcoming season of Moon Knight will mirror Loki, Falcon and the Winter Solider, and comprise six 40-50 minute episodes.
The series is scheduled to get under way on Disney+ on Wednesday, March 30, 2022. It isn't currently known whether the series will play weekly, or if it will launch with the first two episodes, as others have in the past.