'Moonbase 8': Why Travis Kelce Appeared on the Showtime Show
Moonbase 8 is Showtime's new space comedy, which sees John C. Reilly, Tim Heidecker and Fred Armisen as NASA trainees living in a lunar camp in the U.S. desert. The comedy posits that NASA has included an NFL Super Bowl champion Travis Kelce on the team in order to drum up publicity for the mission—and that Kelce is somewhat of a diva.
In the Showtime series, the Kansas City Chiefs tight end is making his acting debut playing himself.
Per a Ringer interview, Moonbase 8 star John C. Reilly explained why the football player stars in the first episode of the Showtime show. He said, "putting Kelce in there seems at first [like], 'How absurd. Why would you put a famous football player in the TV show as himself?'
"But when you think about what NASA was doing with the Challenger program, putting a teacher in space. They want people that are gonna make it on the front of a Corn Flakes box. That's where it's going now. The piloting of the spaceships themselves is done by computer. You're looking for people that are gonna broaden the program."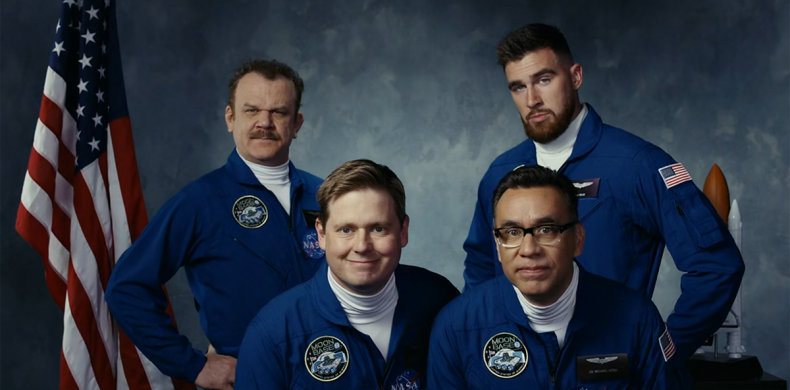 This is something that is also said in the first episode itself. In the premiere, Skip (played by Fred Armisen) explains: "NASA just wants him for the PR...cross-promotion with the NFL."
However, according to the Moonbase 8 cast in other interviews, Kelce was not the show's first choice for the series. Reilly told Thrillist: "Our first idea actually was [Tampa Bay Buccaneers tight end Rob] Gronkowski. And we could not get a hold of Gronkowski.
"So, who do you go to after Gronkowski? And here's this up-and-coming kid, Travis Kelce, he's like, nipping at Gronkowski's heels. And he jumped in, and it was great. And the operating principle for all the guest artists throughout all the episodes is they have to be more attractive, more intelligent, and more physically fit than us. In other words, more viable candidates for a space program."
The show was shot before Kelce won the 2020 Super Bowl as part of the Kansas City Chiefs team. In a Ringer interview, Heidecker joked: "His rate would've skyrocketed if we asked him afterward."
Kelce's appearance in Moonbase 8 Episode 1 also seems to set up one of the recurring bits in the Showtime show (spoilers ahead). About halfway through the episode, Kelce dies after the ground gives way while he is digging a hole to find water. This seems to suggest that we will see a rolling roster of guest actors join Reilly, Heidecker and Armisen across the six episodes.
Among the other guest stars who appear in the official trailer for the show are Arrested Development's Alia Shawkat and former American Idol star Adam Lambert.
Moonbase 8 airs Sundays at 11 p.m. ET / 10 p.m. CT on Showtime.