'Moonlight' Magic in Miami: A Week With the Filmmaking Community That Brought Barry Jenkins Home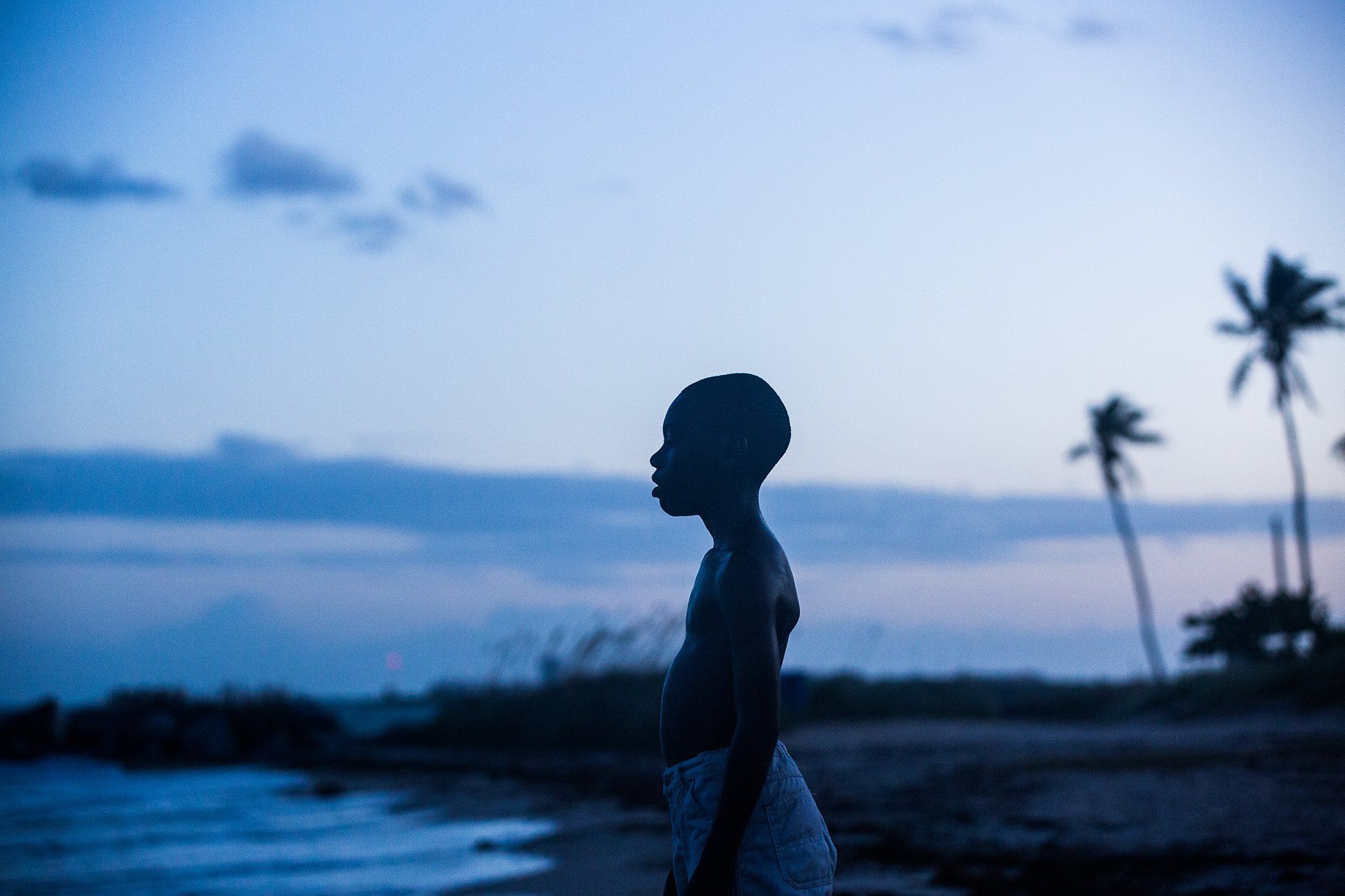 The night before the Oscars, a brawl broke out on the second floor of downtown Miami's Alfred I. DuPont Building. The Borscht Corporation, the independent film collective without which Barry Jenkins has said Moonlight "would not exist," had rented the repurposed Art Deco-era bank for a party as part of its 10th film festival, dubbed Borscht Diez. Before any punches were thrown, a vogue catwalk competition raged in an adjacent room, and the rapper Trina performed on top of the bank's vault. The fight was short but chaotic. Bottles were broken over heads. One guy went to the hospital. In the middle of it all was Lucas Leyva, one of Borscht's co-founders and, thus, one of the evening's hosts. His face was covered in blood. This wasn't a typical film festival.
The next night, Leyva sat at a picnic table outside of the Miami's African Heritage Cultural Arts Center with his creative partner, Jillian Mayer. I asked him how he was doing. He pointed to a freshly healed cut next to his right eye and smiled: "This is what audience building looks like."
Related: 'Moonlight' takes best picture, after it erroneously went to 'La La Land'
The event at the Cultural Arts Center, the last of Borscht Diez, did not feature any ass shaking (or kicking). Instead, a large, inflatable projector screen was set up on a patch of concrete to broadcast the Oscars to residents of Liberty City, the neighborhood where most of Moonlight takes place. Despite the lack of a filmmaking tax break in Florida, Jenkins was able to convince producers to shoot it in Miami. It was nominated for eight Oscars, including best picture. A block party was in order.
Whether through parties ending in brawls or wholesome neighborhood gatherings, bringing people together—audience building—has been one of the keys to Borscht's success since it was founded in 2005, while Leyva was still in high school. Its festivals, held more or less every year, are notorious for their wild events that defy typical stereotypes of Miami. Borscht's city is not one of speedboat chases, drug lords or Colin Farrell's fiendish desire for mojitos—at least not in any sincere sense.
In the days leading up to the Oscars, Borscht Diez featured a motorcade to the Everglades, where a coffin of old hard drives was set ablaze; a late-night kayak armada to a small island in the middle of Biscayne Bay; and a psychedelic "coral orgy" scored by Animal Collective. Some of these events went as planned, others were canceled altogether. In a way, this was by design. Leyva and Mayer see their festivals as open-ended experiments. "The variables are what make it interesting," says Mayer, before noting that Miami is part of the Bermuda Triangle. It's this mysterious, unpredictable energy that Borscht wants to embrace. The bizarre end to the party at the Alfred I. DuPont Building did not at all seem out of place. A fight started. Of course it did.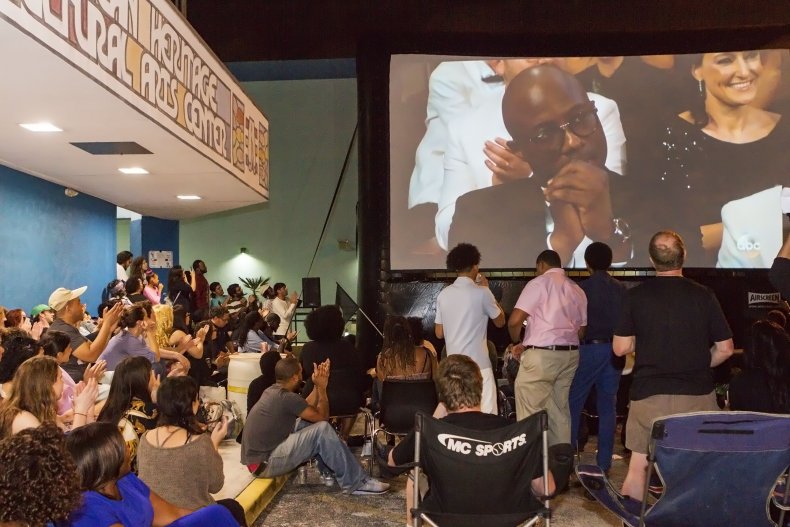 What also coalesced out of this energy was Moonlight. "I didn't know it was going to do everything it did, but I knew it was going to be special," says Leyva of the film. "It was the kind of movie we'd been dreaming about. It's the whole reason we started this thing so long ago, to create an environment and to fertilize the soil so that one day something like this could happen. To be honest, it happened way quicker than we could have imagined."
Leyva first heard about Barry Jenkins when he returned to Miami after attending Fordham University in New York. The plan had been to save up money and move to Los Angeles, but Leyva ultimately decided to build a filmmaking community in his hometown. The decision to stay was made easier by a $150,000 grant Borscht received from the Knight Foundation in 2010. The group now had the money to build an infrastructure, host festivals and commission projects that told stories of the real Miami.
One of Borscht's co-founders, Andrew Hevia, attended film school with Jenkins at Florida State University. Shortly after receiving the grant, Hevia showed Leyva Jenkins's directorial debut, Medicine for Melancholy, about two twentysomethings who share a romantic 24 hours in San Francisco, where Jenkins had been living.
"It really captures San Francisco in a very specific way," says Leyva. "It has a sense of place that is pretty unique. The city itself is a character. The thought was that if he could do that for San Francisco, which is his adopted city, it could be cool to do something with him in Miami."
Borscht gave Jenkins a commission to come to Miami to make a short for Borscht 7, in 2012. It took some convincing. "He wasn't really stoked on the city," says Leyva. "He left. He had sort of sworn it off. I think if you see [Moonlight] you can kind of understand why he would want to do that. He rediscovered the city through that process [of shooting the short for Borscht]."
The result was Chlorophyl:
While Leyva was studying to be a playwright in New York, his mentor was Tarell Alvin McCraney. The two made a short film together called "Day N Night Out," and when McCraney wanted to make another he sent Leyva the script for a play he had written called In Moonlight Black Boys Look Blue. "I have this thing that might be a good movie," Leyva remembers him saying.
"Knowing Barry's background, we were like, 'We think there's someone who could really tell this story well.' It was kind of delicate. Andrew [Hevia] spoke to Barry and asked if he was interested. We introduced them and they got along really well. Barry loved the script."
At a panel discussion held in Miami last December, Leyva revealed a few emails detailing the genesis of the collaboration. Jenkins responded to the initial email containing the script with two words: "Fuck. Yes."
The next day: "Just finished the read. Shit is crazy. I think I grew up three blocks from Tarell. Unreal."
McCraney wrote that he was embarrassed to meet Jenkins through his "neophyte script and votes of confidence from my friends." Jenkins suggested getting a dialogue going to let "these ideas flow fully."
The crowd outside of the Cultural Arts Center cheered when Mahershala Ali won Best Supporting Actor, but they saved the bulk of their enthusiasm for Best Adapted Screenplay. When Jenkins and McCraney were announced as the winners, the audience let it all out. McCraney had been a student at the center. Sun-faded clips of his achievements hang in a glass bulletin case affixed to the building's exterior. Both of them were boys from Liberty City, just like so many others watching on the asphalt outside of the Cultural Arts Center that night.
Their speeches were succinct and powerful. The cheering swelled when Jenkins thanked Miami. It grew even louder when McCraney shouted out Liberty City. After the duo left the stage they got on the phone to talk to the crowd at the Cultural Arts Center directly. The connection was spotty, but a "We love ya'll, 305," managed to make its way through the PA. A few people banged pots and pans with wooden spoons in celebration.
The crowd wasn't under any delusions, though. La La Land was the heavy favorite to take home the night's most prestigious awards. An independent, all-black, queer coming-of-age story filmed for less than $2 million in Miami was up against a white-washed, big-budget Hollywood production. It was the type of battle marginalized groups have become accustomed to losing in far more profound ways. "I fully anticipate that La La Land is going to clean up tonight," Leyva said before the Oscars began.
To those in attendance, there was no doubt that Moonlight was the most artful and important film of the year. That alone was worth celebrating. Jenkins and McCraney had made it, rising above Miami by immersing themselves in it. It was beautiful and painful and courageous act to lay this vision of their home city before the world. The world had noticed, and that recognition was enough, for now.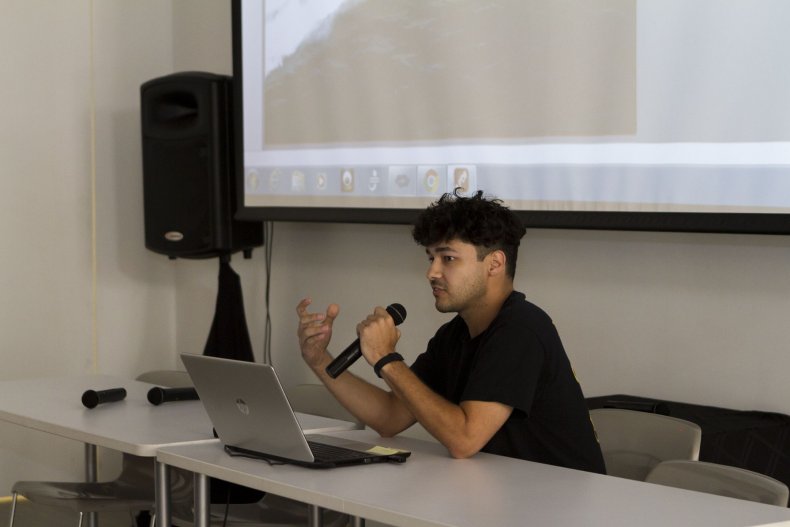 "I would say people are getting more mystical about it," says Mayer of the art Borscht has helped draw out of Miami. She's holding her 14-year-old dog, Shivers, which starred in a surreal and borderline-unsettling mock animal fashion talk show that closed the festival's shorts program. "When your state is sinking and there are people in your community that practice voodoo and Santeria, it's kind of a spooky place. I think people are really exploring a lot of those themes rather than going for what people think Miami movies are or what people would like to see in Miami."
"People are more genuine and authentic with sharing their experiences now," adds Leyva. "People see Moonlight and think, 'Wow, if people are interested in this story, maybe they'll be interested in mine, too. Somebody is listening, which is so important. It goes into all these issues of representation in film and all these things, but in a very fundamental way it matters when you see someone who looks like you and talks like you and lives similar to how you do onscreen in terms of validating your experience. That trickles into the filmmaking."
Borscht recognized early on that there were cultural forces at work in Miami that were ripe for artistic expression. The collective's mission was to equip the independent film community it created with the tools it needs to unlock this potential and set it loose throughout the film industry. They gave commissions to filmmakers who represented genuine visions of the city's unique mojo that other organizations may have deemed too lurid or weird to fund. As with the festivals, they were experimenting with talent and watching what was able to grow.
"A lot of the films, especially earlier in the festival, were designed to get out on the internet and have viral success," says Leyva. "It worked to spread the word, but the dream is ultimately to have a pipeline where someone can go and make one of these films, whatever weird short film, and develop their voice in the nonprofit model, and then have ways to develop that talent further in a commercial sense."
Barry Jenkins's progression from Chlorophyl to Moonlight is the best example of this process, but it's far from the only example of Borscht's influence spreading through the industry. A Mayer and Leyva collaboration that screened at Sundance this year marked the seventh consecutive year Borscht has had a presence at the prestigious festival, which has helped raise its profile to a national level. Leyva also points to the Meza Brothers as another example Miami-grown voices breaking through. They had worked with Borscht for years before getting a short into Sundance, which led to a manager and an agent, which led to working on projects for AMC and FX and directing episodes of the Starz show Ash vs. Evil Dead.
"We're looking for ways to replicate things like that," says Leyva. "Not everyone's voice is going to be commercial, but for the ones that do have that potential, there is a way to scale intelligently."
With its initial mission accomplished, Borscht Diez—a play on "dies"—represents the closing of a circle. "It's like, what's next?" asks Leyva. "We fundamentally changed the dialogue around filmmaking in Miami, both through Moonlight, through the short films, through the festival. Where do we push things forward? When we started this rhetoric, it was kind of silly and wasn't taken very seriously. Now it's become mainstream, both here and other places. There is a respect for Miami now."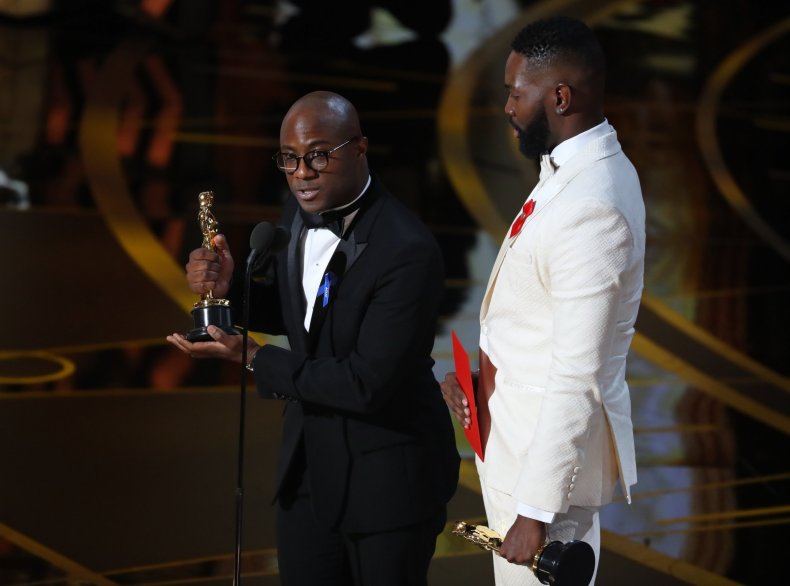 By the time La La Land's Damien Chazelle won best director, the excitement in the Cultural Arts Center parking lot had subsided. As the nominees for Best Picture were announced, the crowd cheered one last time for Moonlight. No one was surprised when Faye Dunaway summoned the cast and crew of La La Land to come onstage and accept the night's top award. People rose from their seats on the asphalt in front of the screen and dispersed to throw their trash away and go home. The evening's MC thanked everyone for coming. Moonlight had won two Oscars. Jenkins and McCraney had done Liberty City proud. Everyone was satisfied, more or less.
You know what happened next.
The video feed had been cutting out intermittently throughout the night, and the projector screen once again began to flicker as La La Land's producers took turns speaking. Not many people were paying attention, anyway. Then a commotion began to swell in front of the screen. The feed was still flickering, but it was clear something odd was happening onstage in Los Angeles.
"What!? What!?!? What!?!?!?" the MC said into the microphone. "They called the wrong name!?" Anyone who had strayed from the screen quickly wandered back over. Someone said, "Oh my God!" Then a few more people repeated it. The feed kicked back in right as La La Land producer Jordan Horowitz held the card that said Moonlight had won best picture up to the camera. It was real. It said it right there on the card: Moonlight had won.
That was supposed to be the end of Borscht Diez. We had expected to head back to Miami Beach to drink and worry about when to leave for the airport the next day. Instead, it was to Leyva's house for a pool party, another change of plans that felt inevitable as it was happening. Into the early hours of the morning, we tried to parse what has just transpired. The acceptance speeches we missed were cued up on iPhones and the story of the envelope mix-up was pieced together through Twitter. It was hard to conceptualize what Moonlight's win would mean for independent film not just in Miami, but across the country. It felt like the entire community had been touched by something divine. The moment was too large to grasp. Besides, sinks needed to be filled with beer and ice, music needed to be played and cigars needed to be unsheathed and lit up. This we could handle.
From the house, a handful of filmmakers made their way to the beach to watch the sunrise. Its light would soon supplant that of the moon, but neither the cosmos nor the Hollywood studio system could extinguish the dulcet glow that had been cast across the city of Miami and into the heart of its arts community that night. It was magical and it was improbable, but just like the journey of Borscht, both that week and over the past decade, it somehow made perfect sense. Independent filmmaking won. Miami won. Moonlight won. Of course they did.
Read more from Newsweek.com:
- The Oscars acceptance speech Barry Jenkins would have given
- Mahershala Ali's Oscar win highlights persecution of Ahmadi Muslims
- Mahershala Ali becomes first Muslim actor to win Oscar for 'Moonlight' role