Roy Moore Election Lawsuit: Can He Still Beat Doug Jones for Alabama Senate with Voter Fraud Claims?
Judge Roy Moore and his campaign claimed voter fraud was the reason he lost to Democrat Doug Jones for Alabama's U.S. Senate seat this month in a lawsuit filed Wednesday. Moore and his campaign hope to stop Alabama state officials from certifying the election on Thursday.
Related: Roy Moore keeps raising campaign money after election loss
The suit cites three "national election integrity experts" who state fraud occurred during December 12's special election and includes Moore's claim of passing a polygraph test to prove he did not commit any acts of sexual misconduct or molestation with teenage girls, according to AL.com.
Since the election, which marked the first time a Republican had lost a Senate election in Alabama in over two decades, Moore has refused to concede to Jones.
"This is not a Republican or Democrat issue as election integrity should matter to everyone," Moore said according to AL.com. "We call on Secretary of State Merrill to delay certification until there is a thorough investigation of what three independent election experts agree took place: election fraud sufficient to overturn the outcome of the election."
Attorneys for Moore and his campaign believe he could "suffer irreparable harm" and be "denied his full right as a candidate to a fair election."
However, Alabama's Secretary of State, John Merrill, insisted Wednesday there were no plans to delay the election's certification.
"It is not going to delay certification and Doug Jones will be certified (Thursday) at 1 p.m. and he will be sworn in by Vice President Pence on the third of January," Merrill told the Associated Press.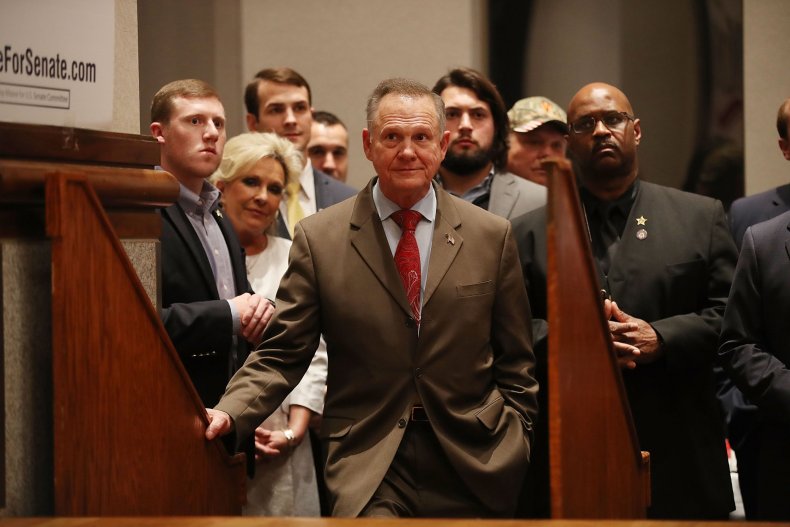 Merrill also said earlier this month that he saw no evidence of voter fraud.
"I have not seen any irregularities or any inconsistencies that are outside the norm," Merrill told The New York Times on December 15.
Jones, a longtime prosecutor, defeated Moore by more than 21,000 votes to claim the seat vacated by now–Attorney General Jeff Sessions. Black women voters were credited with elevating Jones, as well as more than 22,000 write-in votes for other candidates.
Moore's campaign slumped in the polls in the weeks leading up to election day after he was accused by nine different women of sexual misconduct while they were teenagers and he a prosecutor in his 30s. One woman claimed she was 14 when Moore initiated sexual contact with her.
Moore has vehemently denied the accusations, calling each of them "fake news" and claiming he did not know many of the accusers.
The victory narrowed Republicans' already-thin majority in the Senate and served as a body blow to President Donald Trump. Trump originally backed Republican Luther Strange, who fell to Moore in the party's primary. The president later backed Moore, but pulled away and has since stated he never believed Moore could win.