Alabama's Roy Moore Was Called 'Fruit Salad' and Considered a 'Doofus' in Law School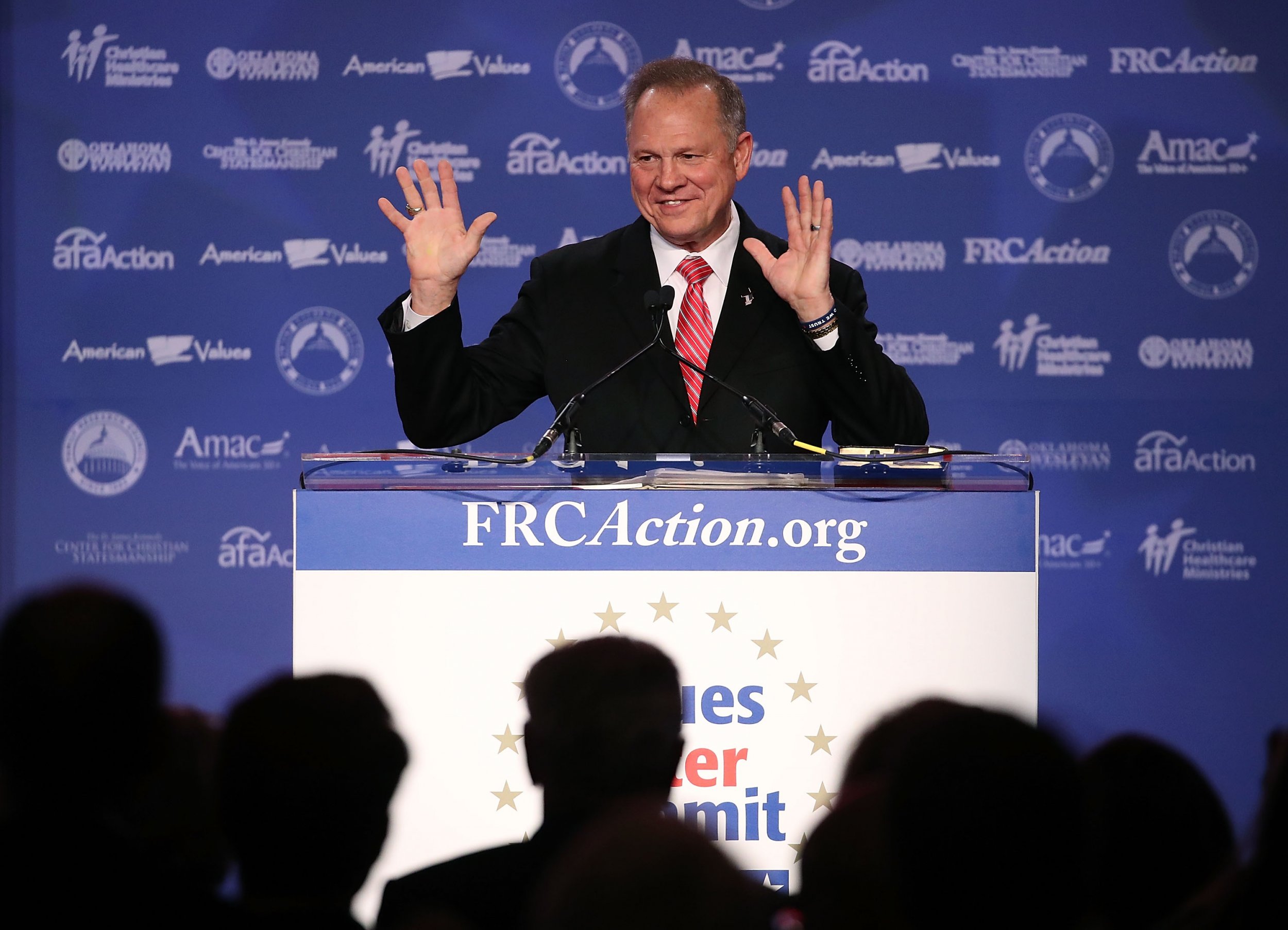 Alabama's Roy Moore could be on the verge of winning a U.S. Senate seat and is a former chief justice of Alabama's supreme court, but while attending law school in the early 1970s he was considered a "doofus" by some classmates and even earned the moniker "Fruit Salad" from one of his professors, The New Yorker reported Thursday.
The 70-year-old Moore last month beat out Senator Luther Strange in a Republican primary, even though President Donald Trump endorsed Strange.
Long before Moore made headlines for ordering a granite monument to the Ten Commandments, riding a horse to the polls and pulling out a gun during a campaign rally, though, he was a nervous student standing before a wily professor in a criminal-law class at the University of Alabama School of Law in 1974.
A fellow classmate, George Thomas Wilson, described how Moore was asked to stand up by professor Clint McGee.
"And, for the entire hour, McGee kept him standing and talking, standing and talking," Wilson told the magazine. "Finally, at the end of the hour, McGee said to him, 'Mr. Moore, I have been teaching in this school for 30 years, and in all of that time you're the most mixed-up person I've ever taught. I'm going to call you Fruit Salad."
The anecdote was confirmed by another former classmate, who said McGee again called on Moore as "Fruit Salad" two days later, and the name stuck throughout Moore's time in the school.
"He says, 'Professor McGee, it's me, Mr. Moore.' At which point McGee gets him in front of the room, takes Moore's hand, and starts turning him in circles," classmate John D. Saxon said. "He says, 'Mr. Moore, you're all mixed up, like a fruit salad.' He proceeded to call him Fruit Salad for the rest of law school."
Other fellow students questioned Moore's intelligence, even though he attended the U.S. Military Academy in West Point, New York. Another fellow student said Moore's time in law school was also spent flirting with female classmates who considered him a "doofus."
"Roy always sat in front of us, and he would turn around and flirt. He's the one thing that brought humor to us, because he was, well, kind of a doofus," the unidentified classmate said.
Despite what his old school chums may have thought of Moore more than four decades ago, there's no question he's on the verge of claiming a powerful position in Congress.
In the strongly red state of Alabama, Moore is neck-and-neck with Democratic candidate Doug Jones leading up to the December 12 special election. The winner will take over Attorney General Jeff Sessions's old spot. Recent polls have the race tied or Moore ahead by a nose.