Roy Moore Is Using Teen Sex Abuse Scandal to Raise Funds For His Alabama Senate Race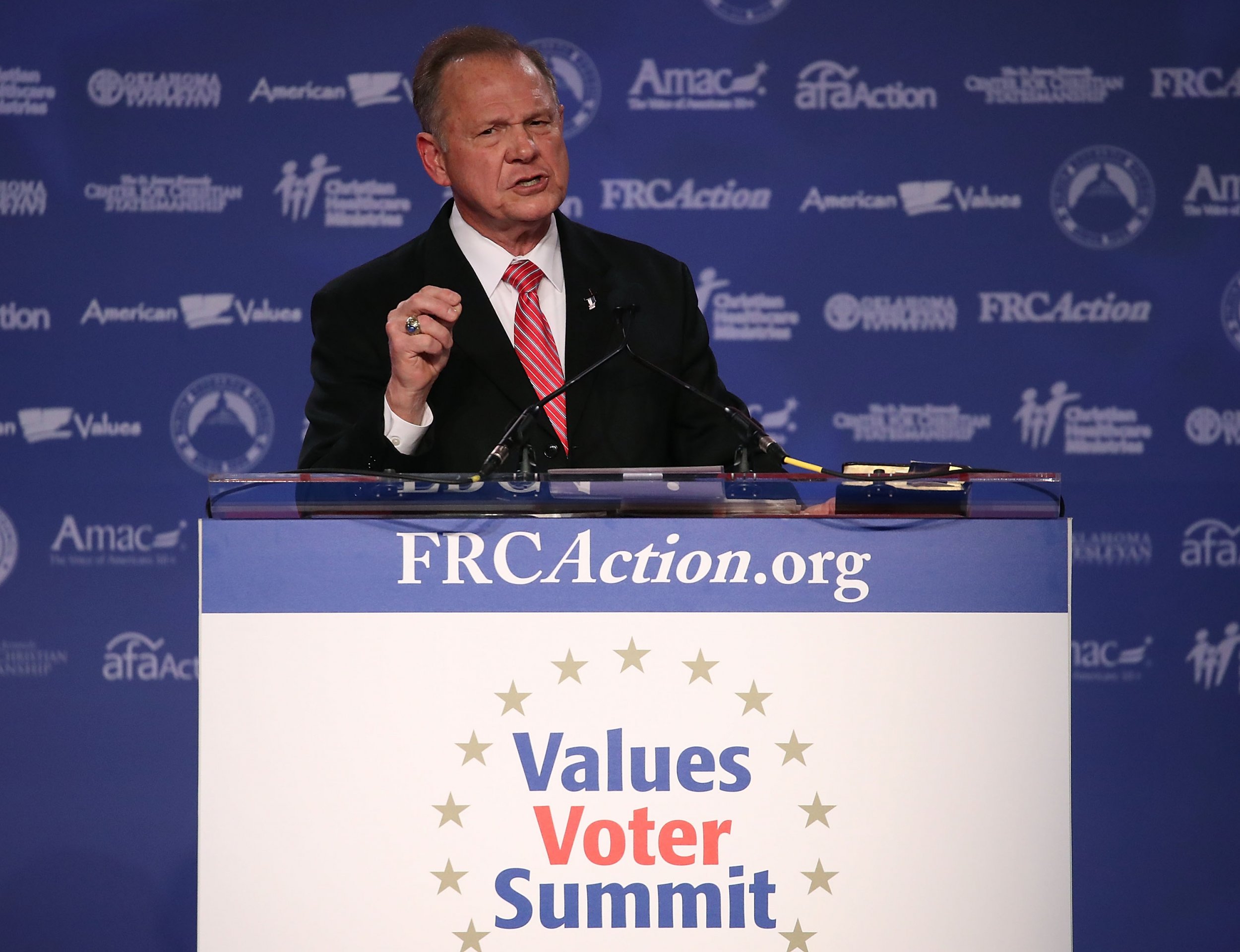 Alabama Republican candidate Roy Moore asked supporters for "emergency" campaign contributions in an email message Thursday that blamed the "Obama-Clinton machine" after allegations emerged that he had sexual abused four teenage girls.
Moore, who's hoping to defeat Democrat Doug Jones for the U.S. Senate seat left vacant by Attorney General Jeff Sessions, denied the charges and responded to a story published by The Washington Post that cited four women on the record, including one who was 14 in 1979 when Moore, then a 32-year-old local prosecutor, took off his and her clothes and forced her to touch him sexually.
"The Obama-Clinton machine's liberal media lapdogs just launched the most vicious and nasty round of attacks against me I've EVER faced," Moore's email read, according to Politico. "I won't get into the details of their filthy and sleazy attacks."
A hardline conservative known for brandishing a gun during a campaign rally and riding a horse to the polls, Moore was leading Jones in the fundraising war by a "3-to-2 margin," AL.com reported last month.
But it appeared Moore was feasting on distrust among Republicans of the media, only further by President Donald Trump in the era of "fake news" accusations, to pad his campaign coffers before the special election on December 12.
"The forces of evil will lie, cheat, steal—even inflict physical harm—if they believe it will silence and shut up Christian conservatives like you and me," Moore wrote. "Their goal is to frustrate and slow down our campaign's progress to help the Obama-Clinton machine silence our conservative message. That's why I must be able to count on the help of God-fearing conservatives like you to stand with me at this critical moment."
Moore's bashing of the media was enhanced by Trump's former chief political strategist Steve Bannon, who likened the scandal to the president's infamous Access Hollywood tape fiasco in October 2016.
"The Bezos Amazon Washington Post that dropped that dime on Donald Trump is the same Bezos Amazon Washington Post that dropped the dime this afternoon on Judge Roy Moore," Bannon told a dinner for conservative activists in New Hampshire Thursday night CNN reported.
Bannon added: "Now is that a coincidence? That's what I mean when I say opposition party, right?"
One day before the scandal hit, Moore held a double-digit lead over Jones. A poll released Wednesday showed 51 percent of likely voters supported Moore compared to 40 percent support for Jones. The results stemmed from a sample of 2,200 likely voters with a margin of error of 2 percent.
The youngest of Moore's accusers is Linda Corfman. She told The Post Moore approached her and her mother outside of a courthouse in 1979. Moore told Corfman's mother he could watch her daughter while she went into a child custody hearing.
While alone with Corfman, Moore got her phone number and later arranged a date, according to the report. Twice Moore drove Corfman to his home. The first time she says they kissed. The second time Corfman said Moore removed her shirt and pants and touched her over her bra and underwear while Moore was only in his underwear. He also guided Corfman's hand "to touch him over his underwear."
Many Republicans immediately denounced Moore after the story broke Thursday and called for him to step down from the election—though many qualified their statements with a big mistrustful "if."
"If these allegations are true, Roy Moore should step aside for all the obvious reasons. These are very disturbing allegations," Senate Majority Leader Mitch McConnell (R-Ky.) told reporters.
Trump, who originally backed Republican Luther Strange over Moore during the state's GOP runoff, echoed McConnell's statement.
Roy Moore Is Using Teen Sex Abuse Scandal to Raise Funds For His Alabama Senate Race | U.S.