Did Roy Moore Date His Wife, Kayla, When She Was Still Married to Her First Husband, Breaking a Bible Commandment?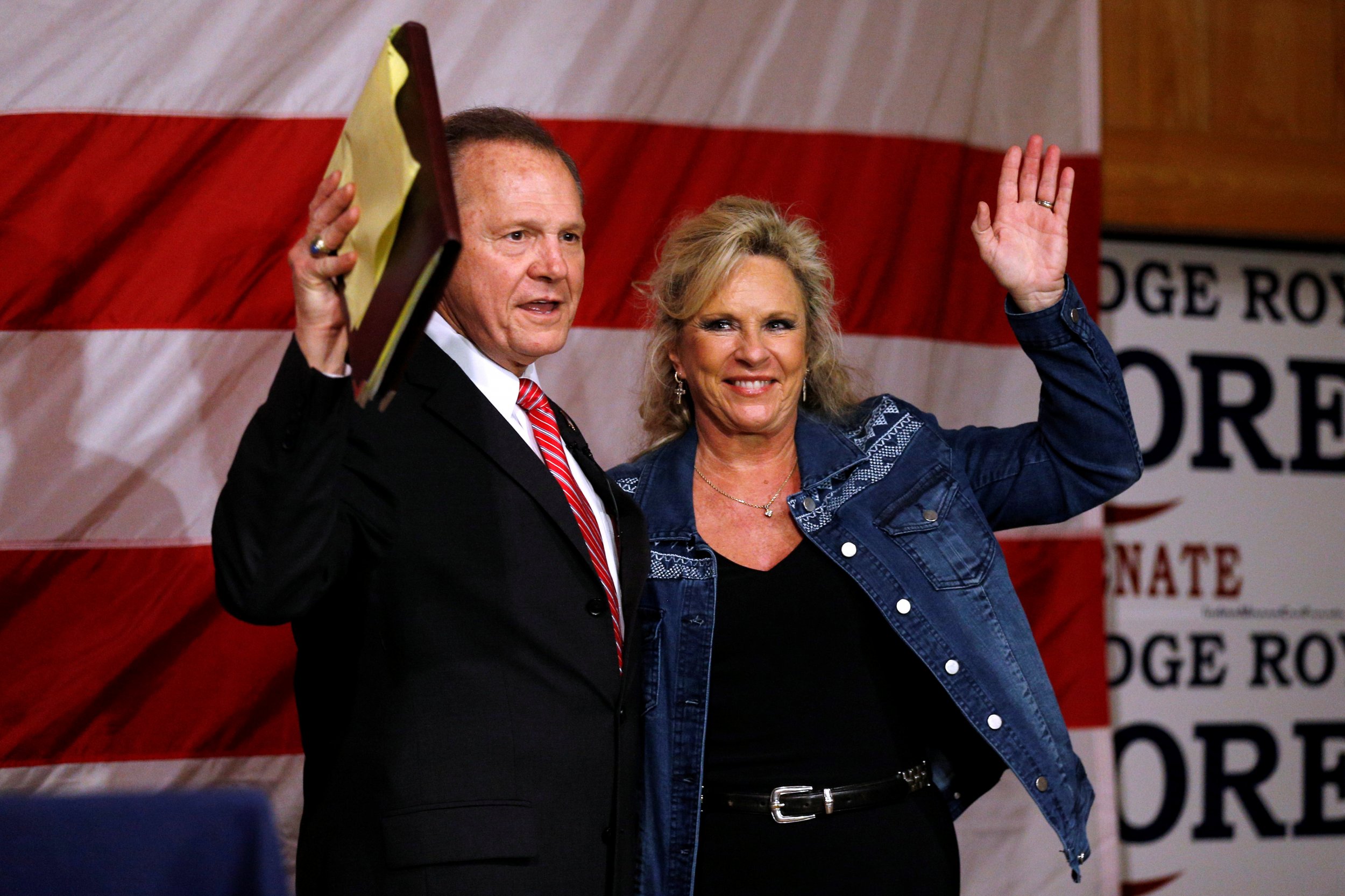 Alabama Republican Senate candidate Roy Moore reportedly began dating his wife, Kayla, months before the divorce of her first marriage was made legal, in the latest twist in a closely watched special election filled with allegations of impropriety and misconduct by the former judge, who has largely campaigned on conservative and religious family values.
Court records and writings by Moore himself showed he met Kayla in December 1984 and that they began dating in early 1985, though her divorce was not final until April 1985, according to a report by the Washington Examiner published late Tuesday. Moore has said he is a fervent Christian, and the Bible forbids coveting your neighbor's wife.
Kayla Moore separated from her ex-husband John Charles Heald on December 1, 1984, about two weeks before she met then-attorney Roy Moore, according to the Examiner. Moore claimed Kayla was not interested in anyone when they met about two weeks after her separation.
"I was determined to get to know her, but Kayla, divorced and with a beautiful little girl, Heather, who was nearly a year old, was not interested in a relationship with anyone," Moore wrote in his 2005 book, So Help Me God.
Kayla filed for divorce on December 28, 1984, and it was finalized on April 19, 1985.
A Moore campaign spokesperson denied the allegation. "Regardless of when they met, Judge and Kayla did not date while she was still with her ex-husband or legally married," the spokesperson told the Examiner.
Moore has said he and Kayla began dating "early in the new year" in 1985 and that after roughly a year of courtship they got engaged and married on December 14, 1985. Although Moore was 37 and Kayla 23 at the time, he had also described how he remembered her from years before at a dance recital, when Kayla was 15.
The Examiner report came out one week before the December 12 special election for Alabama's vacant Senate seat, with Moore battling Democrat Doug Jones and Moore's campaign attempting to discredit women who have accused him of sexual misconduct and assault. Moore, the former chief justice of Alabama's State Supreme Court who thrust himself onto the national stage after placing the Ten Commandments in the state's judicial building in 2003, has faced accusations as serious as molestation of a 14-year-old girl when he was a 32-year-old prosecutor and other charges of preying on teenage girls when he was in his early 30s, as reported by The Washington Post last month.
Moore has vehemently denied the accusations but has also failed to properly explain previous relationships with the accusers. He has denied knowing the women in some cases. His campaign has also challenged the accusers' accounts by asking why the women had not come forward sooner while Moore was a prominent public figure in Alabama for decades. The campaign also questioned the authenticity of a yearbook Moore signed of one of the accusers, which would indicate he knew her, and whether the then-14-year-old accuser, Leigh Corfman, could have walked a mile to a particular location for Moore to pick her up.