Final Alabama Election Results Show Trump Losing To Steve Bannon With Moore Victory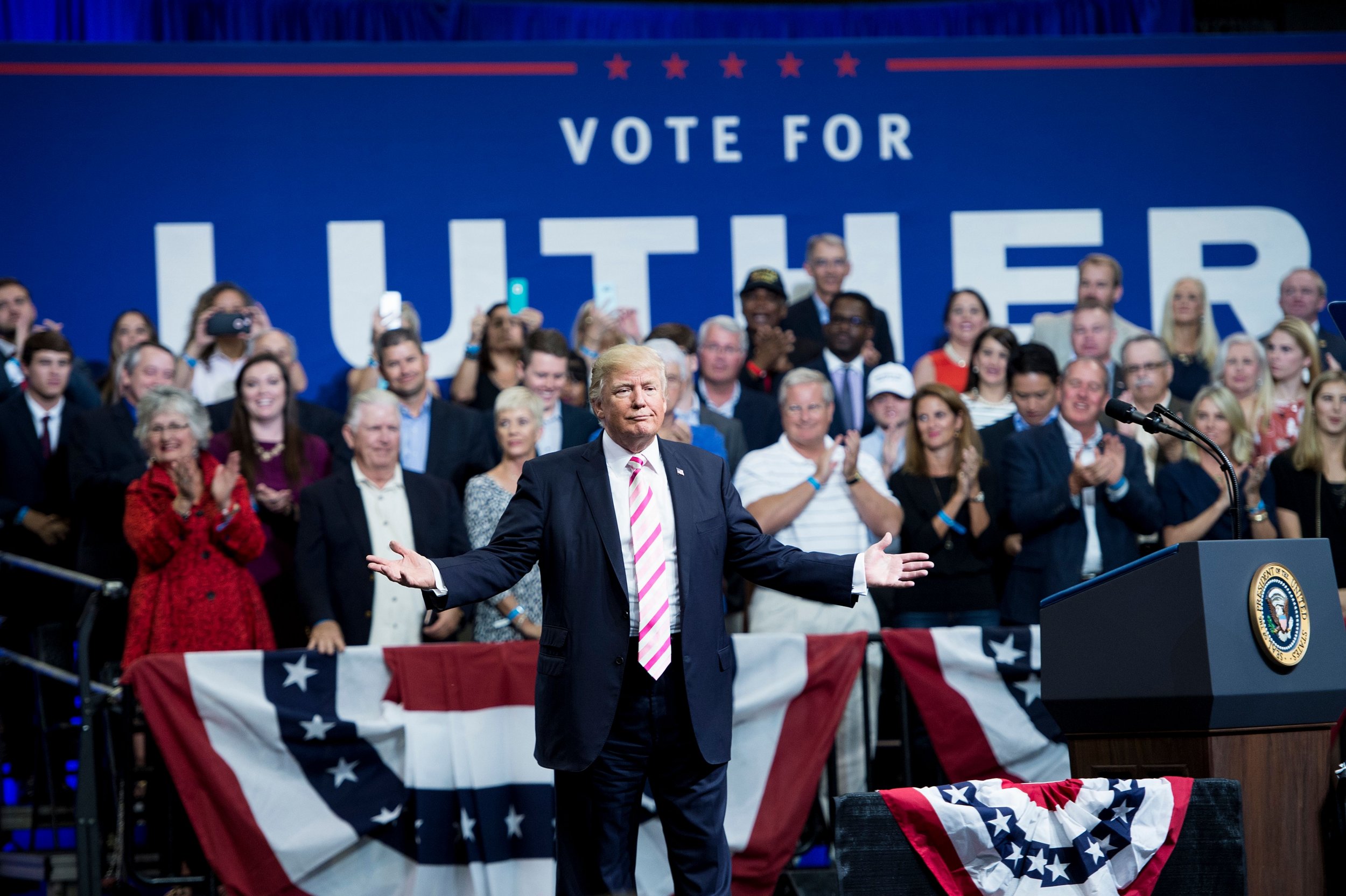 Washington Republicans were startled on Tuesday and President Donald Trump was dealt a political setback as his chosen candidate to win the U.S. Senate race in Alabama was defeated by an insurgent candidate backed by his former chief strategist Steve Bannon.
Roy Moore, the 70-year-old former Alabama State Supreme Court Justice, defeated the incumbent senator, Luther Strange, in the Republican Senate special election runoff by a comfortable margin. Trump and Senate Majority Leader Mitch McConnell were backing Strange, who was appointed in February to fill the seat left vacant by the elevation of Jeff Sessions to be attorney general.
While Strange is a loyal conservative Republican, Moore is a firebrand who was twice stripped of his powers as Alabama's chief justice. The first time, he wouldn't get rid of a giant statue of the Ten Commandments he put on the courthouse lawn. The second time, he refused to comply with the Supreme Court's ruling legalizing same-sex marriage. Moore has vowed to oust McConnell in the Senate. A hero to many fundamentalists, Moore also wants to kick all gays out of the U.S. Armed Forces.
Trump took a political risk by traveling to the Cotton State last week to campaign for Strange. But aides to the president prevailed upon him to go, citing his immense popularity in the state he dominated in the 2016 Republican primary and general election. Trump seemed to sense the possibility that Moore would win, at one point allowing during his address in Huntsville Friday that he might have "made a mistake" by backing Strange.
Newsweek subscription offers >
"Both good men," the president said of the two Republican candidates. "If [Moore] wins, I'm going to be here campaigning like hell for him. But I have to say this…. Luther will definitely win."
Back in August, Moore won handily in a three-way Republican primary but failed to garner 50 percent of the vote, forcing Tuesday's special runoff election against Strange. Despite an influx of Washington money and a visit from the president, Strange was no match for Moore's religiously-driven message and outsider status.
The Moore victory represents a big win for Bannon, who is back atop Breitbart News, which has covered the race in depth with a decidedly pro-Moore angle. Bannon led a rally on Moore's behalf Monday night and Brietbart's headline--"Republican Establishment Brought to Its Knees"--said it all. At Moore's election victory party, Bannon addressed the crowd saying that Moore would "work with Donald Trump to make America right again." In his brief remarks he managed to take shots at "Silicon Valley," "New York City," and "crony capitalism" and other "elites."
President Trump praised Strange, tweeting to Moore: "WIN in Nov!"
Newsweek subscription offers >
For his part, Moore took to the stage in Montgomery and thanked his 90-year-old mother quoted the Bible at length, specifically Isiah 40:6 on the temporary nature of life. "All flesh is grass."
The former jurist made an effort to smooth things over with the White House and make it clear that he'd be a Trump ally. "As long as its constitutional, as long as it advances our country and our culture, I will be supportive" of the President," Moore said.
The Moore victory is likely to strengthen the influence of Bannon with the president and within the GOP. Several Trump allies backed Moore including former Alaska governor and vice presidential nominee Sarah Palin, Housing and Urban Development Secretary Ben Carson, and former White House Adviser Sebastian Gorka.
But it also creates headaches for Republican candidates in 2018 who will often be asked whether they agree with Moore's far-right stances on the issues.
Alabama is a Republican stronghold and Moore is the odds on favorite to win the seat in the December 12 special election. But in a recent poll, Doug Jones, the Democratic nominee and former prosecutor, was polling just a few percentage points behind both Strange and Moore in hypothetical matchups.
Final Alabama Election Results Show Trump Losing To Steve Bannon With Moore Victory | U.S.