'Moot' Trends After Trump Tweets Then Deletes Twitter Typo While Attacking 'Fake News!' Press
Moot topped United States trends on Twitter Wednesday morning shortly after President Donald Trump included the word in tweet attacking the "fake news" press, then deleted it and reposted the tweet with the correct word, moat.
"Now the press is trying to sell the fact that I wanted a Moot stuffed with alligators and snakes, with an electrified fence and sharp spikes on top, at our Southern Border," Trump tweeted at 10:42 a.m. "I may be tough on Border Security, but not that tough. The press has gone Crazy. Fake News!"
Twitter users quickly noticed the typo and so did Trump, who deleted it and reposted the message, with "Moat" instead of "Moot."
Author and cyber security consultant Alan Silberberg shared a screenshot of Trump's original post and commented, "Your point is moot," along with a rolling on the floor laughing emoji. Trump's typo was particularly hilarious to his critics because moot refers to something having little or no relevance, or something that is subject to debate. A moat is a trench around a fortified place typically filled with water and dangerous creatures and providing a line of defense.
Trump's tweet was attacking a New York Times report on Tuesday that had the headline, "Shoot Migrants' Legs, Build Alligator Moat: Behind Trump's Ideas for Border."
The story said that in an Oval Office meeting last March, Trump fumed about migrants coming into the U.S.
"Privately, the president had often talked about fortifying a border wall with a water-filled trench, stocked with snakes or alligators, prompting aides to seek a cost estimate. He wanted the wall electrified, with spikes on top that could pierce human flesh," the story said. It adds that Trump suggested that "soldiers shoot migrants if they threw rocks" and backed staff informed him it was illegal, but later "suggested that they shoot migrants in the legs to slow them down."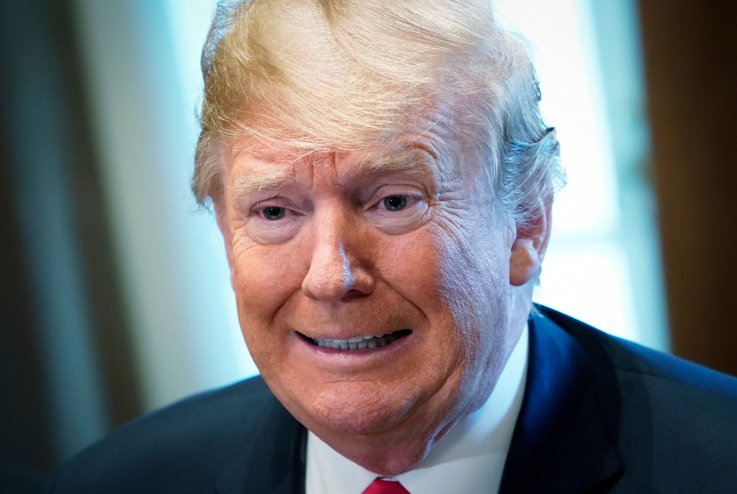 Moot had more than 27,000 mentions less than an hour after Trump's initial tweet.
New York Magazine writer Jonathan Chait joked that Trump "should sue the Times in Moot Court." Eric Columbus, a former senior counsel to the deputy attorney general during the Obama administration, mocked Trump by tweeting, "A 'moot' is filled with cows instead of alligators and snakes."
Merriam-Webster dictionary weighed in by tweeting another definition of moot, "a deliberative assembly primarily for the administration of justice," and the meaning of moat, along with an alligator emoji.
Trump frequently makes typos on Twitter and only sometimes corrects them.
'Moot' Trends After Trump Tweets Then Deletes Twitter Typo While Attacking 'Fake News!' Press | News