Mophie 4-in-1 Wireless Charging Mat Review: Great Charging Station for Families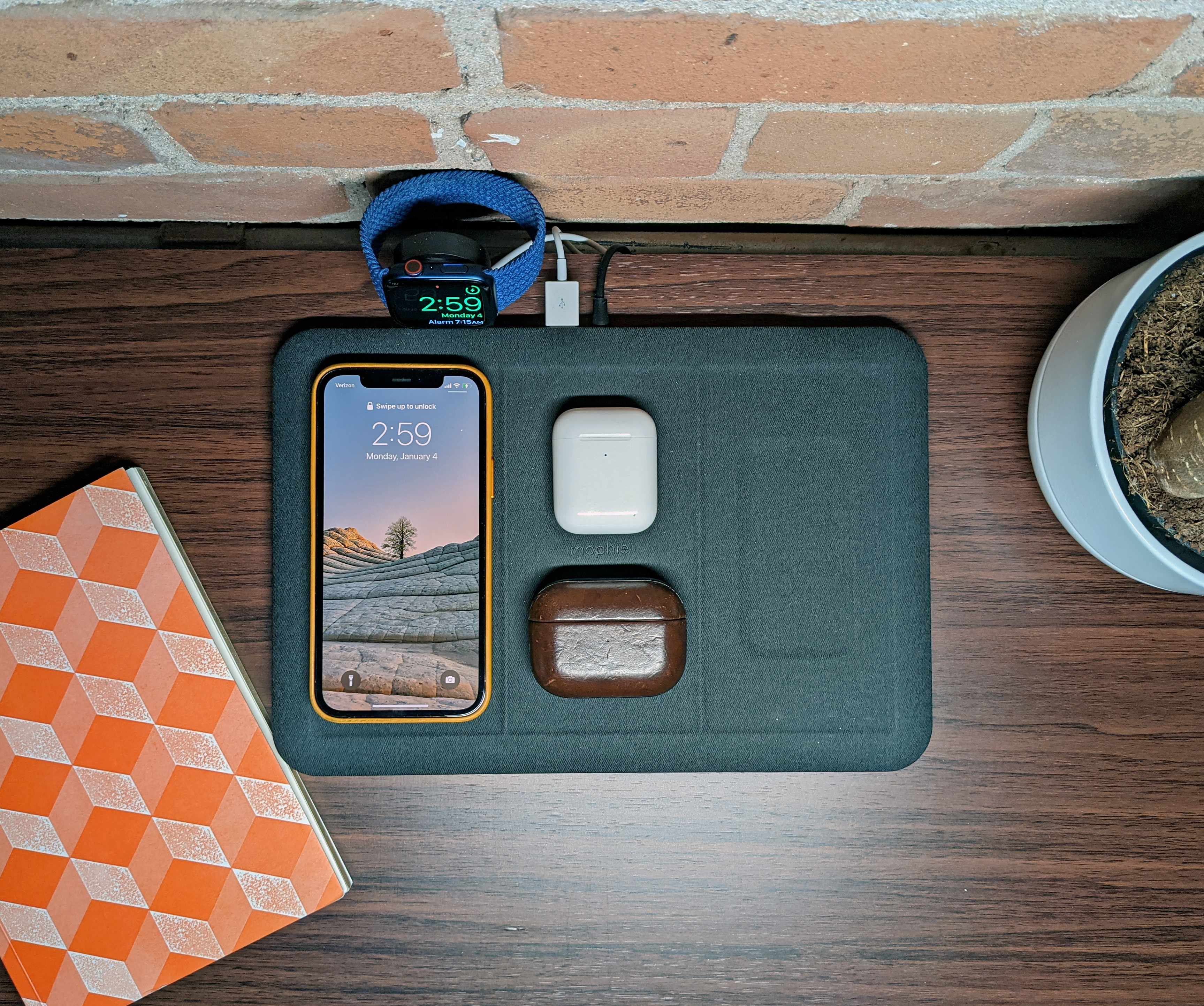 The Mophie 4-in-1 wireless charging mat is the must-have accessory for power users or families who want to share a charging station.
Mophie's latest wireless charging solutions includes space to charge two phones and two pairs of wireless charging headphones like AirPods. It also includes a small mount for the Apple Watch, which you can put your Apple Watch charger in to complete the setup.
The wireless charging mat supports charging Qi-enabled devices, including iPhones, many Android phones, and a growing number of wireless earbuds that support wireless charging cases. We tested with the iPhone 12 Pro, AirPods with the wireless charging case, AirPods Pro and the Pixel 5 5G.
We like this for sharing wireless charging with friends and family, but it might just be the perfect accessory for everyone who keeps a second phone for work.
The Mophie 4-in-1 wireless charging mat is $149.95 and available at Zagg, Amazon, Verizon and Best Buy.
Design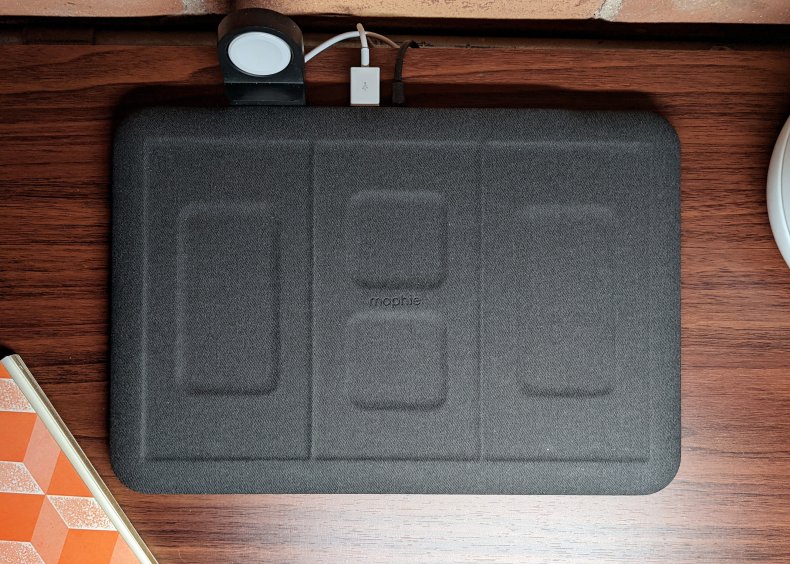 The Mophie 4-in-1 wireless charging mat is large, but it still fits on our nightstand. The mat measures 11.1 inches by 7.56 inches, and it's 0.63 inches thick.
We love that Mophie wraps it in a durable cloth finish instead of using glossy material. This design choice prevents it from showing dust and fingerprints.
The charging pad includes indents to make it easy to see where to set phones or headphones, and these indents also make it easy to put the phone in the right spot without looking at night when you are done using your phone in bed.
The center features two smaller indents for wireless charging headphones, but this center section can also charge a third phone instead of headphones.
The charger's base is coated in a material that keeps it in place on smooth surfaces, and it is very stable.
Apple Watch and Other Devices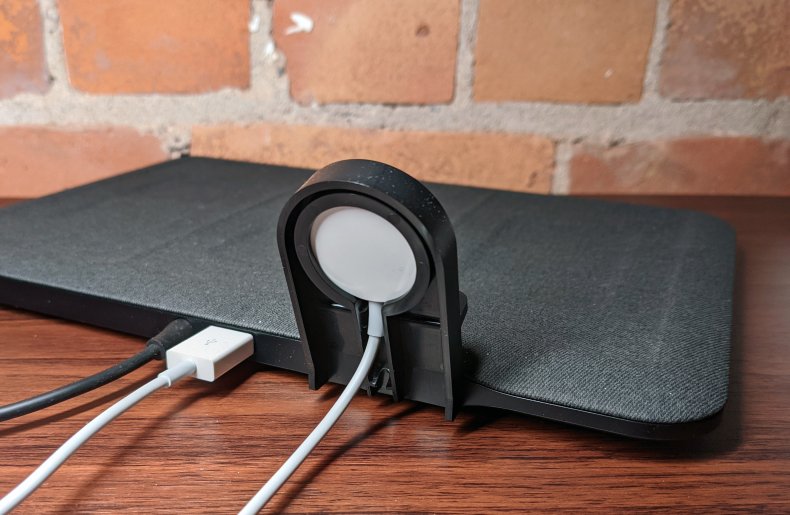 The included Apple Watch dock snaps onto the back of the charger and props the watch up so that you can see it from in bed or at a glance across the room. You do need to use your own Apple Watch charger or buy one to use this. If you need to buy an Apple Watch charging cable, you can get one for $29.99.
The USB port on the back of the 4-in-1 wireless charging mat can power an iPad, AirPods that don't wirelessly charge or anything that charges by USB. It's a handy addition and brings the total charging capacity up to five devices.
Performance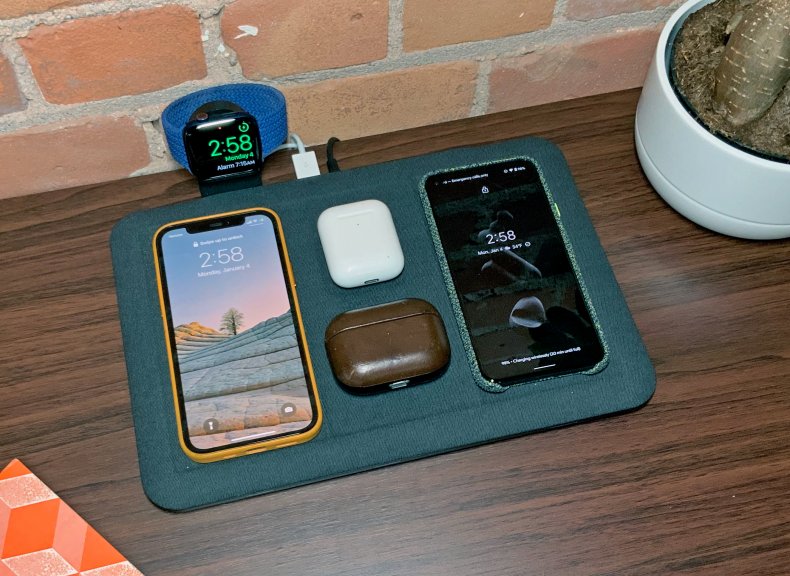 The 4-in-1 wireless charger from Mophie reliably charges our devices, and the small indents help keep phones in place. Every iPhone since the iPhone 8 supports wireless charging, and so do the AirPods Pro and AirPods with a wireless charging case. Many Android phones include wireless charging as well.
If you carry a work phone and a personal phone, this is great for your bedside. If you are simply a device heavy family, then this is great in a central location where family members and guests can set a phone or headphones down to charge.
The wireless chargers are easy to line up thanks to the indents and the mat charges through thin iPhone and Android cases.
Charging speed is in line with standard wireless chargers at 10W, but it's not as fast as MagSafe charging. MagSafe is an iPhone 12 feature that uses 15W charging on the iPhone 12, iPhone 12 Pro and iPhone 12 Pro Max or 12W charging on the iPhone 12 Mini. You can still use these new iPhones on the Zagg charger.
Mophie includes a single cord that powers the four wireless chargers in the mat and the USB port on the back. We love that it reduces cord clutter on the nightstand, kitchen counter or other shared space.
Is the Mophie 4-in-1 Wireless Charging Mat Worth Buying?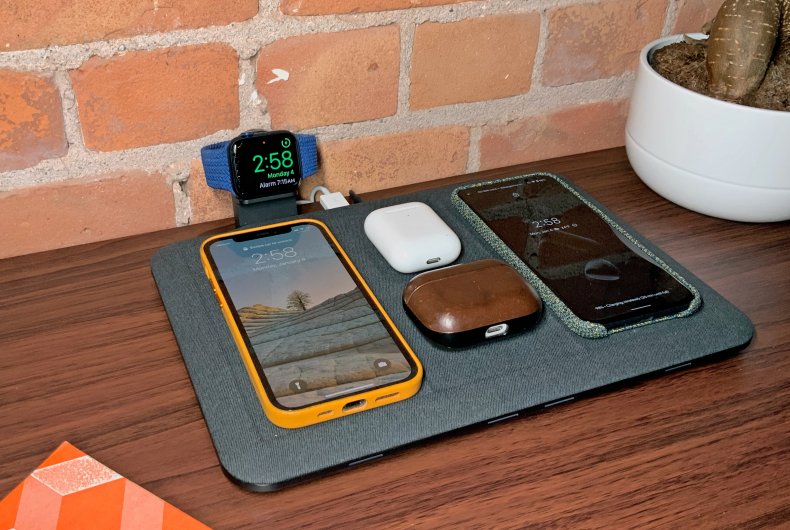 If you are looking for the perfect wireless charger to share with your family, this is the one to pick. The flexibility of charging two phones and two AirPods, or three phones simultaneously, makes it a great choice.
It fits on or nightstand, but the best place for this charger is in a shared space. If you're trying to cut down on phone use at the table, place it nearby and have everyone set their phone on it to charge while eating or visiting.
The Apple Watch dock and the USB port on the back add to this wireless charger's value. We used the USB port to connect our Apple Watch charger, but you don't need to attach the Apple Watch dock if you don't need it.
We love the fabric design that removes the need to dust it frequently and wipe off fingerprints. It's held up after weeks of testing. We would love to see more chargers like this from Mophie.
Newsweek may earn a commission from links on this page, but we only recommend products we back. We participate in various affiliate marketing programs, which means we may get paid commissions on editorially chosen products purchased through our links to retailer sites.