Morbid Anatomy Museum Opens in Brooklyn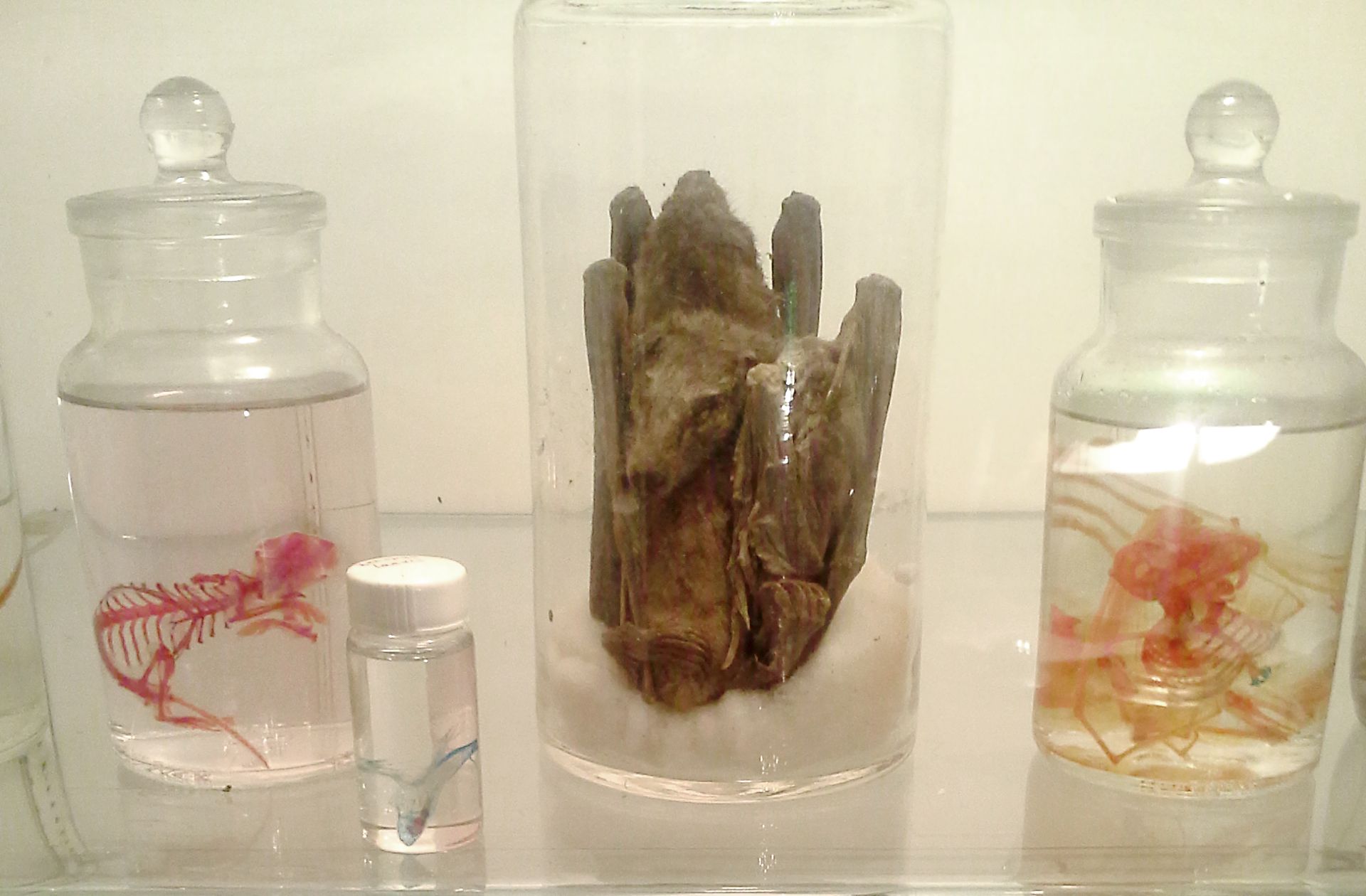 The fetuses are suspended in yellow liquid. In their eternally curled sleep, they are the color and shape of uncooked shrimp. Alongside them in the display case are magenta and cobalt jellyfish, as well as a snake and a brown, furry animal that might be a bat. Across the room, there's a two-headed chick standing upright in a glass capsule. On Friday evening, a mostly black-clad crowd convened in a former nightclub in the Gowanus neighborhood of Brooklyn, New York, not just to gawk at these dark oddities but to celebrate their display—for this weekend marked the grand opening of the much-anticipated Morbid Anatomy Museum.
The 4,200-square-foot museum houses artifacts "at the intersection of death and beauty," according to founder Joanna Ebenstein, as well as a curio shop and café. For example, in addition to the fetuses that are part of the permanent collection, the first exhibition, The Art of Mourning, featured historical postmortem photography, including daguerreotypes (put simply, a primitive photo form printed on silver) and spirit photography (photos that often used doubly exposed film to create "apparitions" in the background). Ebenstein told Newsweek that she's "interested in where spectacle meets education" and hopes to push the study of death further than the fearful taboos that currently pervade culture.
The three-story institution originates from Ebenstein's Morbid Anatomy Library. That private collection of some 2,000 items was formerly open to the public only "by appointment or by luck," but proved so popular that it blossomed into a blog and anthology and, eventually, its own space in a former nightclub.
At the pre-grand-opening party Friday, the look of the attendees was part pinup and part steampunk—with a fair amount of fuchsia hair and at least one top hat—but it was clear that the interest in morbid anatomy was genuine and not merely sartorial. Museumgoers felt as if they finally had a place to explore their interests and interact with like-minded folks, they said.
Terence Taylor, a horror writer and producer who lives nearby, described the museum as "the nicest thing that's happened this year" in the area.
"Not only is there a library for research," he told Newsweek, "but I'm no longer the only freak in the neighborhood who likes this stuff."